Company Overview
As a conservative and disciplined investor, finding undervalued companies in the current market environment has become increasingly challenging. My research over the past couple months has focused on companies trading at or around fair value, that on a market correction, should be favorably priced if prices decline. In order to mitigate the risk of buying a falling company due to market pullback and deteriorating conditions, I have focused on companies with strong and identifiable competitive advantages, free cash flows, with steady and predictable revenues and earnings. This combination represents strong companies that can be purchased at a discount to fair value. Next on my list is Culp, Inc (NYSE:CFI).
Culp is the largest marketer and manufacturer of fabric mattresses and furniture in North America, with a global footprint across Canada, Poland, and China as well. Culp may not be a particularly exciting name or a fast-paced growth stock, instead more in the mold of a Peter Lynch-type investment idea. The company benefits from stable and predictable revenues and strong management. The company still remains a family-oriented business, originally founded in 1972 by Robert Culp III, who owns approximately 13% of the outstanding shares and serves as chairman of the Board.
Culp operates in two segments: mattress fabrics and upholstery fabrics. The mattress fabrics business sells materials used in the production of bedding products, including woven, knitted, and sewn covers, as well as mattresses, box springs, and foundations. The upholstery division manufactures fabric products that are used in the production of sofas, recliners, chairs, loveseats, sectionals, and sofa-beds.
Overview of Bedding Industry
While the bedding industry is comprised of several hundred manufacturers, the top fifteen accounted for approximately 87% of wholesale shipments in 2012 (Source: 10-K). According to the 2012 annual report (discussion of updated financials below), the bedding industry has historically been characterized as mature, with slow growth and predictable earnings. However, over the last few years, there has been increased volatility, as consumer preferences and spending rates have changed following the financial crises, providing challenges that necessitated augmentation to business plans, growth strategies, and outlooks. Following 3 consecutive years of growth, however, the traditional slow-and-steady pattern appears to be returning and the long-term outlook appears to be favorable, as replacement purchases necessitate continuing sales for manufacturers. The most recent quarterly earnings further confirm improvements in product demand.
According to the Annual Report, the International Sleep Products Association (ISPA) claims the U.S. wholesale bedding industry increased dollar sales by 8.7% to $6.8 billion in 2012, the third consecutive year of increases in both dollar and unit sales, with unit volume sales increasing 3.6% compared to 2011, after a small 0.2% increase in the previous year. Specialty bedding manufacturers, which produce springless mattresses, now account for approximately 32% of bedding dollar sales, despite 16% of unit volume. This premium-priced product segment has continued to increase its share of total bedding sales, according to the ISPA. Lastly, the ISPA reported for 2012 overall average unit prices in the bedding industry increased 5% from the previous year.
Overview of Residential Furniture Industry
The residential furniture industry, on the other hand, is more sensitive to economic cycles, and as a result, was severely affected by the global financial crises and suffered significant declines in sales during 2008 and 2009, alongside a weak housing market. For further context, according to the American Home Furnishings Alliance (AHFA), as cited in the annual report, before 2008, the residential furniture industry was mature and more stable with modest YoY changes, but experienced a shipments decline of 14.8% in 2008 relative to 2007, and in 2009; retail furniture shipments dropped 18.1% over the previous year. U.S. residential furniture sales have since rebounded, but at rates still far below that of pre-crises years, as 2012 sales increased 1.6% YoY.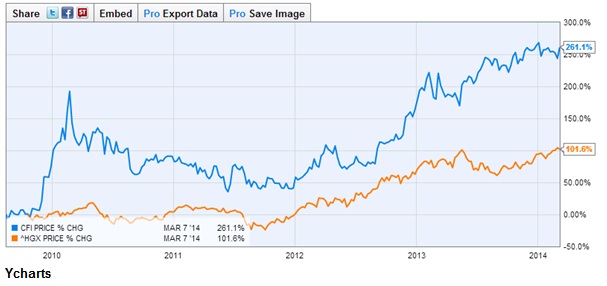 CFI's stock appears to have a somewhat strong correlation with the PHLX Housing Index
Investment Thesis
The troubles that Culp faced during the financial crises were magnified due to the fact the company had invested aggressively during the 1990s, leveraging up its balance sheet to unsustainable levels. Prior to this period, the company was particularly strong, as evidenced by an average annualized dividend increase of approximately 19% between 1990 and 1997. Culp was squeezed during the 2001 recession, and was forced to cut its dividend and focus efforts on de-leveraging the balance sheet.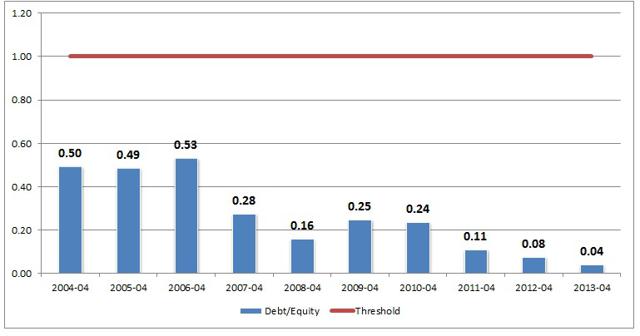 Click to enlarge
source: self produced
Since then, the company's financial health has increased substantially, sporting a net cash position as of year-end 2013 of $22 million, compared to a net debt position of $136 million at year-end 2000. With debt at reasonable and sustainable levels, Culp reinstated its dividend program in June 2012. Additionally, management wisely executed a share buyback program in 2012 and 2013, resulting in an average purchase price of $9.23, or less than half the current price.
There are also several investment catalysts that make Culp an attractive long-term play. The U.S. bedding industry in highly insulated from foreign competition in terms of import goods, as it has largely remained a North American-based business. While imports have increased in recent years, the total representation is a small fraction of the total U.S. bedding sales. Reasons for this include the short lead times required by retailers due to quick service delivery model, limited inventories due to "just-in-time" manufacturing process, high customization of retail product lines, high shipping and import duty costs, the relatively low direct labor content in mattresses, and strong brand appeal present in the industry.
Other key trends across the bedding industry include the increased awareness of the importance of better sleep relative to overall health. This, according to company filings, has led to an increased focus on the quality of bedding products and an apparent willingness to upgrade bedding. There are also strengthening trends in product demand due to the strong emphasis on design and increased popularity of knitted fabric, historically used for premium mattresses, that is now being placed on mid-range products, and growth in non-traditional sources of retail mattress sales, such as wholesale warehouses, clubs, and the internet, which have aided in the overall increase in consumption of goods and resulted in higher turnover.
As for the residential furniture industry, key trends include general consolidation and increasing pressures from Chinese imports of components and fully-assembled furniture. The residential furniture industry has been consolidating for several years, according to the 2012 annual report, resulting in fewer but larger customers for marketers and upholstery fabrics. The trade-off between declining number of customers but increased size makes the importance of customer relationships, brand appeal, and execution more important, areas in which Culp stands to gain ground. Lastly, management stated that approximately 58% of total U.S. furniture imports are from China, creating a significant impact on the market for upholstery fabrics in recent years. These low-cost producers should continue to put pricing pressure on domestic producers, or force producers to move manufacturing operations overseas, resulting in potentially unforeseen capital expenditures. Culp has responded to this change by shifting operations from the U.S. to China.
Competitive Advantages
Culp operates in a generally competitive environment, and one of its core segments is highly sensitive to the health of the economy. Given this, it is important that Culp maintains several competitive advantages that enable it to generate economic profits. I do not believe the company has long-lasting advantages that can sustain long-term economic profits, but given the improving balance sheet and growth across its product markets, Culp can differentiate itself during stronger periods through its design, economies of scale leading to a low-cost producer position, and niche operating environment.
Culp's design capabilities and capacity to offer innovative products at key price points represents a competitive advantage in global expansion. Still, a highly North American-centered company, and an already existing global footprint should enable Culp to more easily meet global demand than many of its peers. This, coupled with the balance sheet improvement should create a more efficient transition from a U.S.-dependent upholstery fabric production business to one that produces China-based upholstery fabric alongside its mattress fabrics. Management recognizes this inevitable shift in business mix in the most recent annual report, stating, "Our upholstery fabrics segment has undergone major changes over the past decade, transforming from a U.S.-based manufacturing operation with large amounts of fixed assets to a more flexible variable cost model, with most fabrics sourced in China…", while maintaining control over key components such as design, finishing, quality control, and distribution. During this time, Culp grew leaner and reduced its U.S. plant count from fourteen to one, and now operates four Chinese plants. Since the multi-year restructuring effort was completed in 2009, sales have grown and allowed the company to focus on marketing and exploration of new markets, dually improving the product costs and global footprint.
Economics 101 discusses the comparative trade-off in such that companies who are a low opportunity cost producer should specialize in production of that good and import goods for which they are a high opportunity cost producer. Along these lines, the mattress fabric production process is greatly more advantaged than the more capital-intensive U.S. upholstery fabric market. As previously mentioned, the high shipping costs, quick turnaround through JIT manufacturing, coupled with low labor costs as a percentage of total overheads provide less of an advantage to foreign producers, strengthening Culp's position and advantage as North America's largest mattress fabric producer.
Given all of this, I believe the mattress fabric market, from Culp's point of view, has enough barriers to entry to limit the threat of new entrants. While large, the market is still somewhat niche and would be difficult to replicate on a tangible and intangible asset basis.
Most Recent Financial Developments
On February 25, 2013, Culp reported third-quarter results. Net sales increased 13.6% (mattress fabric +8.5% and upholstery +20.1% for the quarter, compared to 3Q12), which reflected the highest sales for the third quarter in a decade. EPS was $0.68 per diluted share, against $0.23 in the previous year. Adjusting for income tax benefits and expenses, diluted EPS for 3Q13 was $0.37, compared to 3Q12 of $0.37. Net cash position was $25.4 million.
Year-to-Date sales increased 7.4% from the same period a year ago, with mattress fabrics +3.4% and upholstery fabrics +12.7%. Diluted EPS of $1.19 compares to $1.17, although both were affected by "substantial" income tax benefits from operating tax loss carry-forwards in previous years. Lastly, consolidated return on capital was 27%, down from 28% a year ago, with FCFs essentially flat. Management guided full-year overall sales to increase approximately 5%.
Such strong improvement in upholstery sales goes against much of the recent trends, and can be attributed to positive reactions to innovative designs and diverse product offerings. The 100%-owned China platform continued to contribute with significant manufacturing flexibility, and China-produced fabrics accounted for 92% of upholstery fabric sales in the third quarter, according to the press release.
Financials Review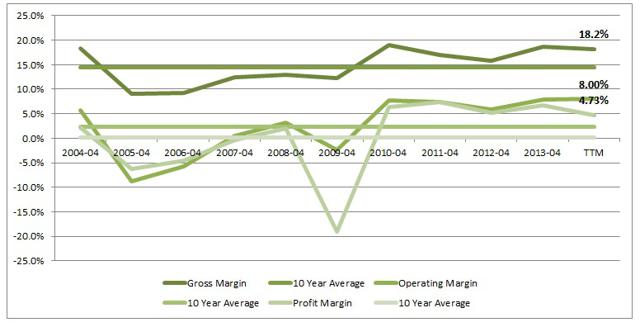 Click to enlarge
source: self produced
For fiscal 2013, Culp was able to focus more on product innovation and new designs, and the product differentiation benefited the top line. Net sales for fiscal 2013 represented the fourth consecutive year of increased revenues, and pre-tax income levels for 2013 reached the highest levels in more than 15 years. The mattress fabrics segment had net sales of $154.0 million (57.3% of total net sales), while the upholstery fabrics segment had net sales of $114.8 million (42.7% of total net sales).
As mentioned above, of particularly strong note is the fact that management is receiving positive responses from customers to innovative designs and new products, and sales and profits have responded accordingly. According to management, industry strength and demand have grown, but still remain at depressed levels relative to pre-crises figures, although given the most recent results, this trend appears to be reversing.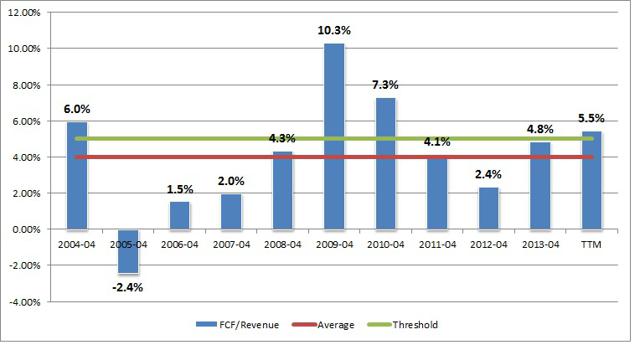 Click to enlarge
source: self produced
Most importantly, Culp generates positive free cash flows and converts approximately 5% of revenues into FCF, a strong conversion ratio. For 2014, CapEx spending is expected to be approximately $7.2 million, compared to $4.4 and $5.9 million for fiscal years 2013 and 2012, respectively, and is primarily related to the mattress fabrics segment.

Click to enlarge
source: self produced
Culp must be able to justify increasing CapEx spending with strong returns. The company has historically managed excellent returns on assets and equity, driven by a mix of financial leverage and high asset turnover. Not surprisingly, net margins and asset turnover plunged during 2008 and 2009, but have steadily risen since. ROE has been generally unaffected by the increase in margins as the company has de-levered, but should benefit as global demand continues to climb and turnover increases. Moving plants to China to produce at a lower cost will continue to further benefit margins.

Click to enlarge
As with all manufacturing firms, inventory management is critical. Culp has an excellent 10-year track record of declining Cash Conversion Cycle, as Days Sales Outstanding and Days Inventory have fallen, while Days Payable has increased.

Click to enlarge
source: self produced
In terms of financial health, Culp shows excellent short-term liquidity, as evidenced by a current and quick ratio of 2.73 and 1.70, respectively. The quick ratio, which excludes inventory, is historically high for CFI, indicating the company may have excess cash and short-term securities that may be better off earning a return for shareholders. Given the increased CapEx plans, I am comfortable with the higher-than-average cash balances, but will be keeping an eye on this moving forward. Since 2010, cash flows from operations have shown negative balances for inventory, indicating use of cash to purchase materials in anticipation of future sales. If demand continues to strengthen, inventory reduction through sales will increase returns to shareholders and allow the company to continue to invest cash in design and new products.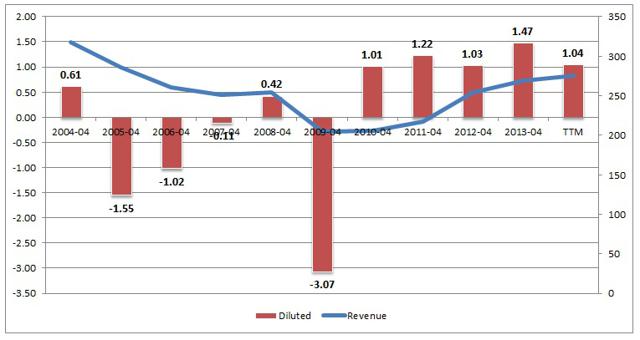 Click to enlarge
source: self produced
Culp benefits from a historically mature and slow-growth industry, allowing for easier estimates of revenues and earnings. Diluted EPS has been volatile over the last several years, however, while revenues have risen. I expect this trend to continue in the short term, as the residential furniture segment lags mattress fabrics until growth across both operating units stabilize. The stock during this time has apparently priced in future growth, as it has risen considerably since 2012.
The appreciation in stock price since this time can be attributed partly to the re-establishment of the dividend program in June 2012. Since then, the stock has doubled, in no doubt fueled further by a 33% increase in the dividend on June 12, 2013. Concurrently, in June 2012, the company announced a share buyback program, authorizing up to $5.0 million of share repurchases, which was concluded on June 13, 2013.
Risks
While perhaps not as strong as traditional retailers, Culp is subjected to fashion risk that could result in obsolete inventory if design patterns fall out of favor, or specialty mattresses, which command premium pricing, are no longer in favor.
Obvious risks include continued economic weakness and uncertainty among consumer spending and housing, as furniture is considered a discretionary good for most businesses and families. Weaker-than-expected housing growth could weigh on the stock due to tapered growth expectations.
Specifically, there has been continued difficulty in the upholstery fabrics segment, as growth and demand has lagged both the mattress fabric segment and overall global growth since 2008-09. Despite the fact that over the past couple of years sales have begun to stabilize, increased competition from low-cost producers and imports are creating a drag. Management is confident that growth and profitability gains for this segment are, "encouraging," but that is hardly a clear-cut ringing endorsement.
Valuation

Click to enlarge
source: self produced
I typically use very conservative estimates in my valuation models, yielding what I consider to be a floor valuation. The weighted average across all models yields a fair value estimate of ~$20, with a 33% margin of safety target buy price of ~$14. Given the increases in fundamentals over the past two to three years, including de-leveraging the balance sheet and reinstating the dividend program amidst a broader market rally, it should not be surprising the stock trades at roughly fair value in my opinion.
Using the 5-year average P/E and 5-year expected EPS of $2.93, based on FinViz's consensus 23% annual EPS growth, a value of ~$40 is derived, which represents an annualized approximately 15% return from current prices.
Recommendation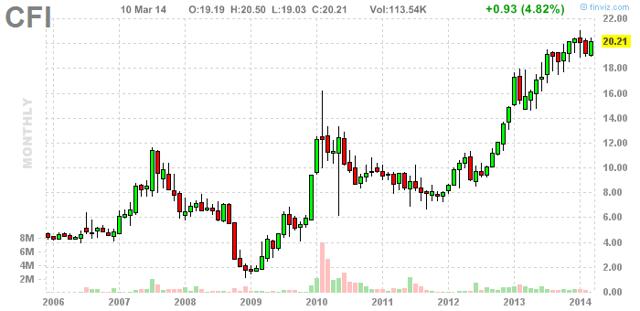 Click to enlarge
At current prices, Culp does not seem to be a screaming bargain; however, I am looking at this stock as a potential investment during a broad market pullback. Given the current beta of 0.79, the possibility of a cheaper entry is present, but may not be dramatic. Best-case scenario is an entry around $14, but given the necessity of a 33% decline, I am targeting prices below $17.50.
Disclosure: I have no positions in any stocks mentioned, and no plans to initiate any positions within the next 72 hours. I wrote this article myself, and it expresses my own opinions. I am not receiving compensation for it (other than from Seeking Alpha). I have no business relationship with any company whose stock is mentioned in this article.