Shares of Keurig Green Mountain (NASDAQ:GMCR) have been under pressure since the company announced its 10 year partnership with Coca-Cola (NYSE:KO) and investors have chosen to take the significant share price appreciation to lock-in profits. Even though Keurig Green Mountain reported a top line miss for the 1st quarter of 2014, its partnership deal with Coca-Cola gave investors reason to buy shares in the company which resulted in a 30% increase in shares of GMCR. Since peaking at $123.74 a share, however, the stock has begun to normalize to a more reasonable valuation as insiders, institutional investors and retail investors have been taking profits and likely look to reinvest at more favorable prices.
While GMCR's top line growth trend has been anything but encouraging in the last 12 months, its earnings strength has warranted multiple expansion and share price appreciation. With that said, it is ultimately the revenues which will tell the long term story of GMCR and its Keurig product portfolio. Analysts' opinions have recently given investors the opportunity to reset the bar when it comes to shares of GMCR. Most analysts have recently given revised analyst estimates and earnings outlook on the company's revenue model for FY14 and FY15.
If we take a look at Keurig Green Mountain's guidance for the 2nd quarter, it left much on the table for an upside surprise. The company forecasted non-GAAP EPS of $0.93 to $0.98 for the quarter which was below the $1.02 analysts were looking for in the quarter. Given the company's streak of continued earnings' beats, the company either set the bar low so they can manage a beat or understood some headwinds still represented in the sales channels which warranted caution.
I have been highly critical of Keurig Green Mountain's long term stability due to its poor innovation and product pipeline. Unfortunately, the company has been plagued by this issue for several years and through failed product initiatives. While the Vue platform brewer failed to advance sales and innovation for the company, Keurig has continued to plug away with launches of the Bolt and Rivo brewer systems. The Keurig Bolt is aimed at the away-from-home segment while the Rivo is an espresso maker which is the construct of a joint partnership with Luigi Lavazza.
Keurig Green Mountain must continue to innovate its products as greater impact from competition encroaches on its sales. The diagram below represents current market share in the K-cup/coffee pod market: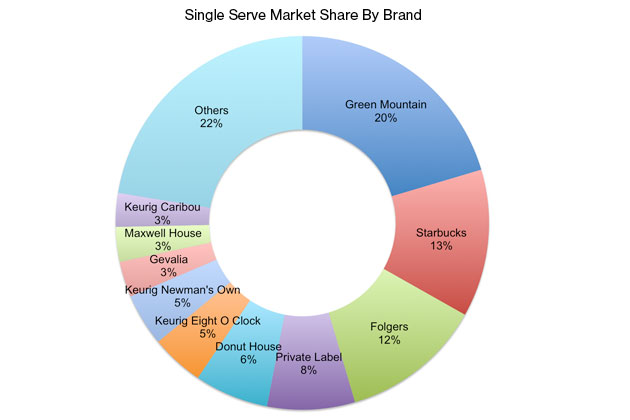 The most relevant part of Green Mountain's growth and innovation comes from its loss of patent protection in late 2012 which bore out increased private label competition or what is known as unlicensed portion packs. Unlicensed packs expanded from 7 percent of the market in mid 2013 to 14 percent by year-end, contributing to the growth of private label products which tend to have a lower price point than Keurig and Keurig licensed products. With Nespresso and Hamilton Beach making a bigger push than ever in the U.S. single-serve coffee market, Green Mountain must find the way to innovate profitably going forward.
Hamilton Beach's FlexBrew single-serve coffee maker is what GMCR has been concerned about for several years and the recent sales of the FlexBrew should prove to be a factual representation of market share erosion that needs to be addressed by Green Mountain. The FlexBrew is witnessing sales growth QOQ with advancing retail distribution. The FlexBrew has advanced distribution to include 11,000 points of sale in just the last 5 months. Priced at $49.99, and with the same basic functionality of Keurig's most basic single-serve brewer, the FlexBrew is consistently selling out at retail locations which is indicated in the photograph below taken at an Atlanta, Georgia Wal-Mart (NYSE:WMT).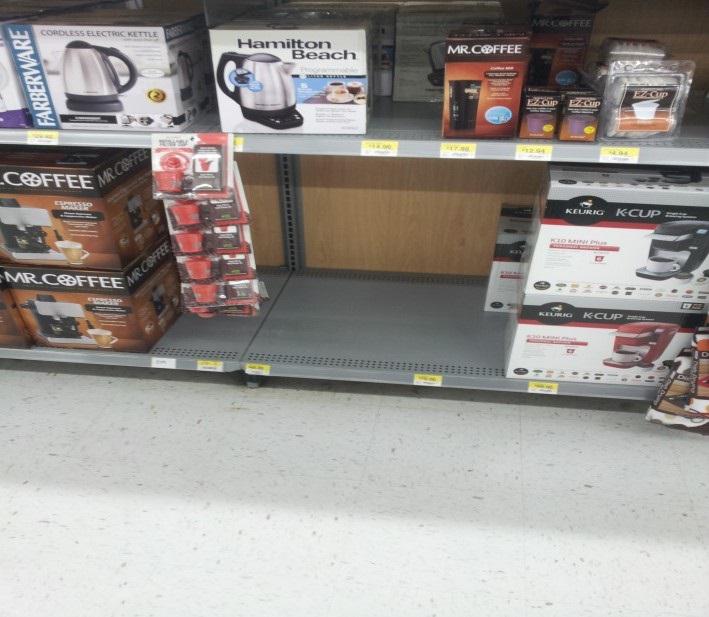 Based on point-of-sale (POS) data collected by Capital Ladder Advisory Group and NPD Group (subscription required), the Hamilton Beach FlexBrew is now experiencing a sales rate/week in-line with the Keurig K-10 Mini Plus which correlates to the slowing of sales for this named Keurig brewer product. With this in mind, let's take a look now at the Keurig Rivo to see how this product is performing at retail and to hopefully make a determination on its relevancy for Keurig Green Mountain.
The Rivo has a nice product display and is most prominently sold through Bed Bath and Beyond (NASDAQ:BBBY). Most importantly, investors should understand that this product partnership between GMCR and Luigi Lavazza has GMCR playing the role of a distributor, with limited revenue sharing that is heavily skewed in favor of Luigi Lavazza. As an espresso maker, the Rivo offers limited revenue potential for GMCR due to its price-point and lower level sales rates. The Rivo sells less than .4 units a week/store based on POS data. In 2012, brewer systems with a sales rate of less than .4 units a week/store were eventually discontinued by the retailer after 12 months. With that said, single-serve systems are generally given more time to develop sales due to the repeat visitations by consumers for the single-serve portion packs; so we do not expect the Keurig Rivo to be discontinued, but rather lose its prominent display position at retail in favor of a greater sales producing product. Based on the sales data, I think it is safe to say that the Keurig Rivo will not be a meaningful revenue driver for Green Mountain any time soon, if ever; specialty kitchen electrics rarely are revenue drivers. These types of products are mainly products aimed at rounding out a product portfolio in the effort of giving the consumer greater choices.
Given the recent product innovations offered by Keurig, this leads up to the highly anticipated Keurig Cold brewer platform. Investors are hoping that the Keurig Cold platform and the brand partnership with Coca-Cola will provide Keurig with renewed revenue growth acceleration for years to come. One major investor from Kase Capital, Whitney Tilson, believes that Keurig Green Mountain and Coca-Cola is making a severe and possibly egregious mistake in its product cycle. The infamous Mr. Tilson is putting his money where his mouth is with an equity stake in shares of SodaStream (NASDAQ:SODA). It's safe to say that Whitney Tilson is not alone in his belief as SodaStream's CEO has also indicated that he believes Coca-Cola is making a mistake it is entitled to make.
In Whitney Tilson's report, outlining his opinions toward SodaStream and Keurig Green Mountain, he suggests that the Keurig Cold platform has the potential of being little more than an over-hyped piece of "vaporware" destined for failure (Tilson's words, not mine). Tilson highlights factual representations through thoughtful surveys and proven results in the home carbonation category which are somewhat concerning. The facts he outlines point to the proven efficacy of store bought sodas being the most convenient form of cold beverage consumption and the proven benefits of home carbonation platforms come mainly from better-for-you beverages and seltzer water consumption. Nearly 75% of home carbonation platforms are used mainly to carbonate water, absent flavor additions. Tilson may believe this usage factor is being grossly ignored by Keurig and Coca-Cola. In his report to investors Tilson states the following:
"Since almost all European and a decent chunk of US users are using their Sodastreams to make sparkling water, this is not a market in which Keurig Cold is likely to be competitive. Even if the machines were to be comparably priced (which they most likely will not be -Keurig Cold is expected to be much more expensive), it would be completely ridiculous to make seltzer with Keurig Cold as there would be no flavor to put in the flavor pods and it will be about 7-9 times more expensive per serving to carbonate with a pod (assuming a 50-60 cent retail pod price vs. only 7 cents to carbonate 12 oz. of water with a Sodastream)"
While Tilson's argument is certainly based in factual sales and consumer sentiment data, let's further advance this topic through the competitive landscape the Keurig Cold will ultimately face. SodaStream has presented the competition with an impenetrable moat built through its extensive CO2 technology and distribution channel. This has been proven by the simple acknowledgment that Keurig is designing a different CO2 form factor and deployment in its system. With the understanding that the firm can't compete with a like CO2 form factor offered by SodaStream, Keurig has decided to use a 1970s patent filed by Proctor &Gamble to emit carbonation in liquids. Keurig is advancing the patent technology to be implemented in a single-serve platform. But will the Keurig Cold be "too little - too late"? While Keurig would lead investors and the public to believe its technology is new and first to market, it is not, not at all.
As already acknowledged, Keurig is using dated technology that has proven ineffective in the past. I'm willing to ignore this fact and offer that Keurig has definitively advanced the technology to prove effective going forward. It's not just the effectiveness that investors should concern themselves with at this point, its competition. The private company headed by Serge Bueno, Sparkling Drink Systems, has products ready to launch this year, with the very same technology being used by Keurig. Bevyz, another private company, has a similar single-serve cold beverage platform ready to launch this year. Bevyz also has a partnership to distribute single-serve PepsiCo (NYSE:PEP) brands and Del-Monte brands in its brewer system. Breville Party LTD and Kitchenaid also have home carbonation brewer systems to launch in the coming months. Of course, there is the market leader in home carbonation, SodaStream, which the Keurig Cold aims to compete with. Lastly, but certainly the most ominous issue the Keurig Cold platform must compete with is obsolescence.
In Whitney Tilson's report to investors, Tilson highlights SodaStream's innovation through its partnership with Samsung (OTC:SSNLF). SodaStream has advanced its technology to be included in Samsung refrigerator systems which make the need for a counter top appliance all-but useless. At the push of a button, one can get a sparkling beverage from their refrigerator and simplify the process of home carbonation. Samsung and SodaStream plan to launch more refrigerator systems this year, giving the consumer greater choice at various price points. These innovative products from Samsung and SodaStream are just one reason the investing public has long-term concerns with the Keurig Cold initiatives. Another reason is that it's not just Samsung that is looking to develop the sparkling beverage refrigerator platform as indicated in later-dated, but recently published patents from Whirlpool Corporation (NYSE:WHR).
With Samsung already selling thousands of sparkling beverage refrigerators and more to be developed and sold in the coming months and years, Whitney Tilson believes these product sales could lead to bottom line contribution of roughly $.25 a share for SodaStream in the coming years. If the refrigerator platforms become the norm and not the exception, the bottom line contribution could be multiples greater than offered and lead to the obsolescence of other brewer platforms for the at-home use including those offered by Bevyz, SDS and Keurig. Only time will tell.
If one is to invest in shares of GMCR, they will have to believe the company can not only advance its hot/cold beverage platforms, but advance its distribution as well. The company is certainly taking the right steps in order to accomplish their long term goals by reaching out to international markets and partnering with major beverage brands, but will it be enough to keep up with rapidly changing trends in beverage consumption and with the onset of increased competition. I believe there is room for multiple participants in both the hot and cold beverage brewer category and at the right price per share I would look to invest in shares of GMCR. Presently, I am looking to buy shares of GMCR below $100 a share where I believe it to be more fairly valued. This weekend, all the aforementioned company's in this article will be present at the International Home and Housewares Show and looking to present their existing and new product offerings to retail buyers. Hopefully, some analyst reports will develop from the IHH Show which outlines the products and the interest garnered at the show for investors to consider.
Disclosure: I am long SODA, BBBY. I wrote this article myself, and it expresses my own opinions. I am not receiving compensation for it (other than from Seeking Alpha). I have no business relationship with any company whose stock is mentioned in this article.