Apple has no other choice than to embrace NFC
There has been increased speculation recently about Apple (NASDAQ:AAPL) launching a mobile payment processing platform (see, for instance, a recent WSJ article "Apple Pushes Deeper Into Mobile Payments). While some argue that iBeacon/Bluetooth Low Energy will be Apple's weapon of choice to grab a share of the mobile payments market, we stick to our view that Near Field Communication (NFC) will be key and that the iPhone 6 will be NFC-enabled (see our previous SA article).
NFC is a low-power wireless technology allowing smartphones and other devices to establish radio communications with each other when they are held a few inches from each other. NFC is notably seen as a standard for contactless payments.
In our view, NFC will prevail, as iBeacon is not an international standard and as Bluetooth Low Energy is unlikely to provide the same level of security. We believe that this time around, Apple would find it difficult to impose its own standard due to the significance of the payment issue for consumers and governments globally and to their likely reluctance to be dependent on a proprietary (Apple) technology.
NFC is also making serious inroads in the all-important Chinese market. Indeed, everything is now in place for a take-off of the technology in China, and the country is likely to become a world leader in NFC payments soon:
China has been developing a national single mobile platform based on NFC, and has been testing it for more than a year. The platform is intended to replace debit and credit cards and to boost economic growth.
Telecom operators China Mobile (NYSE:CHL), China Telecom (NYSE:CHA) and China Unicom (NYSE:CHU) recently came to an agreement with payment service provider, UnionPay on standards for payment systems based on NFC technology embedded in mobile phones.
According to our industry contacts, the Chinese government could force smartphone makers to adopt NFC. This is kind of corroborated by China Mobile, which recently stated that every smartphone sold in its outlets by the end of 2014 would be equipped with NFC capacity as a default function.
If Apple does not want to be sidelined from the Chinese market, it will have no other choice than to embrace NFC.
Payment processing could become a significant market for Apple
In view of the lukewarm reception to the Galaxy S5, we believe that an iPhone 6 equipped with a larger screen and NFC is likely to claw back some market share at the expense of Samsung, specifically in Europe and in Asia, where NFC is becoming a dominant force. We would thus expect the iPhone 6 to give a fresh impetus to the iPhone family.
We believe that NFC would allow Apple to make serious inroads in mobile payment processing, as merchants around the world have started to adopt the technology.
The revenue/earnings opportunity is huge. According to research firm Adyen, the share of payment transactions taking place on a smartphone or tablet grew to 19.5% in December 2013 from 12.6% in December 2012.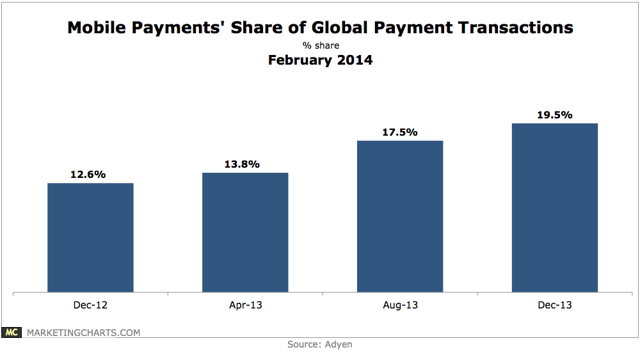 Source: Adyen
Close to 73% of these mobile transactions took place on an iOS device (vs. 27% on Android devices), meaning that an Apple device was used in 14% of global payment transactions! Therefore, Apple has an incredible opportunity to monetize the mobile commerce business. The ramp-up of a mobile payment processing service would obviously take a few years, but Apple has everything it needs to succeed: 575m iTunes accounts (as of June 2013), loyal and high-income customers, technology know-how and a strong brand.
What will be the impact on the stock if Apple confirms the launch of a payment processing service?
We believe that PayPal, owned by eBay (NASDAQ:EBAY), is a useful reference: with 150m active users, the company had $6.6bn revenue in 2013 and a 25% EBITDA margin, and is expected to grow its revenue close to $8bn in 2014. According to analysts, the company's valuation is around $40bn.
Assuming Apple converts only 25% of its customers, and these customers do a similar number of transactions than PayPal users, the payment processing service could add $40bn to Apple's market cap (i.e. $45 per share). But this is a very conservative scenario: Apple could convert a much higher number of users, and importantly, these users would have the possibility to use the service at any time (in a supermarket, in a gas station…). The number of transactions could be significantly higher then, and Apple could end up competing with Visa (NYSE:V), MasterCard (NYSE:MA), American Express (NYSE:AXP) and Discover Financial (NYSE:DFS).
The combined valuation of these companies is around $360bn, and $400bn when including PayPal. If we assume that Apple grabs a 15% share of the total payment processing market in the future, the impact on Apple's valuation would stand around $60bn, or $67 per share.
Positive implications for NFC/mobile payment mid caps
If Apple confirms the adoption of NFC in coming months, NXP Semiconductors (NASDAQ:NXPI) and Paris-based Inside Secure (OTCPK:ISDCF) will be great beneficiaries, as they own almost all patents on the technology.
An NFC-enabled iPhone 6 is also likely to be a massive catalyst for smart card company, Gemalto (OTCPK:GTOMY) and point-of-sale payment terminal makers, Ingenico (OTCPK:INGIY) and VeriFone (NYSE:PAY), as NFC will drive a huge replacement cycle of PIN cards in mobile phones and of POS terminals.
Disclosure: I have no positions in any stocks mentioned, and no plans to initiate any positions within the next 72 hours. I wrote this article myself, and it expresses my own opinions. I am not receiving compensation for it (other than from Seeking Alpha). I have no business relationship with any company whose stock is mentioned in this article.