We predicted that Apple (AAPL) would pass Microsoft (MSFT) in market cap in an article last June, so it's time to push the envelope with the following prediction: AAPL will surpasses Exxon Mobil (XOM) to become the largest publicly traded company in the world.
Why? We postulated a $20 EPS for AAPL in CY 2012. With a multiple of 16 plus a $20 billion allowance for its boatload of cash, AAPL should trade at $340 at some time prior to 2012. That gives the stock a market cap of $310 billion.
XOM, in contrast, should fare far worse. First, we will see an avalanche of new taxes levied by an angry nation. Oil companies are being tarred and feathered after the Gulf spill, adding fuel the imposition of crippling taxes and regulation and giving momentum to cap and trade and President Obama has requested a roll back in "tax breaks" for oil companies. Exxon Mobil already pays an extraordinary amount of taxes -- last quarter, it paid $21.7 billion ($6.8 billion in sales taxes, $9.3 billion in duties and other taxes, and $5.5 billion in income taxes). After expenses and taxes, its net profit for the quarter was $6.3 billion, a sum dwarfed by its various taxes. It is easy to see XOM's market cap falling to the coming onslaught of greater taxation and regulation.
This year we saw AAPL leapfrog MSFT. AAPL's market cap is now $240 billion, while XOM's cap has dropped to $285. I think we will see AAPL take out XOM to become king of the market. (Click to enlarge)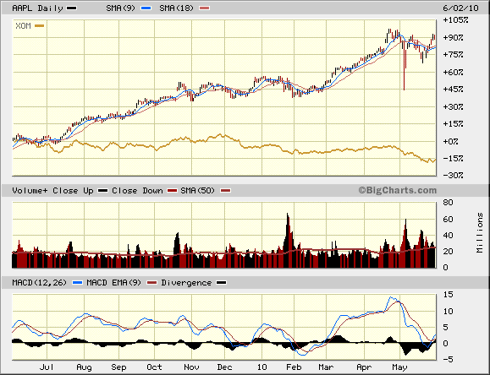 Disclosure: Long AAPL