Mario Gabelli, frequent guest/commentator on CNBC and Barron's among others, is the founder, CEO and chairman of Gabelli Asset Management Company Investors ("Gamco"). Gabelli has long been one of our favorite money managers and we are always interested in his take on media/telecom assets, restructuring plays and special situations. He has been named by The Institutional Investor as a past winner of Money Manager of the year award. His net worth which has been estimated by Forbes magazine as in excess of one billion speaks for itself. As part of this year's Barron's Roundtable Gabelli divulged his six favorite stocks for the year. Just like last year we thought it would be a worthwhile exercise to discuss his selections and see if we are in agreement - here are Gabelli's six picks:
Journal Communications Inc. (NYSE:JRN)
Journal Communications has a market capitalization of $487 million and trades an average of only 189,000 shares per day. Journal Communications is a media company that is based in Milwaukee. The company has 51 million shares of stock outstanding, with two classes of stock; 44.6 million shares with one vote apiece and 6.3 million shares with 10 votes apiece. The company owns 13 television stations, 35 radio stations and one major newspaper (the Milwaukee Journal Sentinel). Gabelli predicted revenue for 2013 would total $410 million (actual was reported as $397.3 million) with EBITDA at about $75 million and earnings per share of 55 cents (actual was reported as 52 cents by the company on march 4th). Consensus estimates for earnings this year are for 77 cents per share with revenues estimated at $442.95 million. Gabelli values the newspaper at four times EBITDA; the television stations at eight to nine times EBITDA and he thinks the radio stations are worth seven to eight times EBITDA. Gabelli would like to see the newspaper spun off and thinks the print assets plus the broadcasting assets could be worth $13 to $15 per share. With the value of most daily newspapers declining in value almost as much as they are declining in size we do not have the patience nor the inclination to wait this one out fearing that it may prove to be a value trap. On the other hand, if an agent of change (like Carl Icahn ) were to enter the picture we would be a buyer as we agree that with the value of the television and radio stations that the value of the assets far exceeds the current stock price.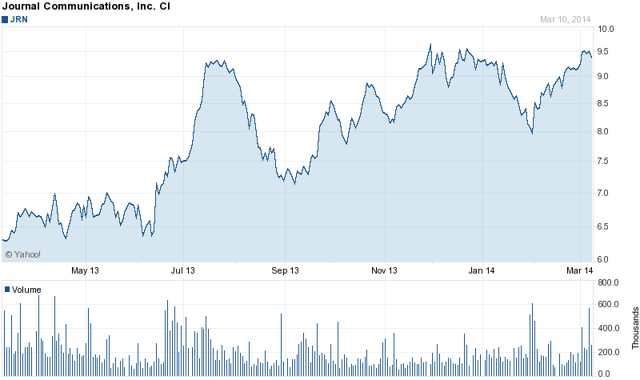 Source: Yahoo Finance
Diebold, Inc. (NYSE:DBD)
Diebold has a market cap of $2.43 billion and trades an average of 705,000 shares per day. The company primarily makes automated teller machines. Gabelli states that the company had all sorts of issues that it has managed to put in the past with the hiring of a new CEO (Andreas Mattes) with a blue chip background. Gabelli says the company had a bloated cost structure and has been working to cut costs. Total revenue is currently $2.84 billion; of that $2.2 billion came from the financial self-service business, $630 million came from the security systems business and the balance from a small election systems business. Earnings are currently $1.36 per share with EBITDA at $215 million. Consensus earnings estimates for the current year are $1.79 with earnings estimated to increase further to $2.25 per share next year. Gabelli feels the makeover is in the early innings and projects that financial self-services revenue could rise to $2.5 billion and security to $750-800 million for a total of $3.3 billion with earnings per share of $2.75. With those numbers Gabelli feels that the stock will double. Gabelli also feels with its great brand and image and given its modest market cap that Diebold could be attractive to an acquirer interested in the footprint that Diebold serves. We agree with Gabelli on this one and feel it should be bought and likely held for several years.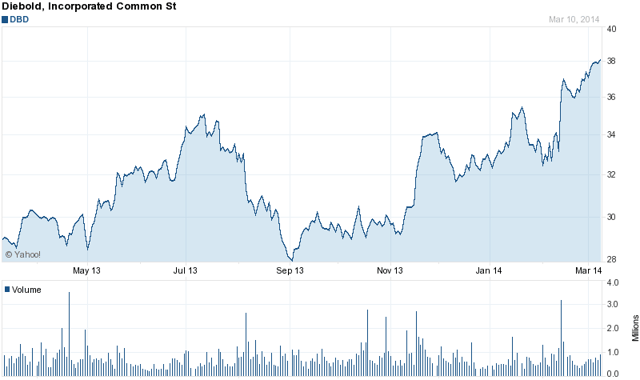 Source: Yahoo Finance
Chemtura Corporation (NYSE:CHMT)
Chemtura has a market cap of $2.47 billion and trades an average of 917,000 shares per day. The company makes specialty chemicals. Gabelli feels Chemtura is in the latter stages of a turnaround. The company emerged from bankruptcy in 2010. He likes that the current CEO was the CEO of Hercules when it was sold to Ashland in 2008. Additionally, Gabelli likes that the company has been trimming noncore assets while adding to its core competency and buying back shares. Gabelli thinks the share count could fall to 70 million in the next three years. The company is considering whether to sell the ag-chemical business. Assuming the sale of the ag business, Gabelli thinks the company can generate $2.5 billion of revenue through organic growth and minor tuck-ins with EBITDA of 450-$500 million. Consensus estimates for earnings this year are $1.23 and earnings are projected to increase further in 2015 to $1.72 per share. With the going rate for specialty chemical companies of eight times EBITDA, Gabelli fells the stock could go to around $45 per share in two years. Gabelli states that Chemtura is three years into its turnaround and now is in the takeoff stage. He sees a parallel with his past investment in Hercules. We like this story and would be buyers looking to hold until either the turnaround is complete or we get taken out with a takeover bid.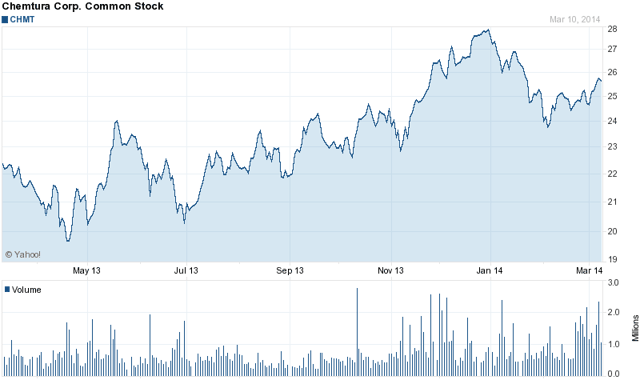 Source: Yahoo Finance
National Fuel Gas Company (NYSE:NFG)
National Fuel Gas has a market cap of $6.16 billion and trades an average of 447,000 shares per day. National Fuel is a diversified energy company with three main businesses; a natural gas utility, a pipeline and storage business and an exploration and production segment. Gabelli values the utility business at $20 per share, thinks the midstream pipeline business could be monetized and likes the growing exploration and production business in the Marcellus. Gabelli feels even with natural gas prices constant that the company could be worth $100 per share. The company is asset rich and owns 720,000 acres in fee and leases 60,000 acres in the Pennsylvania Marcellus Shale. Consensus estimates for earnings per share for the year ending the year ending in September are $3.14 then rising to a projected $3.34 next year. Dividends have been paid for 111 consecutive years with the annualized dividend of $1.50 per share providing a current yield of 2.05%. We love this company as an underpriced asset play and would be buyers at the current price and would expect to hold this one for several years as we expect over time this company will spin out the utility business and then separate the midstream business from the rest of the company leaving a pure play E&P company thereby creating value.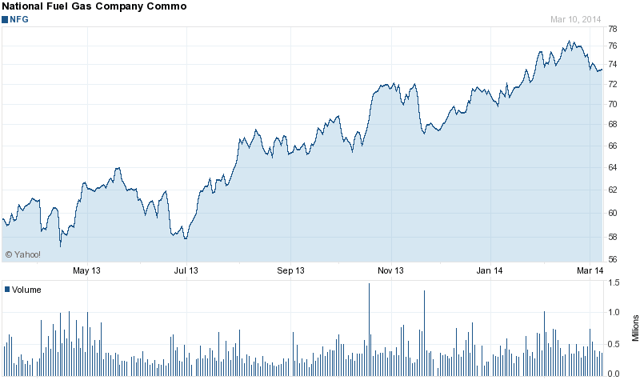 Source: Yahoo Finance
Weatherford International Ltd. (NYSE:WFT)
Weatherford has a market cap of $13.4 billion and trades an average of 8.1 million shares per day. The company provides oil field equipment and services worldwide. Gabelli reminds us that the stock has gone from $47 to $14 because of various tax issues, problems overseas and material weaknesses in its accounting. The company is still in the midst of restating several quarters and working on getting a clean accounting opinion. Gabelli likes their artificial lift business and points out that General Electric bought Lufkin Industries last year for 13 times EBITDA and states further that management has identified three or four businesses that they want to monetize. Gabelli feels that either the company pulls off a turnaround or the company will be acquired. Consensus estimates for earnings per share for 2014 are $1.05 per share and are projected to rise further in 2015 to $1.57 per share. We rate this company a buy and think it goes higher on its own merits as it gets its books in order or because it attracts a takeover bid.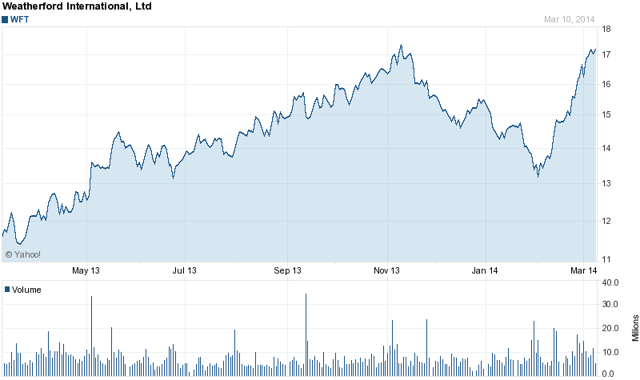 Source: Yahoo Finance
Post Holdings, Inc. (NYSE:POST)
Post has a market cap of $1.9 billion and trades an average of 519,000 shares per day. Post manufactures markets and distributes ready to eat cereals, snacks and nutrition products in North America. Gabelli is a fan of the CEO, William Stiritz. Gabelli feels that Stiritz is recreating the strategy he used when he ran Ralston Purina. Consensus estimates for the year ending in September are $1.33 per share and are projected to increase further the next year to $2.09 per share. Gabelli feels that EBITDA could grow to $500 million in three years and points out that in five years Stiritz will be around the age of Warren Buffet. We think the story at Post has been fully discounted and rate Post a weak hold based on valuation and think with the stock having doubled since being spun out of Ralcorp that money would be best served invested elsewhere.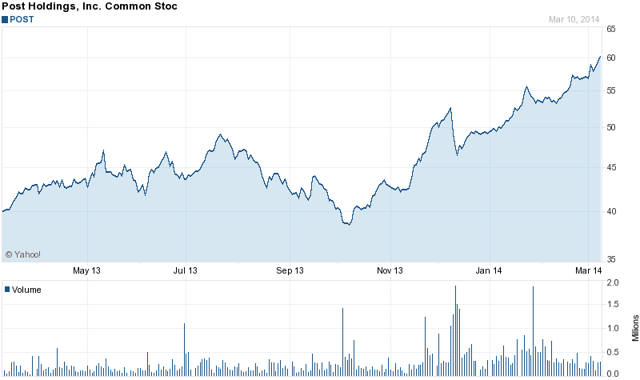 Source: Yahoo Finance
Disclosure: I have no positions in any stocks mentioned, and no plans to initiate any positions within the next 72 hours. I wrote this article myself, and it expresses my own opinions. I am not receiving compensation for it (other than from Seeking Alpha). I have no business relationship with any company whose stock is mentioned in this article.