Due to increased production by the U.S. and higher seasonal production by Saudi Arabia, the spot price of crude oil showed some stability, with an average of $3.51 per gallon, during 2013. The average oil production for 2013 by the U.S. was 7.5 million bbl/d, which was 1 million bbl/d more than in 2012 and is expected to further increase in 2014 and 2015 to 8.5 million bbl/d and 9.3 million bbl/d respectively; reaching the highest production levels by the U.S. since 1972.
The Gulf of Mexico has also been lit up with the expectation of high reserves of oil and gas that had previously been left untouched. Coryell-Ouachita Group Inc. has estimated that more than 22 million barrels of oil and 102 billion cubic feet of gas are ready to be pumped, whereas the U.S. government is estimating 50 billion barrels of oil. This region was previously owned by Chevron (NYSE:CVX) but was sold off after the tragic Horizon spill, which resulted in a loss of 11 lives and spilled more than 4 million barrels of oil into the sea. Oil companies are now waiting for the government to sell leases in order to start pumping oil.
However, it is expected that OPEC's crude oil production will decline by 0.5 million bbl/d in 2014 as it is giving room to non-OPEC countries for growth in the supply of crude oil. The expected recovery in the production of Libya, Iran and Iraq might cause OPEC production to decline in 2015. After Iran's nuclear deal and relative stability returning to Libya, these countries will also be bringing oil to the market. The Libyan political clashes reduced supply to 250,000 barrels a day from 1.4 million barrels a day in March 2013. Iran is currently pumping 2.65 million barrels a day and aims to increase it to 4 million barrels a day after successful talks with the U.S. regarding the nuclear deal. Iraq on the other hand has planned on increasing its production to 9 million barrels a day by 2020. With these giants coming back to the international market the supply of oil will increase which, according to speculations, might put pressure on OPEC to either cut down prices or decrease output in order to maintain the current market equilibrium.
China is currently the leading consumer of crude oil due to its high level of growth and is expected to increase consumption by 400,000 bbl/d in 2014 and 430,000 bbl/d in 2015 while global consumption (inclusive of China) is expected to increase by 1.2 million bbl/d and 1.4 million bbl/d in 2014 and 2015 respectively. On the other hand, OECD consumption will be showing a declining trend due to the move towards natural gas. Japan will decrease its consumption by 120,000 bbl/d in 2014 and 170,000 bbl/d in 2015 while Europe's consumption will decrease by 100,000 bbl/d in 2014 and 50,000 bbl/d in 2015.
While there is already volatility in the crude oil market, natural gas is also putting a downward pressure. It is expected that in 2040 natural gas will account for 35% of U.S. electricity generation, whereas coal will make up 32%. The import of energy will reduce to 4% by 2040 from 16% in 2012 and 30% in 2005. The U.S. signed a deal with Mexico in 2012 for the supply of natural gas, which is expected to more than double by 2016. The supply in 2013 was 2Bcf/d and will increase to 4.5Bcf/d in 2016. Mexico's increasing demand has been due to the reduced production of Pemex, a state-owned company whose focus is primarily on oil and shale gas. This has provided an opportunity for U.S. producers and their expanding production. Mexico's demand is expected to increase to 2.7Bcf/d by 2018, of which 1.4Bcf/d will be used for gas fired generation, which is predicted to expand to 3.9Bcf/d from 2010 to 2025 due to the country's planned gas-fired generation growth. Qatargas recently signed a five-year deal with PETRONAS (OTC:PECGF) to supply 1.14 million tonnes of LNG per year and a four-year deal with Centrica (OTCPK:CPYYF) to supply 3 million tonnes of LNG per year in the U.K. This was prompted by severe cold weather and insufficient local supply in the country. The deal with Centrica means that Qatargas will be heating 13% of British homes and the delivery will start in mid winter when there is peak demand of gas for heating and other purposes. Qatargas also signed a deal with Germany's E.ON (OTCPK:ENAKF) in October 2013. This was a five-year deal to supply 7.4 million tonnes of LNG. Furthermore, the company is involved in negotiations with India, Pakistan, and China. Such deals show that the market is growing and is still some time away from reaching its peak.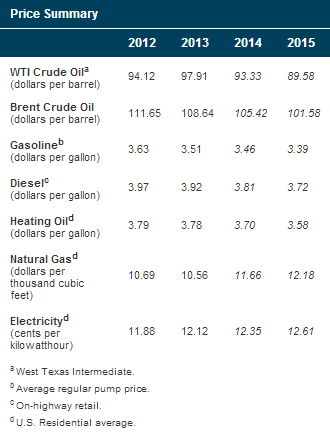 Source: EIA
Performance
It would be better to analyze these companies head-to-head rather than on their past performance alone.
| | | | | | | |
| --- | --- | --- | --- | --- | --- | --- |
| | Chevron Energy | Exxon Mobil (NYSE:XOM) | ConocoPhillips (NYSE:COP) | Noble Energy (NYSE:NBL) | Devon Energy (NYSE:DVN) | Cimarex Energy (NYSE:XEC) |
| Current Share Price ($) | 114 | 94 | 66 | 68 | 63 | 110 |
| P/E ((NYSE:TTM)) | 10.40 | 13.10 | 9.01 | 25.20 | - | 17.84 |
| Dividend ($) | 4.00 | 2.52 | 2.76 | 0.56 | 0.88 | 0.64 |
| Dividend Yield (%) | 3.50 | 2.60 | 4.20 | 0.80 | 1.40 | 0.60 |
| EPS ($) | 11.09 | 7.37 | 7.38 | 2.70 | -0.06 | 6.48 |
| Return on Equity (%) | 14.98 | 19 | 15.93 | 10.40 | -0.10 | 15.06 |
Source: Yahoo! Finance
It is still difficult to determine which company performed better during the year using these values alone due to the varying performance of all the firms. In accordance with the P/E ratio, Noble Energy performed better, reporting a P/E ratio of 25.20, while according to ROE the best performer was Exxon. All the companies were able to report profits during 2013 except Devon, which reported a net loss of $1.33 billion in the first quarter, including $1.95 billion as non-recurring expense, which brought its total net loss for the year at $20 million. This resulted in a negative ROE for Devon, whereas other companies reported positive ROEs. Cimarex closed the 2013 financial year with an almost 80% increase in its share price, making it the best performing company in terms of share price by far. While Cimarex experienced the highest increase in share price other companies also performed good enough to show growth in their shares. All the companies paid dividends last quarter and still have the capacity to continue with their dividends as (according to our calculations) the operating cash flow ((NYSE:OFC)) yield was 16% for Chevron, 11% for Exxon, 20% for ConocoPhillips, 11.7% for Noble, 20.6% for Devon and 13% for Cimarex Energy.

Source: YCharts
Even though all companies had a solid 2013 this fact alone is not a guarantee of continuing future performance. Due to the nature of the industry they operate in any company's performance greatly depends on the demand, supply and price of oil and natural gas in 2014. With higher production the companies can capture larger market shares.
Major Players
Chevron Corporation
Chevron Corporation is an American based company operating in three main segments; exploration & production, manufacturing products & transportation and other businesses. Exploration & production is related to the drilling of oil and natural gas from deep water reservoirs while manufacturing products & transportation is related to the refining of crude oil, manufacturing and distributing lubricants and gasoline (through subsidiaries like Caltex Texaco) and also the supply of oil to other countries through pipelines and ocean fleets. The other businesses segment involves power generation, research, development of chemicals and mining. Chevron's diversified production gives it some edge over its competitors (namely the LNG projects in Australia) with deep water crude oil production in different regions globally and shale gas reserves in the U.S. The company reported a production of approx. 650 Mboe/d in the U.S. while 1,926 Mboe/d from the rest of the world in 2013.
Chevron reached a decision regarding the investment to be made in Adler field, which holds the capacity to produce 110 million cubic feet of gas and 14,000 barrels of condensate per day. This field is located off the coast of Britain. Alder is expected to start production in 2016 and Chevron has a 74% stake in the field alongside ConocoPhillips. This decision will not affect the company for now but it will have a great impact on its performance in the future.
Chevron is planning to go forward with a joint venture with PGNiG, a local state-owned company, for the exploration of shale gas in Poland. This region has been left abandoned due to varying issues, ranging from lack of local company cooperation to poor drilling results, which gives Chevron a chance to jump in and capitalize on this opportunity. This agreement will be beneficial for both companies as Chevron will be able to carry out its exploration with lower costs and will also speed up the exploration process. The joint venture is expected to be signed this year and can affect future production if the exploration proves fruitful.
Furthermore, Chevron's presence in Brazil may prove to be a great advantage for the company. Brazil is the 8th largest energy consumer in the world and has proved reserves of 13 billion barrels of oil as of January 2013 and produced 2.7 Mbbl/d of liquid fuel (of which 78% was crude oil). Brazil has also announced a 10-year plan to expand its production to 5 Mbbl/d and has set an export target of over 2.25 Mbbl/d by 2021 (though this increased production figure is reduced from the 6 Mbbl/d proposed in the last plan). That being said, Chevron has two subsidiary projects in this region. The company has a 51.7% operating and holding interest in the Frade project located in Campos Basin which averages a production of approx. 6000 barrels of crude oil per day and 2 Mcf/d of natural gas and also a 37.5% working interest in Papa-Terra project which started its production in November 2013. This field was discovered in 2003 and has the capacity to produce 140,000 barrels of crude oil per day at full operating capacity. These two projects can play a key role in Chevron's financial success in the future.
However, with all the upsides the company is facing a few problems as well. Chevron is trying to divest its assets in Nigeria, which has put a block to the ongoing divestment worth $1 billion. Nigeria has the potential to double its output (from 2 million-2.5 million barrels per day) in the next five years but this has been slowed down due to domestic issues of oil theft, pipeline sabotage and regulatory uncertainty. Chevron was in discussions with the Nigerian firm Brittania-U regarding the sale of the OML 52, 52 and 55 blocks worth $1 billion but due to uncertainty about the payment it decided to sell the blocks to other companies. Brittania-U filed a lawsuit which halted Chevron's sale of assets in the U.S. Chevron is also trying to sell two other blocks (OML 83 and 85) to the Nigerian firm First Exploration and Production for $100 million but the deal is not yet completed and rival bidders are also trying to stop this sale. This means that the company's assets are somewhat stuck for a while, until the Nigerian federal high court lifts the ban for the sale to go through. Prolonged delays will cause profit from sale of assets to go down and increase the chances of the deal getting canceled.
Exxon Mobil
Exxon Mobil is an American company operating in various regions of the U.S., Canada, South America, Europe, Africa, Asia and Australia. Exxon is also working with Rosneft for exploration and development activities in Russia. It is primarily engaged in the production and exploration of crude oil and natural gas but also transports and sells crude oil, natural gas and petroleum products.
Exxon Mobil reported a production of 4175 kboe/d during 2013, which was 1.5% less than 2012 due to OPEC quota effects and divestments carried out by the company. The company is planning to shake things up in order to improve its results by increasing capital spending. Four major projects can play an important role in Exxon's future performance; Kearl Sand, Kashagan, Papua New Guinea LNG and Kipper Tunna Turrum, all of which are expected to increase production in 2014. The Kashagan project is being developed by a group of partners with Exxon Mobil holding a 16.81% interest. This project is expected to produce 180,000 barrels of oil per day this year, expected to increase to 1.5 million barrels per day by 2021. Papua New Guinea LNG is producing 6.9 million tonnes per annum of LNG and Exxon holds the largest interest at 33.2%. Kipper Tunna Turrum project has reserves of 1.6tcf and 140 million barrels of oil combined but it will be operational in 2016 after the completion of installations currently being made. In addition, there is speculation that the improving relations with Iran will open ways to new working grounds, which had been closed due to the sanctions imposed by the government.
Furthermore, Exxon Mobil is joining hands with Rosneft (OTC:RNFTF) for exploration and drilling in the Arctic region, which is expected to have more oil reserves than Norway's North Sea. The Arctic's Kara Sea may hold 85 billion barrels of oil equivalent and the geographical area where the first well is planned may hold 9.4 billion barrels. The company sold its 50% stake in Castle Peak Co. Ltd, scoring a deal worth $3.4 billion, which is going to bring an infusion of much needed cash to back capital expenditure. CLP Holdings has a 70% stake in Castle Peak now, leaving 30% for Exxon Mobil, which CLP is planning to acquire as well but the date and financial terms have not been disclosed.
Recently Exxon signed a deal with 7-Eleven service stations for the sale of its Mobil brand in Australia. The company made this move after there were reports that Royal Dutch Shell and BP are wrapping up their retail business in the region. Exxon was present in this market until 2010 when it sold its retail assets and this move will help the company revive its name in the region by grabbing the market share of its competitors.
ConocoPhillips
ConocoPhillips is involved in exploring, developing and producing oil and natural gas on a global scale. The company is operating in six geographical segments; Alaska, Lower 48 & Latin America, Canada, Europe, Asia Pacific & Middle East and other international regions. In 2012, the company separated its downstream business, under the name of Philips 66, and continued with upstream operations under the name ConocoPhillips in order to maximize shareholder value. During the same year the company sold its Trainer Refinery to Monroe Energy LLC, a subsidiary of Delta Air Lines (NYSE:DAL). Further selling continued at the start of 2013 when the company announced the sale of its Rocky Mountain assets to Denbury Resources for $1.05 billion.
ConocoPhillips is planning to sell its assets in Nigeria to the local energy firm Oando. This deal was supposed to be concluded in 2012 but was delayed due to financial difficulties. The deal is now close to completion with the payment of $1.23 billion after adjustments. Oando has already paid $450 million, making the acquisition worth a total of $1.68 billion. This field yielded a production of 43,000 barrels of oil to ConocoPhillips in 2012 and has proven reserves of 213 million barrels of oil equivalent.
If the situation regarding Iran develops positively it will encourage many oil producers, like ConocoPhillips, to start pumping Iranian oil. Iran is willing to work with the U.S. and the country's government has shown a keen interest in some U.S. oil companies including ConocoPhillips, which was named by Iran's oil minister Bijan Zanganeh. However, U.S. law does not allow American companies to carry out operations in Iranian oil and gas fields. If there is some leniency in the law in the near future the production of ConocoPhillips can greatly increase, affecting its revenues and overall market performance.
Statoil was awarded the license for exploration of oil in the Arctic Ocean near Greenland with its partners ConocoPhillips and Nunaoil. ConocoPhillips holds a 35% share in this exploration, which can create good prospects for the company if it turns out to be fruitful. Though there have been some protests from environmental groups due to drilling in the eco-sensitive Arctic region.
Noble Energy Inc.
Noble Energy engages in the acquisition, exploration, development, production, and marketing of crude oil, natural gas and natural liquefied gas in the United States, West Africa and Eastern Mediterranean regions. The company's operational projects consist of the Aseng project located offshore of the Gulf of Mexico, Tamar project located offshore of Israel and Alen project located offshore of Equatorial Guinea.
Noble Energy Inc. agreed to a deal with Palestine Power Generation Co. in which Noble and its partners (Delek Drilling (OTC:DKDRF), Avner Oil Exploration (OTCPK:AVOGF) and Ratio Oil Exploration (OTC:RTEXF)) will provide 4.75 billion cubic meters of gas in return for $1.2 billion over 20 years. This gas will be pumped from the Leviathan wells, which have an estimated reserve of 538 billion cubic feet of gas, 40% of which is allowed to be exported by the Israeli government. The pumping is expected to start by the end of 2017 indicating a better future in terms of production for Noble as it has a 39.66% stake in Leviathan. Nobel also has a 36% stake in the Tamar field, off the shore of Israel, which has estimated reserves of 283 billion cubic meters of gas. These two projects can greatly influence the company's future performance.
The company was also behind the discovery of major natural gas reserves in Cypriot waters, estimated at 198 million cubic meters of gas in 2011, and is hoping to identify an additional 850 to 1133 million cubic feet of gas reserves after the commencement of the second drilling phase in June 2013. If Noble continues to be successful in finding energy resources it will have the opportunity to decrease capital costs in the future, which can greatly impact the company's profit margins.
Devon Energy
Devon Energy is involved in the exploration, development and production of oil, natural gas and natural gas liquefied in the Rocky Mountains, Mid-Continent, Permian Basin and Gulf Coast. It also has ownership of oil and gas properties in Alberta, British Columbia and Saskatchewan provinces in Canada. The company operates a total of approx. 25,000 wells and provides midstream services such as the distribution of gas, natural gas gathering and processing plants and oil pipelines.
After having a fluctuating share price over most of last year Devon Energy has decided to diversify its production. The decreasing interest of investors in its shares has forced the company to rethink its strategy, which resulted in the acquisition of GeoSouthern Energy Corp.'s assets in the Eagle Ford shale region. Devon will buy oil-producing assets costing $6 billion and plans to sell its natural gas assets in Canada and other non-core assets in the U.S. The assets it is purchasing are currently producing 53,000 barrels of oil equivalent per day, which is expected to grow at a compound annual rate of 25% for the next several years until it reaches its peak of 140,000 barrels of oil equivalent. The reason behind this deal is to attract more investors and also to address the criticism regarding a lack of exposure to the more profitable crude oil.
With this transformation program Devon will decrease its asset holdings by 30% of its natural gas, 1% of its natural gas liquids and 8% of its oil. Adding to this, the CEO of Devon Energy John Richels claimed that after divesting from non-core assets Devon will focus on five key areas - the Eagle Ford Shale, the Permian basin, Canadian heavy oil, the Barnett Shale, and the Anadarko Basin as well as two other emerging oil plays. This indicates that the company might be able to control the risks to its revenues through diversification in other energy markets.
Cimarex Energy Co.
Cimarex Energy is a U.S. based company engaged in the exploration and production of oil and natural gas; operating in the Mid-Continent and Permian Basin. The company was able to close the financial year 2013 with a net income of $564.7 million compared to $353.8 million in the last year, which is a substantial increase of 60%. This has been due to a production volume of 692.6 million cubic feet equivalent per day, which is 11% higher than that of 2012, and better market prices for the producers. The average realized sale price of natural gas was $3.76 per thousand cubic feet, 31% higher year over year, whereas oil was priced at an average of $93.44 per barrel, approx. 5% higher than 2012. All these elements played in favor of the company, making it not only profitable but also enabling it to increase its share price by 80% in 2013.
Cimarex Energy has concentrated more on its current production unlike its competitors that were heavily involved in acquisitions and divestments. This could have been the key factor due to which Cimarex was able to increase its production and work on developing new well completion techniques which (according to the CEO) have not only been a success for the third quarter but will also play an important part in the future.
Cimarex Chairman and CEO, Tom Jorden, said:
"The third quarter not only produced excellent financial results, it was also a period of strong technical momentum in the Texas Delaware Basin Wolfcamp shale. We completed a Reeves County Wolfcamp A horizontal well using a 10,000-foot lateral and have also tested upsized frac stages on our traditional 5,000-foot lateral, increasing the number from 12 stages to 20. Both were operational and economic successes. These new completion techniques will most certainly play into our future development plans for this large, stacked-pay resource."
Valuation
Amounts in ($ Billions)

Chevron Energy

Exxon Mobil

ConocoPhillips

Noble Energy

Devon Energy

Cimarex Energy

Market Capital

220.16

417.09

81.54

24.90

26.24

10.06

Long-term Debt

20

5

21

4.6

8

0.9

Cash and Cash equivalents

(16.3)

(5.8)

(6.3)

(1.1)

(6)

(0.005)

Enterprise Value

223.9

416.3

96.24

28.4

28.24

10.96

Amounts in $ per share

EV/share

117.2

96.4

78.24

78.72

70

126

Sell side Target Price

129.17

99.53

74.81

82.54

73.62

123

Amounts in $ per share

Current Share Price

114

94

66

68

63

110

Diff. with EV/share approx.

(3)

(2)

(12)

(10)

(7)

(16)

Diff with Sell side Target Price

(15)

(5)

(8)

(14)

(10)

(13)
*negative values show higher current price
Source: Yahoo! Finance
The table above shows that all the major players are selling at a discount to the mean sell side target price and EV/share. Looking at the overall position of the stocks we believe that ConocoPhillips, Noble Energy and Cimarex Energy have the potential to give good returns on the basis of our valuation, supported by the analysts' target price.
Conclusion
Chevron, Exxon Mobil, ConocoPhillips, Noble, Devon and Cimarex are all involved in oil and gas exploration and production in different regions of the world. The market conditions in the oil and gas industry are becoming favorable because of the fact that Iran, Libya and Mexico are gearing up to enter the energy market once again with promising results. It was pointed out that OPEC will have to cut down its supply or correct oil prices after the re-entry of Iran and Libya but this speculation was rejected by the OPEC as it claimed that energy demand is increasing and will exceed the new production, thereby not affecting the current situation of the market. However, Libya is still facing concerns over the militant captured oilfields. On the other hand solar and wind energy are also growing but are still not strong enough to pose any competition to the oil market.
Even though Cimarex may have outperformed the market and its competitors last year it is unlikely that the company will maintain this position as no new projects or discoveries have been made which will add to its existing production levels. On the other hand Noble Energy not only paints a bright picture regarding upcoming projects while maintaining its image as a pioneer in the discovery of new oil and gas fields, it is also showing signs of potential growth because it is undervalued at the current price level. The best pick for the next cycle would be Noble Energy, considering both fundamentals and valuation, and will prove to be a good investment.
Disclosure: I have no positions in any stocks mentioned, and no plans to initiate any positions within the next 72 hours. I wrote this article myself, and it expresses my own opinions. I am not receiving compensation for it (other than from Seeking Alpha). I have no business relationship with any company whose stock is mentioned in this article.
Additional disclosure: Equity Flux is a team of analysts. This article was written by our Basic Material and Financial analyst. We did not receive compensation for this article (other than from Seeking Alpha), and we have no business relationship with any company whose stock is mentioned in this article.