Dividend growth investors have enjoyed a profitable run the past few years to the extent many are opting out of automatic dividend reinvestment because valuations have risen to great heights. Parking the dividend payments in a cash account until prices retreat may be a prudent strategy for many portfolios, but there are a few wonderful businesses still available for a fair price.
Average Historical PE Ratios Over Two Different Time Periods
Utilizing F.A.S.T Graphs I reviewed all 54 members of the exclusive S&P 500 Dividend Aristocrats to see which were priced below their historical average PE since 1995. I chose the aristocrats because they represent the cream of the crop for dividend growth investors like myself. One of the criteria for membership in the aristocrats is an uninterrupted record of dividend increases for at least 25 consecutive years. While hundreds of businesses might be offering higher dividend yields currently, the durability and sustainability of the aristocrats to deliver higher dividends year-after-year, decade-after-decade, regardless of the economic climate provides peace of mind to many investors, which is priceless.
In the short run the market is a voting machine, but in the long run it is a weighing machine. - Benjamin Graham
I reached back to 1995 as a starting point to capture the wide window of global and financial events these companies endured while still producing annual increases in dividend distributions. Sixteen companies emerged from the initial field of fifty-four, with the current price tags discounted from the historical average PE since 1995.
The sweet 16 were culled further by comparing the current price to the historical average PE since 2003. Reviewing both PEs is helpful, because companies experience different growth rates and dynamics over time. In one period, a company may be enjoying faster growth, higher margins, or rapidly rising dividends, which usually translates to the market willing to pay a premium (higher PE). Likewise, when the reverse is true - slowing growth, reduced margins or modest dividend increases - the market over time generally weighs in with a less enthusiastic PE multiple.
Another factor is some companies reinvent themselves from one era to another. Twenty years ago a company might have been heavily invested in a low-margin operating segment, and in more recent years divested itself from that, or acquired a higher margin competitor. Mergers, acquisitions and divestitures often transform a company from "what it was" to "what it is today," painting a dramatically different portrait, rendering data from a prior era less relevant. The most successful and enduring businesses are always evolving, and usually more quickly and efficiently than the competition.
The 9 Dividend Aristocrats Currently Discounted From Historical PEs
Company

Ticker

Business Sector

Current

PE

Average PE

Since 1995

Average PE

Since 2003

Aflac

Insurance

9.7

16.3

15.0

Family Dollar

Retailer

16.4

19.1

18.0

Franklin Resources

Financial

15.8

18.2

18.2

HCP, Inc

Healthcare REIT

12.0

13.3

16.0

Medtronic

Medical Devices

17.8

32.4

22.3

PPG Industries

Specialty Chemicals

9.0

18.4

20.7

T. Rowe Price

Financial

21.5

22.5

22.8

Target

Retailer

14.0

21.4

17.0

Walmart

Retailer

14.9

25.3

18.7
P/FFO was utilized with HCP, Inc
All values are after the market close, on March 10, 2014
PE metric utilized the earnings per diluted share, which is a personal preference.
PPG's current PE shown above is skewed by earnings from discontinued operations in 2013. Realistically, it is much higher and not discounted from historical average.
I am not surprised with Family Dollar, Target and Wal-Mart trading below historic levels. Between all the issues low-end retailers have suffered from in recent months, and the brutal wrath of Mother Nature unleashed on shoppers this winter, it's no wonder investors have shown those retailers so little love. Being long Aflac, HCP, Medtronic and T. Rowe I was already aware of their status. PPG Industries was a shock, but then its chart is even more so. Franklin Resources caught me off guard because it has been such a stalwart performer for such a long time I assumed it would be priced accordingly.
Annualized Dividend Growth and Rate of Return
In the table below I have listed the annualized rate of return ("ROR") received by shareholders in these nine companies over the two respective time periods. (ROR includes the reinvestment of dividends.)
As a very broad comparison, the S&P 500 annualized ROR over the two time frames, with dividends reinvested, are:
9.0% Annualized ROR since 2003
9.5% Annualized ROR since 1995
Company

Dividend

Increases

Streak

Current

Dividend

Yield

Annualized

Dividend

Growth

Since 1995

Annualized

ROR

Since 1995

Annualized

Dividend

Growth

Since 2003

Annualized

ROR

Since 2003

Aflac

31 years

2.3%

17.2%

15.6%

18.6%

9.2%

Family Dollar

38 Years

2.0%

12.3%

16.9%

13.5%

8.1%

Franklin Resources

34 years

0.9%

13.7%

15.4%

14.3%

15.8%

HCP, Inc

29 years

5.9%

4.1%

12.2%

2.4%

12.6%

Medtronic

36 years

1.9%

18.6%

13.1%

15.9%

4.0%

PPG Industries

42 years

1.2%

4.2%

12.4%

3.3%

16.5%

T. Rowe Price

27 years

2.1%

18.1%

19.5

15.4%

19.7%

Target

46 years

2.8%

13.0%

14.2%

17.6%

7.7%

Walmart

41 years

2.6%

18.7%

11.9%

17.5%

5.1%
Brief Commentary
It is beyond the scope of this article to delve into the details of so many companies. The purpose of this exercise was to discover any remaining opportunities among the best of breed dividend growth companies after the record run-up in stock prices. There are some great businesses among this group deserving of further examination.
Aflac (NYSE:AFL)
This insurance company has been a staple in many dividend growth portfolios for what seems like forever. Its iconic advertising is matched only by GEICO. In recent years, concern over the decline in the Japanese Yen has taken its toll on Aflac's stock price because of the heavy exposure Aflac has in that country. Aflac offers the most compelling chart, so I included it here. The black line is the stock price while the blue line is the normal PE.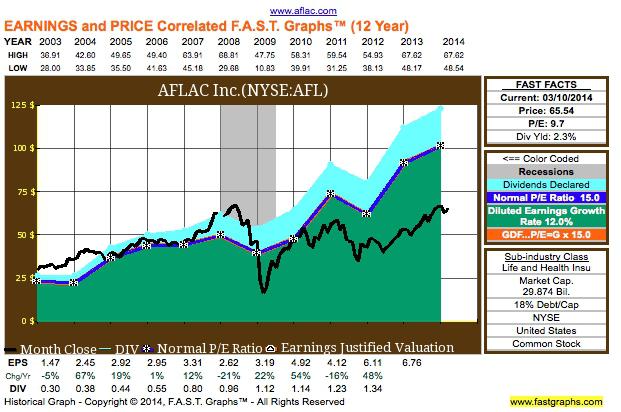 HCP, Inc (NYSE:HCP)
A healthcare REIT positioned in the sweet spot of the U.S. economy for the next half century. Healthcare is the largest portion of GDP and rising every year. HCP operates in 5 distinct segments - senior housing, skilled nursing, life science centers, medical buildings, and hospitals. It is the only REIT in the Dividend Aristocrats. The 5.9% yield is compelling, and the dividend remarkably safe. I wrote extensively about this wonderful business just recently in another SA article if you care to read more.
Medtronic (NYSE:MDT)
I waited a long time before buying this company, simply because it carried a hefty premium. Best known as the world's leading medical device maker, Medtronic is transforming its pipeline to include therapies, surgical procedures and technologies to treat cardiac and vascular diseases, diabetes and neurological and spinal conditions.
PPG Industries (NYSE:PPG)
Began operations in 1883 as Pittsburgh Plate Glass, PPG is an industry leader in specialty coatings, paints, and yes glass - specialty flat glass, optical glass and fiber glass. This company has really repositioned itself in recent years, and the charts demonstrate that. Net income from continuing operations has nearly tripled in the past 5 years, from $426 million to $1.156 billion.
Franklin Resources (NYSE:BEN) and T. Rowe Price (NASDAQ:TROW)
Either of these two companies could serve as a poster child for the theme that an investor is rewarded far better being a part-owner of the business that sells investment products than actually buying the products being sold. I have no gripe with the funds either company manages for its clients. My only regret is I did not buy shares of either firm much sooner.
Franklin Resources traces its roots to 1947. The company came public in 1986. The total return for shareholders since then is mind-boggling. On the investors relations page I punched in $1,000 invested in 1990 (earliest date available), and the value today would equal more than $32,000. Managing $882 billion in client money is a license to print your own when you receive a slice of every dolla r- even a tiny sliver. In 2013, it earned a cool $2.1 billion in net income when all those slivers were pieced together.
I have owned T. Rowe funds in the past and will attest to the courteous and professional way it conducts business. I did well with the funds I purchased. Now I am a shareholder in the company itself. This company normally commands a premium, as shown in the F.A.S.T. Graphs™ chart below. Managing $692 billion in assets, it earned $1 billion in net income in 2013. The next market crash will cut the stock off at the knees. However, rest assured it will recover. It always has. T. Rowe has been in the money management business since 1937 and seen it all. From the post-depression era, to the dropping of the atomic bomb, and from the 21.5% prime rate in December 1980, to the 0% interest rates this decade.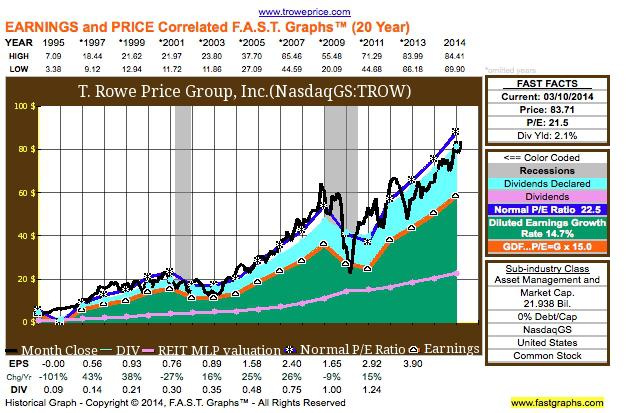 Family Dollar (NYSE:FDO), Target (TGT) and Wal-Mart (WMT)
All three retailers lagged the S&P 500 in annualized ROR since 2003. Big retailers have come under a lot of pressure of late, caught between low margins and market share losses to online shopping. I don't recall ever being inside a Family Dollar Store so like a modern day Will Rodgers, "all I know is what I read online." FDO has already guided that 2014 comps will be hard pressed to compete with 2013, for a variety of reasons. Improvement may come late in the fiscal year. It also announced the resignation of Michael K. Bloom, President and COO, and the search is on for a replacement. FDO is planning to roll out more than 500 new stores this year, and close 80. These days it seems there is a Dollar-like store on every corner and inside every strip mall. Personally I prefer Walgreen or CVS to any of the numerous Dollar franchises, for quick shopping trips, and as an investment, as well.
I have never been a fan of Wal-Mart, though I respect it has made many investors a bucket load of cash and continues to reward shareholders with generous dividend distributions. I own Target because of my own boots on the ground shopping experience in the stores. The recent snafu with the credit card hacking created a buying opportunity that I took advantage of. Assimilating the Canadian acquisition will take more time than expected (it usually does in most M&A), but for an investor with a long-term horizon Target appears to be an excellent opportunity to own a Dividend Aristocrat for a fair price.
Summary
The market has priced each of the these stocks below their historical valuation for any number of reasons. It may be poor guidance going forward, or perhaps slowing or declining growth. A business may be struggling with a one-time event, or string of events. Perhaps the business sector itself is struggling or simply out of favor with the market.
In some cases, the market may be miss-pricing the business on the low end. Investors interested in any one of these wonderful businesses are encouraged to dig into the details more deeply, and determine if the underlying fundamentals have deteriorated, or a real value is on sale at a discounted price.
Disclaimer
Always perform your own due diligence and respect that my enthusiasm for a dividend growth investment may not be suitable with your tolerance for risk, or your portfolio.
Disclosure: I am long AFL, CVS, HCP, MDT, TGT, TROW. I wrote this article myself, and it expresses my own opinions. I am not receiving compensation for it (other than from Seeking Alpha). I have no business relationship with any company whose stock is mentioned in this article.