If I were an options player, I would have shorted BP from the start of the accident and been sitting pretty well right now. Fast money had this suggestion: Sell June 40/42.5 call spread for $1.40 and $0.60 Collect $0.80 (How Scott's BP Trade Makes Money). You will break even at $40.80, Lose above $40.80, Max profit below $40.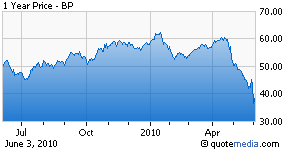 The only problem is I don't do options, I do value. In addition, currently the Short Interest as a percentage of Shares Outstanding is only 0.03% (based on a periodic monthly basis.)
Therefore, when is there value in BP and how long do you sit on the sidelines. Do you wait until the litigation ends? This could go on for several years and once factored into the bottom line the money will start to come back - which could be sooner than we think. Years ago during the worst woes of the tobacco industry I did pretty well buying into Philip Morris. Actually full disclosure twice because I am currently up 28.9% on MO when I bought back in Nov 08. I digressed, sorry (Hmmm, future article?)
Back to the matter at hand, AP reported: "The Company has already agreed to pick up the government's cleanup tab and any "legitimate" damage claims. BP said Tuesday it has paid out about $40 million to cover about half of the 30,000 claims it has received. At least 130 lawsuits have been filed seeking damages for business lost from the spill. Most are from seafood processing plants, charter boat captains, hotels, restaurants and others who make their living from the sea or from coastal tourism."
Based on federal law, BP and partners Anadarko Petroleum and Mitsui & Co. also face a minimum fine of $1,000 per barrel of oil spilled, said Eric Schaeffer, who led the Environmental Protection Agency's enforcement office from 1997 to 2002. Schaeffer is now the director of the Environmental Integrity Project.
The government estimates 20 million to 43 million gallons of crude have gushed into the Gulf over the past six weeks.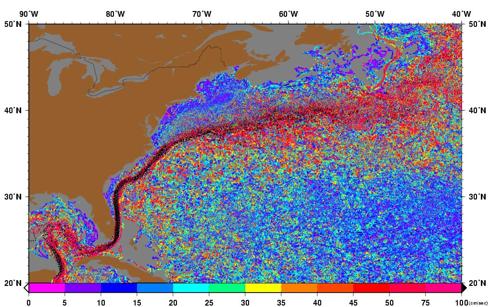 Click to enlargeIf the spill were contained today, the fines would add up to between $480 million and $1 billion (click chart on left to enlarge).
"We have what we think is a sufficient basis for us to have begun a criminal investigation," said U.S. Attorney General Eric Holder Tuesday after meeting in New Orleans with state attorneys general and federal prosecutors from the region. Mr. Holder noted that 11 people died in the April 20 rig accident that precipitated the spill.
President Barack Obama also raised the issue of legal action. "If our laws were broken, leading to this death and destruction, my solemn pledge is that we will bring those responsible to justice on behalf of the victims of this catastrophe and the people of the Gulf region," Mr. Obama said during a White House appearance.
BP says it has spent $1 billion so far on fighting and cleaning the spill. Its liabilities and potential fines are growing by the day, and it could be August before the company gets control of the situation by completing two relief wells. The British oil giant is worth $75 billion less on the open market than it was when the Deepwater Horizon rig exploded six weeks ago. Other companies involved in the spill -- Transocean (NYSE:RIG), Halliburton (NYSE:HAL) and Cameron (NYSE:CAM) -- have all lost at least 30 percent in value.
"This will be the mother of all liability claims," said Fred Kuffler, a Philadelphia maritime lawyer who has handled oil-spill lawsuits. So where does BP sit now and how could it look with continued litigation and more payouts?
The company announced a deal in March. BP has agreed to pay $7 billion for Devon's portfolio of assets off the coasts of Brazil, Azerbaijan and the U.S. That is a hefty price tag, but BP said it will continue to focus on cost cutting and expects to actually increase pretax profits by $3 billion over the next three years (see full article from DailyFinance: http://srph.it/dcCKMM). BP is getting access to strong properties and will have the resources to realize their full value, given that the margins are expected to be healthy. More important, this deal is large enough to help the bottom line for a company that has the ambitious goal of growing production at 1% to 2% for the next decade.
Most believe that the company's current dividend is safe and can fund the $20 billion capital expenditures for this year on the back of solid operating cash flows. Also, BP generated a $7.7 billion operating cash flow in the first quarter, up nearly 38% year over year and more than 5% sequentially. The company has reaffirmed its capex budget to be in the range of $22 billion to $23 billion for the year, including disposal proceeds. Net debt at the end of the quarter was $25.2 billion, representing a net debt-to-capitalization ratio of 19%.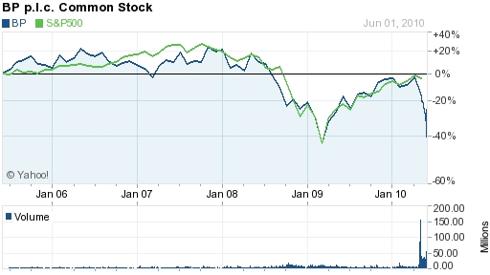 Click to enlarge
BP sits near a five year low as well as the lowest it's been relative to the S & P with a current P/E 2010E 6.2 and a yield of Yield 7.82%. BP looks good in terms of a long play with a healthy yield. Especially since the current consensus is that they can meet their dividend payout despite the current trouble. Based on the history of most accurate analyst recommendations for the past three months there are three buys, two outperform, and two neutral. I would take that as saying it has been hit hard enough that with the amount of revenue BP can generate they feel the risk is already factored in. Personally, I am not sure and would watch the stock a little more. Regardless if you are in this for the long haul then I agree BP is a great long-term play at the current price. Market timing does not lend itself to my style of investing so I am being a little contradictory here. Therefore, maybe nibble a little now and add to any position on market moves till you get an adequate holding that you are comfortable with, then just sit and watch it for awhile and collect a nice yield.
Disclosure: None - but looking seriously at BP.