This week has been pretty quiet as far as the market is concerned. Thursday we have a handful of economic data out which could provide for some fireworks heading into the end of the week. We are a bit concerned how the narrative of the market has shifted from the general market strength to the strength of certain sectors, and small sectors at that. It is as if the market sudden switched from an investors' market to that belonging to the speculators.
One must adapt to the markets and right now we thinking avoiding the speculative phase is the way to go. Instead we are looking at names which are quality companies and possessing value at these levels. The industrials have caught our eye and were our last buy to date.
Chart of the Day:
As we look at markets right now it appears to us that we are in a waiting game. We want confirmation that there is another leg up and for that confirmation we are looking to the industrials, a sector which has lagged many other sectors for quite some time. We are specifically looking for a move above the 16,500 point level on the Dow Jones Industrial Average and in the meantime looking to buy high quality industrial names which are undervalued versus the rest of the market.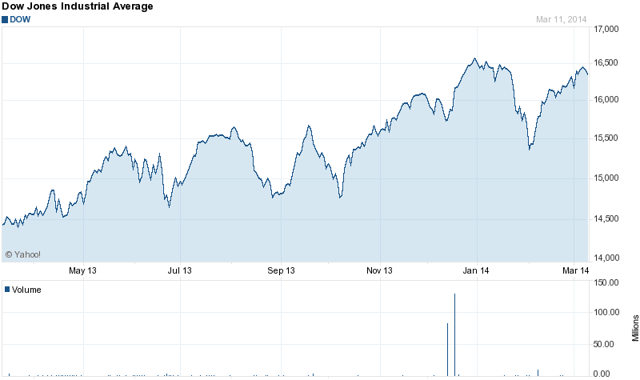 Source: Yahoo Finance
We have economic news today and it is as follows:
MBA Mortgage Index (7:00 a.m. EST): Est: N/A Act: -2.1%
Crude Inventories (10:30 a.m. EST): Est: N/A Act: 6.18 M
Treasury Budget (2:00 p.m. EST): Est: -$195 Billion
Asian markets finished lower today:
All Ordinaries -- down 0.55%
Shanghai Composite -- down 0.17%
Nikkei 225 -- down 2.59%
NZSE 50 -- down 0.11%
Seoul Composite -- down 1.60%
In Europe, markets are trading lower this morning:
CAC 40 -- down 1.38%
DAX -- down 1.42%
FTSE 100 -- down 0.92%
OSE -- down 0.90%
Retracement for Fuel Cells
We have been discussing the need for a retracement in numerous fuel cell manufacturers' share prices lately and yesterday it appears that we saw a healthy portion of that retracement take place in Plug Power (NASDAQ:PLUG). We highlight Plug Power because it has been one of the generals of this extremely powerful move higher, but other names experiencing a healthy correction yesterday included FuelCell Energy (NASDAQ:FCEL) and Ballard Power (NASDAQ:BLDP).
Playing this sector in the market is a high risk proposition, especially after all of these gains which have already occurred. Our thinking is that the volatility will remain high, but that a number of these names will finish with stock prices which are lower than today's price by the end of the year. The retracement was the big negative that we saw coming and with that out of the way a good portion of the immediate downside risk has been removed, although long-term there is still considerable risk still on the table.
Yesterday's pullback was strong but we expect another bounce higher and then further downward movement over time.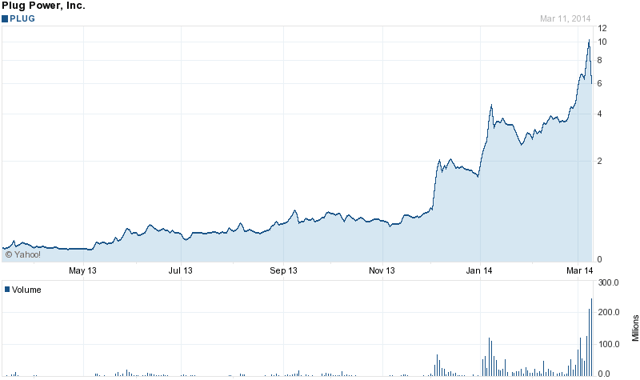 Source: Yahoo Finance
These shall continue to be short-term trading securities, but if one were to ask which name has the best opportunity to succeeding long-term and building products which can be differentiated in a crowded market we would have to point to Ballard Power Systems as the name which we thought could make it. They have a lot of patents and technology at the forefront, and that generally wins out in sectors such as these. This shall be especially true if the fuel cell market mimics the solar industry.
Ringing In Profits
VeriFone Systems (NYSE:PAY) continues its strong run since bottoming out in June of last year. As fast as results soured for the payments company, they have just as quickly improved and the run has now put shares back above the $30/share level. This past quarter was quite strong and as we recently stated we do believe that the company can continue to see strong growth as its new competitors struggle to steal more market share. We remain bullish on the company's shares after this quarter and think that long-term investors can continue to initiate positions even at these levels.
We expect the good times to continue for Verifone, especially now that the resistance at $30/share has been breached.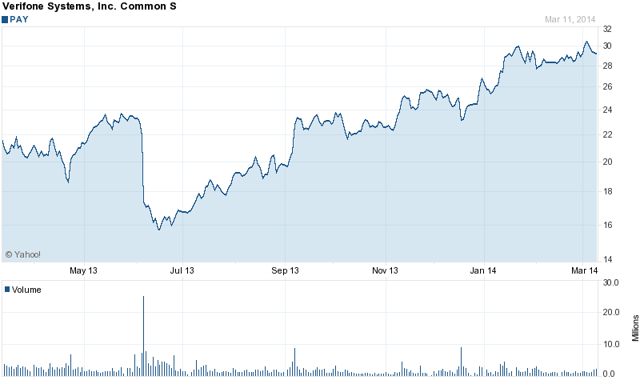 Source: Yahoo Finance
New Jersey At Odds With Tesla
Auto dealers in many states have been waging battles with Tesla (NASDAQ:TSLA) over its direct to consumer sales approach. It does threaten their business model and is a disruptor in the industry. These battles are being played out in courtrooms and state capitols around the nation, but we suspect that national politics will soon come into play as certain parts of the Republican and Democratic parties try to use Tesla to promote their own political ideals.
Unions could be a big roadblock, however the big boys throwing their weight behind an effort which thwarts the growth of electric vehicles probably will not sit well with many environmentalists, a very powerful wing of the Democratic Party. Further, using government to block innovative competitors cannot sit well with those in the Tea Party and could lead to certain states, especially in the south, looking to avoid passing legislation that would ban Tesla's practices. Ohio remains a big battleground state for Tesla, but with their latest move to open a new factory in Texas it would seem that those doors would be opening soon, which is a bigger story than New Jersey closing their doors on sales of 500 vehicles per year when both Pennsylvania and New York are so close.
Disclosure: I have no positions in any stocks mentioned, and no plans to initiate any positions within the next 72 hours. I wrote this article myself, and it expresses my own opinions. I am not receiving compensation for it (other than from Seeking Alpha). I have no business relationship with any company whose stock is mentioned in this article.