Last week, AudioCodes (NASDAQ:AUDC) proceeded with its much anticipated secondary offering in a tactically well thought out spot deal. The 4.025 million share offering (including 525,000 over-allotment option) led by William Blair, Needham & Co. and Oppenheimer & Co. raised $29.7 million and was priced at $8 per share which was an 11% discount to the previous day's close. My sources reveal that the deal was strongly oversubscribed and had very little retail participation which supports my thesis of Needham and Blair placing shares with their institutional clients. Clearly, AudioCodes' management delivered on a follow on offering as it sets the stage to under promise and over deliver to a much broader and formidable institutional base of investors. I believe this deal puts the spotlight on AudioCodes and the hot VoIP sector and puts it in a position to garner multiple expansion equal to, if not bigger than Sonus Networks (NASDAQ:SONS) or the late Acme Packet which was acquired by Oracle (NASDAQ:ORCL) for 60 times EPS or 6 times revenues.
Here's why I believe AudioCodes will have a run to $12.50 per share in the short term and a potential multiple expansion run that could see the shares go to $15-$16:
History:
This is not AudioCodes' first rodeo with the secondary markets. I believe it's important to note AudioCodes' track record in the secondary markets to give all of us (1,720 AudioCodes Seeking Alpha followers) a peak behind the curtain which allows the light to be shined on management's thought process in respect to its dealing with Wall Street. On October 14th, 1999 AudioCodes raised $51 million (1,500,000) in a spot offering at $41 dollars per share which was a 12% discount to the market.
AudioCodes Historical Prices
| | | | | | |
| --- | --- | --- | --- | --- | --- |
| Date | Open | High | Low | Close | Volume |
| Oct 21, 1999 | 45.62 | 51.13 | 45.62 | 50.50 | 54,400 |
| Oct 20, 1999 | 46.75 | 48.19 | 43.88 | 47.50 | 1,264,800 |
| Oct 19, 1999 | 41.00 | 46.50 | 41.00 | 46.50 | 194,000 |
| Oct 18, 1999 | 41.56 | 41.62 | 40.37 | 40.75 | 127,000 |
| Oct 15, 1999 | 41.87 | 41.87 | 40.37 | 40.88 | 615,600 |
| Oct 14, 1999 | 42.00 | 44.62 | 41.00 | 42.88 | 1,355,200 |
| Oct 13, 1999 | 47.87 | 48.38 | 46.00 | 46.12 | 27,200 |
As you can see in the table above, AudioCodes broke its secondary offering price of $41 and traded below it for a few days before reversing. The shares consolidated for a few weeks then ran all the way up to $152 ($76 post-split)in 5 months. AudioCodes' current Chairman, Stanley Stern was then at CIBC Oppenheimer and was instrumental in AudioCodes' secondary offering and I believe that he has brought the same mindset to this current offering; pricing it at a deep discount, that brings in large demand that'll allow for institutional follow thru in the after-market.
Takeover Candidate:
AudioCodes' CEO knows that he has the opportunity of a lifetime in front of him both within his organization and within the VoIP sector. This secondary has not in any way, shape, or form put a takeover off the table. In fact, this secondary could be construed as an orchestrated effort for AudioCodes to get the price it truly deserves. I suspect AudioCodes knows it's ready to finally beat estimates handily and guide higher for the next 3-4 quarters allowing for Wall Street to bring multiple expansion to the shares. This will have William Blair, Needham and Oppenheimer closely monitoring AudioCodes' progress in the upcoming quarters as they search for a prospective buyer at what I believe will be a short term (3-9 month) $15-$16 per share takeover target.
Recent Deals:
AudioCodes didn't waste any time in displaying its new found success in the service provider/hosting/Microsoft (NASDAQ:MSFT) Lync space as it announced a deal on Monday with telecom tier one Deutsche Telecom. Deutsche Telecom selected AudioCodes' Multi-Service Business Router (MSBR) to be deployed at its customers' premises for hosted Lync services. The MSBR is comprised of an integrated session border controller, a media gateway and a data router in a single platform. The fact that a tier one telecom such as Deutsche Telecom has selected AudioCodes' MSBR is a vote of confidence to its technology and proof that it works effectively.
You have to take into consideration that once a Service Provider like Deutsche Telecom, the number one provider in the strongest European country selects AudioCodes it brings attention to the company. Deutsche Telecom (OTCQX:DTEGY) selected AudioCodes' $800 (approx) router and you have to assume that it was competing against other German companies and that this will open the door for other Service Providers to use this unique all-in-one router. I will be looking for this to contribute to a big revenue upside in the second half of 2014 and 2015.
This deal follows the "One Voice" collaboration with Hosting leader BroadSoft (NASDAQ:BSFT) last month. These two deals will certainly bring revenue and EPS upside to AudioCodes which will bring added confidence to the new found investors this secondary has brought to the company.
Institutions:
Fidelity Management was a top 3 investor in Acme Packet and has been a top investor in Sonus Networks. I believe the odds of Fidelity participating in this deal or buying the shares of AudioCodes are very strong. AudioCodes is demonstrating it has a solid strategy, solid balance sheet, solid new product roadmap and a solid mobile OTT solution that will allow it to navigate strong growth in a massive $20 billion industry.
As you can see from the table below, AudioCodes' institutional ownership is dwarfed by that of rival Sonus and even newcomer 8x8 Inc. (NASDAQ:EGHT). It is my belief that for AudioCodes' shares to make the kind of bull run I envision, it will in part be caused by institutions coming on board. I believe that the recent secondary will get those institutions on board.
| | | | |
| --- | --- | --- | --- |
| | # of Institutional Holders | Institutional Shares Held | Institutional Ownership |
| AudioCodes | 39 | 5,474,148 | 13.01% |
| 8x8 Inc. | 144 | 51,590,384 | 58.71% |
| Sonus | 158 | 141,265,695 | 53.03% |
Mobile Solution:
AudioCodes is still not marketing its OTT mobile solution to institutions and I believe that there is hidden, intrinsic value there and I seem to be the only one bringing attention to it. Here are a few opportunities for its OTT mobile solution:
1. AudioCodes expanded its relationship with BroadSoft and now the opportunity exists to cross-sell its OTT mobile solution to BroadSoft's consumer and business customers.
2. With Facebook (NASDAQ:FB) buying WhatsApp and with WhatsApp declaring it will offer internet voice calling, the Service Providers need to address this competition urgently with an OTT solution of their own. AudioCodes is looking to add to its tier one customer base.
3. AudioCodes is now supplying Deutsche Telecom with MSBRs for its business customers, AudioCodes will no doubt be talking to it about Deutsche adding its OTT mobile solution for business customers.
4. When analysts initiate coverage on AudioCodes, I believe that they will highlight the upside potential of its OTT mobile solution to Service Providers.
Research Coverage:
New coverage is not just a hope anymore. William Blair, Needham and Oppenheimer are all serious candidates to initiate coverage and/or upgrade the shares to an Acme Packet valuation or at the very least a Sonus Networks valuation. I remind you that Acme Packet once traded at over $70 per share in its prime or well over 70 times EPS. Yes, I believe AudioCodes possesses the market position, R&D capacity and the software intensiveness in its new product offerings to deliver revenue upside and gross margin expansion which are the necessary ingredients for multiple expansion in the stock market.
The Oppenheimer analyst that follows AudioCodes recently dropped coverage of both BroadSoft and Sonus Networks but not AudioCodes. The rumor is that the current analyst may be diverted from the coverage as AudioCodes is now more of a pure play networking play as VoIP is now more pronounced in the networking world. Oppenheimer could play a very strong role in getting AudioCodes the proper exposure it is due as a rich IP VoIP player.
Chart: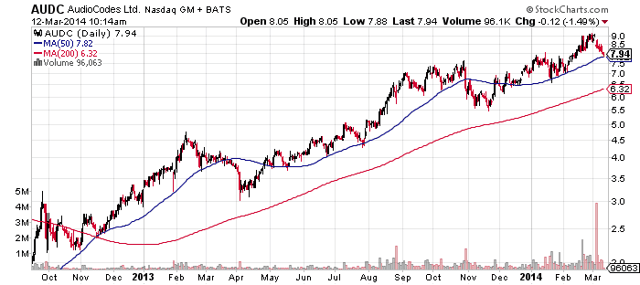 The 50 day moving average has been a strong area of support for AudioCodes during its recent 1.5 year rally. The $8 offering price and the 50 day moving average are converging in the next 2 weeks leaving $8-$7.80 as very strong support. I'm looking for shares to reverse and make a run to $12.50 over the next few months.
Valuation:
AudioCodes $7.90
Sonus Networks $3.70
8x8 Inc.

$10.71

Acme Packet

$29.25 (Takeover)

Market Cap.
$340M
$992M
$940M
$2.1B
Shares Outstanding
43M
266M
88M
72M
2014 Revenues (est.)
$150M
$305M
$127M
$310M (2013 est.)
2015 Revenues (est.)
$170M
$325M
$161M
2014 EPS (est.)
$0.26
$0.05
$0.26
$0.60 (2013 est.)
Price to Sales
2.15
3.13
7.38
6.7
Price to Earnings
31.93
74.4
41
48
Cash per share
$2.14
$1.01
$1.98
$5
Price Targets
T.B.A.
$4.50
$12.40
Buy rated analysts on Sonus Networks have an average price target of $4.50. An equivalent price target for AudioCodes would be $14.00. Seeing that AudioCodes could soon get institutional coverage, there is no reason for any of the three analysts to have a price target of less than $10, especially Needham which has been following AudioCodes step-by-step for the last two years.
*Analysts have an incubation period of 10 days after a secondary before initiating coverage. Oppenheimer could upgrade any day as it already has coverage.
Conclusion:
AudioCodes borrowed $12 million in 2011 to initiate a 4 million share buyback. The company fulfilled that buyback in 4-5 quarters at an approximate average of $2.75 per share and paid off the loan from cash generated from operations this past year. Last week's offering raised $29.7 million for AudioCodes bringing a $17.7 million gain to the shares. To me, this shines a big spotlight on how CEO, Shabtai Adlersberg confronts both adversity and prosperity in the same light. The great part of this is that you get to see in hindsight how his move during adversity (buying back stock) has paid off for shareholders and how his current moves of discounting shares for the right holders and the right Wall Street backing is positioning the company to make a strong run in a massive secular growth industry which I believe will bring your success in the spotlight.
Disclosure: I am long AUDC. I wrote this article myself, and it expresses my own opinions. I am not receiving compensation for it. I have no business relationship with any company whose stock is mentioned in this article.