Western leaders haven't been able to wrest control of the Crimea region from Russia and don't appear to have a plan to do so. Party like it's the 19th century and someone get Otto von Bismarck on the phone because annexation is back! While the likelihood of a shooting war in the region remains very low in our view, the crisis doesn't appear to be dying down anytime soon. This is horrible news for the stock market...in Russia. Russian equities have gotten absolutely smoked this year. Below is a five-year chart of Russia's equity market versus that of the Ukraine.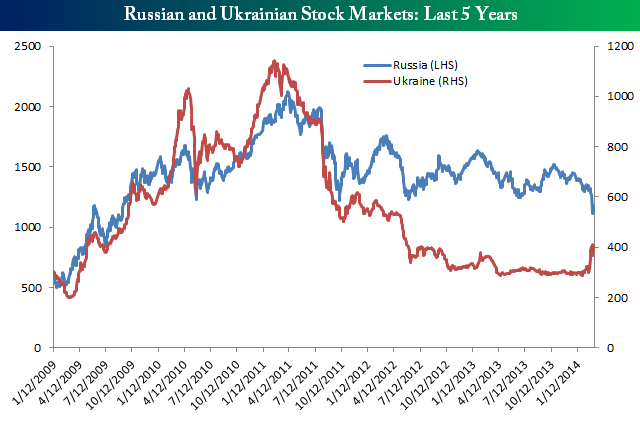 While betting against the little guy would have been the strong play since Ukraine topped in early 2011, things have changed big time in 2014. Ukraine's benchmark index is up over 30% on the year (20% in dollar adjusted terms), while Russia is down almost 20%. In terms of cumulative performance, Russia is getting demolished to the tune of over 50% underperformance. The chart below shows the carnage for Russian investors and the bounce that Ukraine has seen. The divergence began right when protests heated up in late February, and it has continued as Russia has moved into the Crimea region.
It's hard to gauge how the Ukrainian crisis will evolve, but money talks, and the action we've seen in the Russian and Ukrainian stock markets since the crisis began indicates that investors are betting on a better environment for business in Ukraine and a worse environment in Russia. Ukraine is turning further westward (at least, most of the country outside Crimea and the easternmost border regions), which is bullish for Ukrainian equities as Europe's doors get incrementally closer to opening. As for Russia? Things get complicated for Vladimir Putin if the wealth destruction under way in Moscow keeps up after a brutal start to the year.