"Leaders are made, they are not born. They are made by hard effort, which is the price which all of us must pay to achieve any goal that is worthwhile." - Vince Lombardi
There's an old adage when it comes to markets that when small-cap companies outperform their larger-cap brethren, that tends to be the right kind of environment for risk-taking. The theory goes that if investors are piling into less liquid/more volatile areas of the stock market, that is a healthy sign for further gains ahead. This is not completely true in all cases since the late 1990s saw larger-cap names outperform smaller ones, but on average the idea is worth considering. I would argue that true signs of risk-taking occur more in illiquid areas getting attention, since the last thing you want is illiquid investments during recessions, bear markets, and deflationary pulses.
Frontier markets, which are the emerging markets of emerging markets, are the smallest of the small not only in terms of global country market cap, but also growth impact on the world economy. Because stocks traded in Chile, Argentina, Colombia, and Egypt are relatively less liquid than those traded in Brazil, Russia, India, and China, their relative movement might be indicative of true underlying sentiment for emerging market allocations overall.
On that point, there are some encouraging signs. From a big picture perspective, what is holding back emerging market bulls appears to be China (NYSEARCA:FXI) given headline after headline which quite frankly look awful. Poor export growth, weaker inflationary pressure, and bond defaults are a nasty brew of macro fear, but the reality is that China's markets may have priced much of this in over the last three years. The fact that Frontier Markets may be firming could further indicate that a wall of worry to be climbed is coming. Take a look below at the price ratio of the Guggenheim Frontier Markets ETF (NYSEARCA:FRN) relative to the iShares MSCI Emerging Markets ETF (NYSEARCA:EEM). As a reminder, a rising price ratio means the numerator/FRN is outperforming (up more/down less) the denominator/EEM.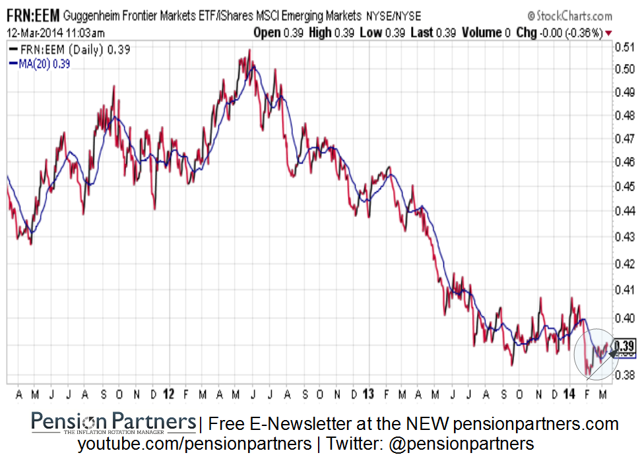 There has been some comeback as of late in what is otherwise a very noisey ratio, but this relationship bears watching. If frontier markets which are arguably riskier than Brazil (NYSEARCA:EWZ), Russia (NYSEARCA:RSX), India (NYSEARCA:EPI), and China are doing well, would that not mean that emerging markets more broadly should themselves finally catch a bid, alongside global cyclical sectors? Momentum is not there just yet for our ATAC models used in managing our mutual fund and separate accounts, but we are keeping a close eye on the potential for another bite at the trade.
Disclosure: I have no positions in any stocks mentioned, and no plans to initiate any positions within the next 72 hours. I wrote this article myself, and it expresses my own opinions. I am not receiving compensation for it (other than from Seeking Alpha). I have no business relationship with any company whose stock is mentioned in this article.
Additional disclosure: This writing is for informational purposes only and does not constitute an offer to sell, a solicitation to buy, or a recommendation regarding any securities transaction, or as an offer to provide advisory or other services by Pension Partners, LLC in any jurisdiction in which such offer, solicitation, purchase or sale would be unlawful under the securities laws of such jurisdiction. The information contained in this writing should not be construed as financial or investment advice on any subject matter. Pension Partners, LLC expressly disclaims all liability in respect to actions taken based on any or all of the information on this writing.