VMware, Inc. (NYSE:VMW) reported strong fourth quarter results and full-year results as the company maintained its double-digit growth pace. Thinking about 2014, I expect VMW to report revenue of just over $6B with profitability margin expansion, which would be attributable to operating leverage.
VMW should continue to expand at a high-teens pace as the company expands in Europe and integrates new product offerings, such as Horizon DaaS and NSX. I think revenue could reach $8.5B in 2015 with almost $700M coming from AirWatch. Additionally, I expect continued margin expansion with management possibly scaling back the reinvestment of revenues into operations. An increase in profitability would support the relatively high price multiples.
For now, I think of VMW as fairly valued with a justified P/E of 35, and based on my EPS estimate of $2.66, the company trades at 39 times 2014's earnings. The justified P/E and EPS estimate imply an intrinsic value of $93 per share.
Recent Developments
VMW launched Horizon DaaS, desktop as a service ("DaaS"), a new cloud-based desktop service that delivers cost-effective enterprise-grade virtual desktops running on VMware vCloud Hybrid Service. The service offers the industry's first hybrid DaaS solution that gives customers the ability to blend public cloud desktops and on-premise VMware Horizon View private cloud desktops.
VMware vCloud Government Service is expected to be generally available in H2 2014.
VMW is listed by Glassdoor as having the second highest paid interns; reportedly some interns earn $6,996/month.
VMware is starting to ramp its vCould Hybrid Service offering in key European locations.
The acquisition of AirWatch, leading provider of enterprise mobile management and security solutions, was completed.
Business Summary
VMware, Inc., is a provider of virtual infrastructure software solutions from desktop to the data center. It works with more than 1,300 technology partners, including server, microprocessor, storage, networking and software vendors.
VMware is in the growth life-cycle stage while annual revenues cross the $5B mark. The company exhibits the typical profitability profile of both a growth stock and a software developer. In this case, VMware is generating GAAP net income. The question remains, how long will management continue to heavily reinvest revenues into operations?
The company announced fourth quarter revenues of $1.48 billion, which is a 15% increase sequentially. The operating margin expanded from a GAAP 22.3% to 25.2%, sequentially. The net profit margin increased to 22.6% from 20.2% in the prior quarter. EPS increased 28% sequentially.
Relative to the prior year, revenues increased 14.7%, which is down from 22% in 2012. But operating income increased 25% in calendar 2013. Net income increased 36% on a lower income tax provision. EPS increased 35% as basic weighted average shares increased. Additionally, revenue growth in 2015 and 2016 is expected to be in the 16% to 20% range.
| | | | | | |
| --- | --- | --- | --- | --- | --- |
| For year ending (in millions except per share data): | 2012-12 | 2013-12 | 2014-12E | 2015-12E | 2016-12E |
| Revenue | $4,605 | $5,207 | $6,092 | $7,189 | $8,483 |
| Operating income | $872 | $1,093 | $1,340 | $1,797 | $2,333 |
| Net income | $746 | $1,014 | $1,158 | $1,582 | $2,078 |
| Shares | 427 | 429 | 435 | 437 | 439 |
| EPS | $1.75 | $2.36 | $2.66 | $3.62 | $4.73 |
Based on management's guidance and my estimates, VMW is forecasted to increase revenue to $8.5B in 2016; revenue during 2014 could reach $6B. Between the end of 2013 and the end of 2016, operating income and EPS are forecasted to double.
| | | | |
| --- | --- | --- | --- |
| AirWatch | 2014E | 2015E | 2016E |
| Revenue | $80M | $241M | $689M |
| As % of total VMware revenue | 1.31% | 3.35% | 8.12% |
Based on disclosures from the AirWatch acquisition, AirWatch could increase 2014 revenue by $80M. The above chart shows rough estimates of AirWatch's potential contribution to consolidated revenue. AirWatch is forecasted to grow into a $700M business during the back half of this decade.
What EPS would VMware have to generate more than to create wealth for investors over the next 12 months? I estimate that VMware would have to generate at least $1.26 of earnings per share, which is up from my previous estimate of $1.22 per share, over the next twelve months to preserve shareholders' wealth. VMware is forecasted to generate EPS of $2.66.
At the end of the December quarter, the cash ratio was 1.88 and the current ratio was 2.33. There was a slight decline in liquidity relative to the September quarter. The net cash balance was $5.73 billion. The financial leverage ratio was 1.81, which is up from 1.75 at the end of the September quarter. VMware should initiate dividend payments.
VMware generates plenty of free cash flow. The trailing twelve months free cash flow to the firm was $2.19 billion. FCFF grew 31% y/y. FCFF growth was positively impacted by working capital changes during the year ending in December. The pace of FCFF growth is unsustainable.
So, overall, VMW is growing at an excellent rate, with solid and improving profitability and a high reinvestment rate. Also, the firm has a substantial amount of liquidity and free cash flow. Including the industry, the fundamentals of the firm are bullish. But competition in the IT industry is fierce and does pose a risk to long-term profitability.
Risks
The share price is likely to remain volatile and investors could lose a portion or all of their investment.
Investors should judge the suitability of an investment in VMware in light of their own unique circumstances.
A decline in global economic growth rate and/or a decline in the pace of economic growth in the United States could adversely impact the results of operations and the share price.
Cyclicality in IT expenditure may affect performance.
The technology industry is characterized by rapid technological change, which could materially adversely impact the results of operations.
Competition in product development and pricing could adversely impact performance.
Incorrect forecasts of customer demand could adversely impact the results of operations.
Higher interest rates may reduce demand for VMware's offerings and negatively impact the results of operations and the share price.
This section does not contain all risks related to an investment in VMware.
Portfolio And Valuation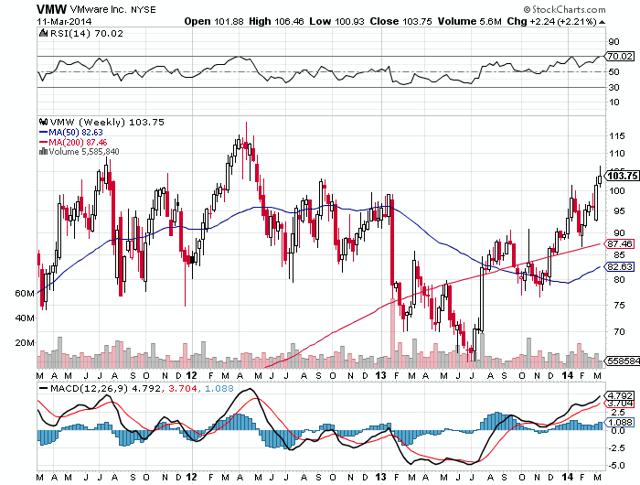 Click to enlarge
VMW blew past the $100 per share level that I discussed last time. Now, the share price could reach the $110 per share level before going through a period of consolidation. Overall, the technicals remain bullish with the MACD and RSI providing confirmation. But there are latent signs of weakness.
There is an argument to be made for the current valuation, and it is one that I don't disagree with based on the fundamentals of the company. But taking a longer-term view, I think the justified P/E is 35. Apply the EPS forecast for 2014, VMW is trading at 39 times earnings; the company trades at 28.6 times 2015E. Based on the justified P/E, VMW is valued at $93 per share based on 2014 earnings and $126 per share based on 2015 earnings. While VMW is not overvalued, it certainly is not undervalued, so VMW is fairly valued.
Disclosure: I have no positions in any stocks mentioned, and no plans to initiate any positions within the next 72 hours. I wrote this article myself, and it expresses my own opinions. I am not receiving compensation for it (other than from Seeking Alpha). I have no business relationship with any company whose stock is mentioned in this article.