Sprint-Nextel (NYSE:
S
) has continued to experience upward momentum in anticipation of strong performance across its postpaid and prepaid segments. The Company bucked the trend in a tough May, experiencing impressive gains before recently being downgraded by a small equity research shop. However, the author of that report has his own history with respect to the quality of his prior reports (more on that) and more importantly, AT&T (NYSE:
T
) has been executing a number of moves that should benefit Sprint.
On June 2, 2010, T became the first major wireless company to introduce metered billing. This is likely due to T's weak 3G network and exclusive deal with Apple Computer (NASDAQ:AAPL) for its iPhone and iPad, both of which are likely overloading T's network. The timing is difficult for T because its main driver for subscribers was due to its iPhone tie up.
The iPhone was the coolest phone around and subscribers were willing to deal with a poor network to have the best phone. However, companies like HTC, in combination with Google's (NASDAQ:GOOG) Android operating system, have more than closed the gap, yielding phone models such as the HTC EVO 4G, that are better than the iPhone and likely even better than AAPL's soon to be released iPhone 4G.
Readers should keep in mind the iPhone 4G just means fourth generation and unlike the HTC EVO 4G has nothing to do with 4G network speeds. As a result, as T customers see their contracts come up for renewal, they will be faced with the option of either staying on T and being charged extra for data or switch to a provider such as S which has a superior 3G network, a growing 4G network that can better handle data needs of mobile users, and the best phone available for just abut $80 per month.
Analysts will be reluctant to incorporate any estimate changes for S but this phenomenon should have a meaningful impact on S due to the size of its 3G network relative to T's and capacity on its 3G network as it has never truly had a data intensive phone.
In addition, T's CEO Randall Stephenson may have irked numerous T subscribers based on his actions towards one of T's customers. While the general mantra is "the customer is always right", T's CEO's slogan appears to be "talk to the hand." One would think that having the exclusivity tie up with AAPL would have led to some of AAPL's CEO Steve Jobs' finer qualities rubbing off on Stephenson. AAPL CEO Steve Jobs is known for having no problem responding directly to customer and reporter emails and engaging in lively email exchanges. However, Engadget recently reported that T customer Giorgio Galante had the temerity to email Stephenson a whopping two times, one a request related to the iPhone 4G and tethering, and another to complain about the new data plans which essentially would "meter" data use.
This resulted in a legal threat from T. It's sad that where a billionaire like Steve Jobs can respond and engage in debate with direct emails, T's Stephenson decides to use the force of T's legal team against its own customer. Stephenson pulled in $29MM in 2009, $16MM in 2008, and $25MM in 2007 which may lead him to believe he is above answering to some of his most important constituents - his customers. Stephenson may actually think he's worth his compensation even though there's little doubt anyone can run essentially a subsidized duopoly. While Stephenson has enjoyed steady and rich compensation, shareholders have lost roughly 25% since he took over in July 2007. Given that shareholders have had no problem voting for Stephenson and his obscene compensation, there's little reason to expect Stephenson to care a wit about the complaints of an actual customer.
CHART I: T HISTORICAL PERFORMANCE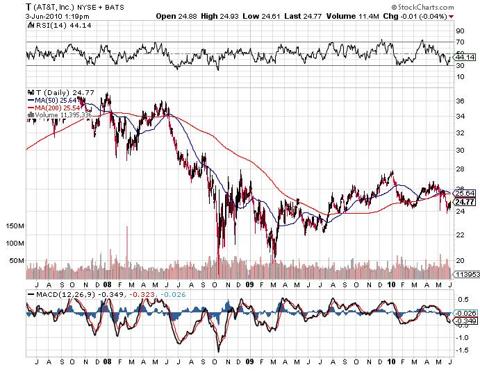 However, there is a silver lining in all of this and that is Mr. Galante has decided to quit T. In addition, in his email to Stephenson, Mr. Galante suggested that T's new data plan policies were making him lean towards switching to S due to its unlimited data plan along with its HTC EVO 4G. Aside from the email exchange, this shows that T's data policies and more so, the attractiveness of S's plans and new phone, are giving customers some serious ideas about switching. If anything, hopefully T can continue its onslaught of poor customer service.
Lastly, earlier this week, BTIG released a negative report on S. It was well timed given S had experienced a massive run up in recent months. The report didn't have much real data to agree with or disagree with, it was generally "We believe x" without providing much underlying data or numerical constructs. However, one thing I have noticed in recent months is a lack of credibility in terms of those knocking S.
Sprint skeptics have included Marek Fuchs and Jason Moritz, the former not even accurately describing S. In the case of BTIG's report on S, the main analyst is Walter Piecyk. If this is the same Piecyk mentioned on page 26 in this report, then his report should also be taken with a hefty grain of salt. In either case, while S may experience some volatility and pullbacks given its massive run up, industry dynamics and the Company's valuation are favoring increased upward moves over the course of the year.
DISCLOSURE: AUTHOR MANAGES A HEDGE FUND AND MANAGED ACCOUNTS LONG S