Old School Value Stock Portfolio Performance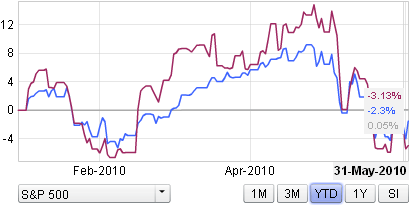 May was a brutal month in terms of performance. Down 13.76% in May. The S&P was down 8% and the Russell 2000 down 7.59%.
This brings my YTD portfolio performance down to negative territory at -3.13%.
Portfolio Movers
Where to begin for May. I'm sure you experienced it as well, but mostly everything was down. My biggest holdings were especially hit hard.
ROIAK (ROIAK: 3.90 -2.26%)

down 20%

GGP (GGP: 14.16 +0.43%)

down 12%

VVTV (VVTV: 2.08 -0.48%)

down 28%

GRVY (GRVY: 1.94 +7.18%)

down 8%

INSM (INSM: 0.8005 -2.83%)

down 26%

BOLT (BOLT: 8.49 -0.47%)

down 24%

MHH (MHH: 3.60 -0.28%)

down 12%
Ouch.
I'm planning to slowly sell out of VVTV and start reducing the size of ROIAK.
Gravity Co. (NASDAQ:GRVY) just released its full year earnings and the report looks good. Increase in royalties, full year profit, increased cash, strong balance sheet. You may want to check out GRVY if you haven't done so.
Insmed (NASDAQ:INSM) fell sharply after the company released earnings in the first week of May. Reason being that the previous comparable quarter was when INSM sold their assets to Merck (NYSE:MRK) for $125m. Nothing has changed, just market jitters and at current levels in the 80c range, this is below cash value and NCAV. Plenty of margin of safety to hold.
With all that is going on with the oil spill and BP, Bolt Technology (NASDAQ:BOLT) has been affected like most companies related to the oil industry. I did mention that BOLT's latest quarterly report was not impressive and I still hold to my thesis that the company is managed well. The financial health of the company is outstanding, and although BOLT has mentioned several times that it will acquire a company to provide extra growth, I see the lack of merger activity as management performing excellent due diligence and carefully seeking the right company to merge with.
Portfolio Trades
Bought Books-A-Million (NASDAQ:BAMM). Full discussion on BAMM available in the forums. Stock analysis to come later.
Sold small position in BOLT.
Needed some extra cash and took a small amount out of BOLT at $10.10.
Sold out of Servotronics (NYSEMKT:SVT) for a 31% gain. The stock jumped after the earnings annoucement in May and my sell order that I forgot about was triggered. Looking back, to try and eliminate greed or fear from my investing, I'll try to implement pre determined sell limits, as well as stop limits to protect gains. If SVT comes back down further, I'll have to consider buying again.
Bought more Access Plans (OTC:APNC). As I mentioned last month, I have taken a new position and I added to it a couple of times this month. Despite a fantastic quarter, APNC remains undiscovered with big drops recently on low volume. If you compare the stock price to the potential, the market is ignoring all growth and even the potential to maintain their current FCF levels.
Bought more INSM. Just couldn't help myself. Selling below NCAV and the fact that there has been no updates on the strategic alternatives is causing jitters with current holders.
Disclosure: I hold all stocks except sold out positions.