Despite the equities bull market last year, a number of stocks underperformed the broader markets. Considering the high double- and triple-digit returns in the tech industry, it was interesting to find Qualcomm (NASDAQ:QCOM) - the world's largest mobile chipmaker - among market laggards. However, the stock has been seeing some momentum build-up of late. In this article, I discuss why the stock is a good candidate for respectable gains in near term.
Market leader with strong revenue growth in recent years
Being a leader in the smartphone application processor market, it sits on a commanding 54% market share (by revenues), while its closest competitors, Apple (NASDAQ:AAPL) and Media Tek, have much smaller 16% and 10% market shares respectively. With increasing demand for advanced mobile devices - including smartphones - that support high speed Internet and various computing tasks, the company clearly controls a major portion of an all-important and fast-growing market of current times.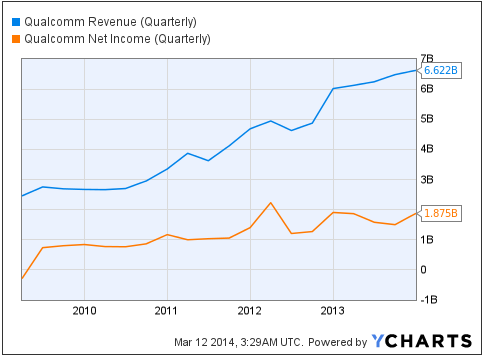 As illustrated in the chart above, Qualcomm has been steadily growing its revenues over the last five year, even though its quarterly earnings have languished in $1-$2 billion range since late 2010. Nevertheless, it still fares better than some of its industry peers those barely report any earnings. The fact that the company has more than doubled its quarterly revenues in the period speaks volumes.
In the fiscal-first quarter of 2014, the company reported record revenues of $6.62 billion, up 10% from the same period a year ago. The growth was mainly attributed to stronger-than-expected device sales and Mobile Station Modem (MSM) chip shipments during the quarter. The result piped analysts' consensus estimate for sales by 0.65% but significantly surpassed the earnings estimate by 14.21%, according to data compiled by Reuters. As a matter fact, Qualcomm has a strong history of meeting/surpassing estimates for both revenues and earnings in recent quarters. This usually indicates business transparency and certainty by which a company executes its plans. It is a confidence booster for the investors when key officers not only provide a clear picture of the company but also deliver.
Increasing demand of LTE technology
The Long Term Evolution (LTE) technology is still in early stages, but it is fast gaining popularity around the world. As LTE networks improve, the TD-LTE subscriptions are forecasted to touch $1 billion by the end of this decade. The technology is expected to see large-scale commercialization with an estimated 100 million TD-LTE device shipments this year.
In addition to the market for smartphones, the company has teamed up with Ericsson to fully capitalize on the LTE market. Together, they built the Qualcomm Gobi 9x35, an LTE Advanced Category 6 modem, that offers up to 300 Mbps connection speed. Let's not forget the company sold about 213 million MSM chips last quarter, surpassing the guidance range of 195-210 million. The strong sales reflect the technology's increasing popularity and, as high-speed Internet connectivity becomes an essential utility with every passing day, the modem will further boost Qualcomm's sales.
Two more 64-bit chipsets added to portfolio
ARM Holding (NASDAQ:ARMH) , which controls a part of the designs of ARM chipmakers, has been regularly developing and upgrading its 64-bit processors. In doing so, it has incentivized chipmakers like Qualcomm to switch to 64-bit chipsets. The lure worked as at the recent 2014 Mobile World Congress (MWC), Qualcomm announced two new ARM-based 64-bit octacore designs branded as Snapdragon 610 and 615. These chipsets extend the company's 64-bit family, which also includes the 64-bit mid-tier Snapdragon 410 and the two top-end Snapdragon 810 and 810 packages.
That the smartphone makers will move toward high-performance 64-bit chipset-based devices is only a matter of time. However, with two new inclusions Qualcomm has strengthened its portfolio that now offers the most advanced application processor options for manufactures. As demand for these chipsets rise, it will unequivocally result in higher earnings for the company.
Dividend and buyback announcement
On March 4, Qualcomm announced that it would accelerate two measures to reward its shareholders. First, the chipmaker boosted its quarterly dividend by 20% to $1.68 per share that yields at 2.20%. After the hike, the five-year average dividend growth rate stands tall at 20.24% per year.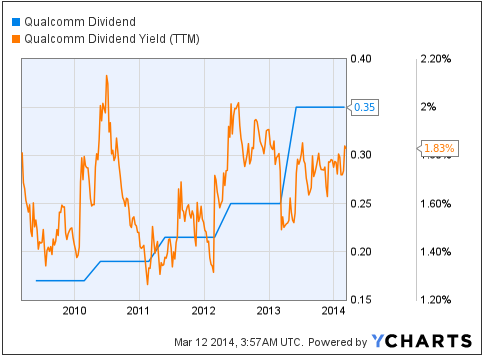 Second, it extended its share repurchase program by $5 billion to a total of $7.8 billion. This is in addition to the $2 billion the company spent last year in stock-buybacks. Both these measures should add value to the stock.
Bottom line: Being a world leader in digital communications with growing revenues and increasing product popularity, Qualcomm has great upside potential. There is no doubt that the company has its heart in the right place and is moving in the right direction that would eventually see its bottom-line grow as well. Of course, the recent dividend increase and stock buyback announcement only adds to its appeal as it shows its inclination to reward shareholders. The stock has been testing higher levels since July last year and, recently, broke a key resistance - around $75.87 level - formed earlier this year. Such breakouts are usually followed by sharp price moves. So even as a pure momentum play, Qualcomm could easily see 10% returns, to $83-$85 price range, in short term.
Disclosure: I have no positions in any stocks mentioned, and no plans to initiate any positions within the next 72 hours. I wrote this article myself, and it expresses my own opinions. I am not receiving compensation for it (other than from Seeking Alpha). I have no business relationship with any company whose stock is mentioned in this article.