Unemployment is finally coming under control at 6.7%, which means that younger Americans are able to get jobs and replace older workers as they retire. The Baby Boomers represent over a quarter of the U.S. population, 81 million plus people are about to enter their retirement years.
Going forward, 3.5 million Americans will turn 55 every year. According to the UN Population Division, 1 in 5 U.S. citizens will be 65 or older by 2035. This represents a huge demographic shift compared to 1930 when only 5% of the population was at retirement age.
Moreover, active lifestyles and improved healthcare technologies have not only prolonged life expectancy, they have also improved life quality. The retirees of today and tomorrow won't just be sitting at home or visiting their grandchildren; they will be traveling and engaging in recreational activities.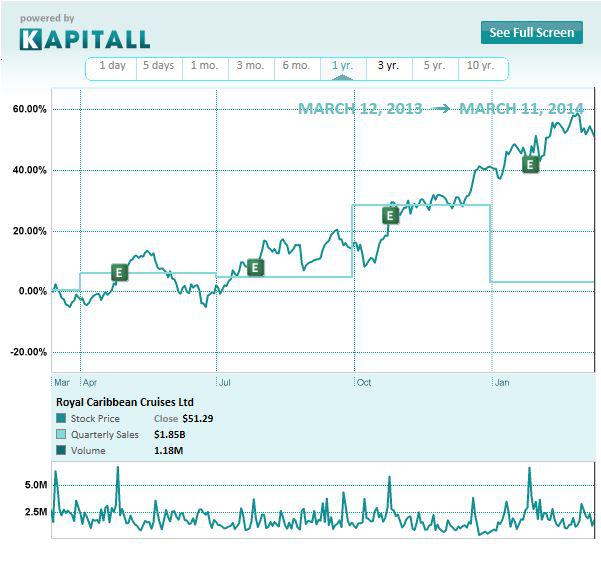 Click here to get more information on this chart.
The effects of increased recreational spending can be seen in stocks like Harley-Davidson (NYSE:HOG) and Winnebago (NYSE:WGO) which are up 25% and 34% respectively in the past year. Traveling is a staple for many retirees and no other industry caters to this demographic quite like the cruise industry.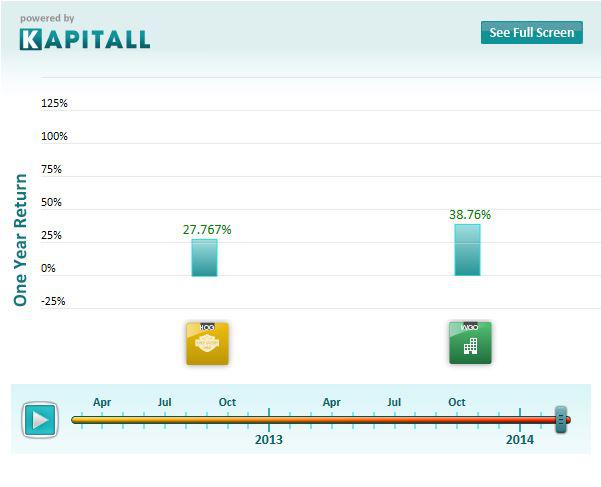 Click here to get more information on HOG and WGO.
Cruise passengers worldwide nearly tripled between 2000 and 2010 growing from around 7.5 million to 19 million. Estimates by Cruise Market Watch place total figures over 24 million by 2018 - an increase of 26% from 2010. In this hot sector, the clear leader is Royal Caribbean Cruises (NYSE:RCL).
The $11 billion cruise line reported 4th quarter earnings well above analysts' expectations - quarterly earnings growth year over year was up 101.70%. It's the 6th beat in a row for the company with an average upside surprise of 32%. EPS growth this year is 39.20% and is expected to increase over 24% next year. The stock trades cheaply at just 12 times future earnings and has a PEG ratio of less than 1.
Management expressed expectations for a 40% increase in profitability this year while adding no additional capacity. Operating margins are a relatively high 10.7% and the stock pays a dividend of $0.25, a 150% increase from just 2 years ago. Royal Caribbean anticipates the arrival of a new ship at the end of the year, Quantum of the Seas, which will add capacity for 2015 as well as increase fleet-wide fuel efficiencies.
The company's biggest competitor is the larger $30 billion Carnival Corporation (NYSE:CCL). The stock has lagged in an otherwise strong sector with negative EPS growth this year and has the highest future P/E ratio of all cruise lines at 16.5. Operating margins are weaker than Royal as well an 8.8% although the stock does come with a slightly higher dividend yield of 2.5%. The stock should outperform as the sector continues to grow, but should lag behind Royal Caribbean.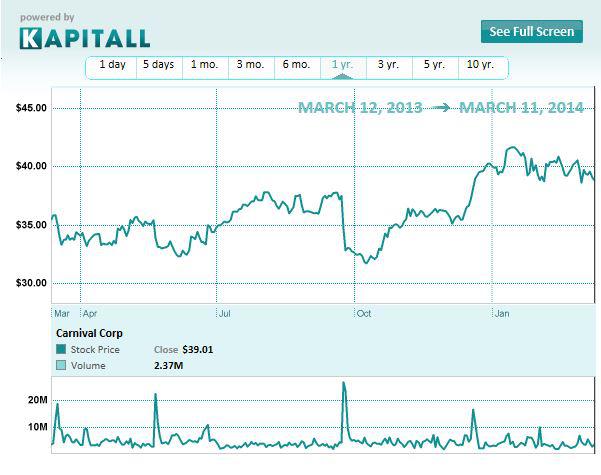 Click here for more information on CCL.
The major risks to the cruise industry include a high sensitivity to oil prices and negative press concerning illness and ship malfunctions. Even with these headwinds, Royal Caribbean has managed to post impressive numbers and should do so for the long-term.
Disclosure: I have no positions in any stocks mentioned, and no plans to initiate any positions within the next 72 hours.
Business relationship disclosure: Kapitall is a team of analysts. This article was written by Daniel Cross, one of our writers. We did not receive compensation for this article (other than from Seeking Alpha), and we have no business relationship with any company whose stock is mentioned in this article.