The recent battles between Netflix (NASDAQ:NFLX) and internet providers over "Net Neutrality" are examples of the ongoing tech wars being fought over the lucrative interconnected revenue pie. Internet providers must build out a robust infrastructure in order to maintain the capacity necessary to provide their customers with a quality online experience and, in doing so, earn their monthly fee. However, the data capacity required for a customer to stream a movie from Netflix blows away the data capacity required by a customer who simply browses the internet. The dilemma facing the internet providers is that they cannot impose a surcharge on high use customers without the real risks of facing a customer revolt. Something had to give. In the case of the war between Comcast (CMSCA) and Netflix, Netflix finally acquiesced to this reality when it recently reached an agreement with the cable provider. However, this is just one of many cable providers and Netflix has a long way to go before resolving this issue throughout the industry. Although this is the highest profile example of the digital monetization wars taking place throughout the interconnected world, there are other battle fields. One of the most interesting is monetization war taking place on your smart phone.
Mandalay Digital Group (MNDL), through the integration of strategic acquisitions over the last couple of years, has positioned itself as the leading independent arms supplier to the wireless telecommunications industry. With a complete arsenal of monetization solutions and a business model that should allow it to cash in, MNDL should see rapid revenue growth as mobile operators focus on the lucrative opportunities that, up until, now have not been effectively captured.
The massive revenues generated through smart phones by Google (NASDAQ:GOOG), Facebook (NASDAQ:FB), Apple (NASDAQ:AAPL) and other non-telecom companies, specifically revenues from mobile apps and advertising, has mobile operators asking: Why aren't we earning our share?. Mandalay Digital recognized this trend in 2011 when it began its foray into constructing a software suite that would enable it to seize upon the opportunity in mobile monetization with its acquisition of Digital Turbine. It followed up by adding other pieces to the puzzle with acquisitions, in both 2012 and 2013, that have brought them to the cusp of a very compelling opportunity. The company has laid out a very interesting presentation on its website that convinced me to take a position. I'll be using some screenshots of their well done presentation for this article… no need to completely reinvent the wheel.
The first slide lays out the enormous market opportunity: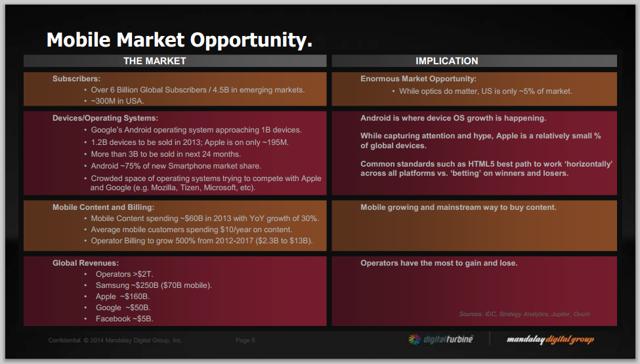 As the chart above illustrates, the market opportunity for Mandalay is enormous. Mandalay is focused on the android smart phone market. The open source nature of this operating system provides the opportunity for mobile operators to control the user experience and earn their fair share of revenues from smart phones using the most ubiquitous mobile phone operating system in the world.
While an enormous market opportunity is nice, the trends in the industry also seem to be converging towards the realization that mobile operators could earn a bigger piece of the pie. After all, they provide the massive infrastructure that supports the global mobile market and can exert control over the user experience. The following chart from the Mandalay Digital website does a good job at communicating these trends and the Mandalay opportunity: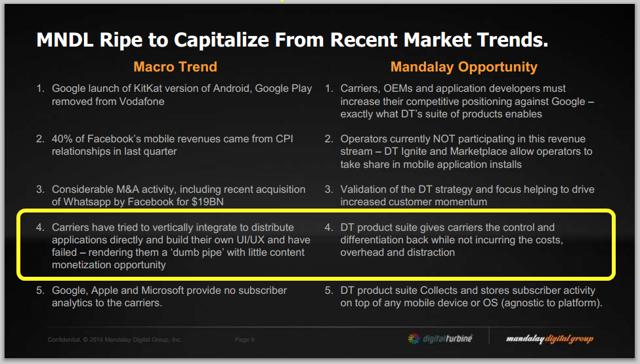 I highlighted item number 4 above because it is critical in explaining the value and opportunity that Mandalay Digital brings to mobile providers. Carriers have tried to provide the user interface and user experience that would further monetize their customer base but have generally not been successful with their own proprietary solutions. Mandalay provides them with a low cost, outsourced solution to re-explore and re-ignite this revenue opportunity with little risk.
The Mandalay Digital Monetization War Arsenal
The Digital Turbine Suite, (aka, the arsenal) consists of five components. These descriptions come directly from the company's March 31, 2013 10-K:
Digital Turbine Ignite:
Digital Turbine Ignite is a mobile application management software that is pre-installed on devices to help operators and content providers pre-install software in a more automated and segmented fashion. This software allows operators to customize the out-of-the-box experience for customers and monetize their home screens via Cost-Per-Install or CPI arrangements with Third Party Software developers. The company has launched with numerous new customers for Digital Turbine Ignite such as Telefonica, Avea Turkey, and Cellcom Israel.
Digital Turbine IQ:
Digital Turbine IQ is a User Experience and User Interface that enables customers to search and discover content from various sources including social media, search engines, and applications. Early results from the Digital Turbine IQ product indicate that customers are more satisfied and purchase more content when the IQ software is being utilized as the primary search and discovery vehicle. To date, IQ has been deployed with Boost in Australia, Cellcom in Israel, and Axis in Indonesia.
Digital Turbine Marketplace:
Digital Turbine Marketplace is an application storefront that manages the retailing of mobile content including features such as merchandising, product placements, reporting, pricing, promotions, and distribution of digital goods. The Digital Turbine Marketplace is deployed with many operators around the world including with operators in Australia, Israel, Philippines, and Italy.
Digital Turbine Content:
Digital Turbine Content is the primary revenue generating product from Digital Turbine today. It includes the distribution and licensing of content across multiple content categories including music, applications, wallpapers, eBooks, and games. The company has its content being sold across multiple geographies including such as Australia, Israel, Turkey, Indonesia, Philippines, Italy, India and Germany.
DT Pay:
DT Pay is an Application Programming Interface (API) that integrates between mobile operators billing infrastructure and content publishers to facilitate mobile commerce. Increasingly, mobile content publishers want to go directly to consumers to sell their content versus sell through traditional distributors such as Google Play or Apple Application Store. DT Pay allows the publishers and the operators to monetize those applications by allowing the content to be billed directly to the consumer via the operator bill. Currently DT Pay is launched in both Australia and Italy.
An Attractive Business Model
The interesting aspect of the Mandalay revenue model is how it becomes a revenue sharing partner to the mobile provider and earns most of its revenue accrue on a variable basis based upon how successful its software arsenal performs in monetizing smart phone revenue opportunities. Digital IQ is structured to earn Mandalay a piece of the action every time a user pays to download an application. In the example provided on the website presentation, for every $1.00 application sold on a smart phone, Mandalay earns $.20. For its Digital Ignite product, the mobile operate pays Mandalay a $100,000- $500,000 set up fee and an average of $.25 per user. Mandalay also shares in revenue for advertising "slots" that can be set up in on the on applications that are preloaded on the smart phone or installed after the phone is in the hand of the consumer. On March 3rd, Mandalay announced the signing of several advertising agreements related to this revenue stream. I refer readers to pages 20 & 21 of the presentation on the website that outlines the advertising revenue model.
Revenues Small but Growing
As can be expected with any company just starting to develop a market, Mandalay is currently not profitable but it is projecting $20-$27 million in sales for the fiscal year ending March 31, 2014. In the last quarter ended December 31, 2013 revenues jumped more than 300% over the prior year to $7 million, primary as a result the acquisitions that are expected to drive growth.
The Big Catalyst: Is The Addition of Verizon Wireless the Inflection Point for Mandalay?
On January 21, 2014 the company made the milestone announcement that it had signed up Verizon Wireless for its Digital Ignite and Digital IQ product lines, the first U.S. carrier to sign on to its list of about 20 global carriers. Mandalay expects Verizon to launch its monetization arsenal during the summer of 2014. Verizon has over 100 million subscribers in the United States. This can obviously be a big revenue driver for the company and potentially lead to relationships with other U.S. carriers such as AT&T, Sprint and T-Mobile. Certainly, all these companies can also benefit by monetizing revenue streams that may be there for the taking.
In Conclusion
On March 7th, Mandalay raised $18,600,000 in a secondary offering at the price of $4.10 per share. As a result, in the near term, dilution risk has been mitigated to the rear view mirror. Mandalay has a market cap of only about $150,000,000 so it should have plenty of room for upside given the opportunity and scalability of its business model. What's next? Mandalay must now demonstrate the worth of its arsenal on the smart phone monetization battle field by capturing incremental revenues for its mobile operator customers. If it can, other mobile operators will flock to its door and the shares should appreciate considerably.
Disclosure: I am long MNDL. I wrote this article myself, and it expresses my own opinions. I am not receiving compensation for it (other than from Seeking Alpha). I have no business relationship with any company whose stock is mentioned in this article.
Additional disclosure: These are the personal views of Wall Street Titan and should not be relied upon for your investment decisions. All investors should click the through links in this article, review SEC filings and do their own due diligence.
Editor's Note: This article covers one or more stocks trading at less than $1 per share and/or with less than a $100 million market cap. Please be aware of the risks associated with these stocks.