SodaStream International Ltd. (NASDAQ:SODA) is expected to struggle to grow earnings in 2014. This Zacks Rank #5 (Strong Sell) saw its gross margins fall 10.6% in a promotional fourth quarter.
SodaStream makes beverage carbonation systems which transforms tap water into soft drinks. Its products are available in 45 countries worldwide.
Tough Fourth Quarter
On Jan 13, SodaStream pre-announced its fourth quarter results so the weak quarter was already known when the company reported actual numbers on Feb 26.
SodaStream actually beat the Zacks Consensus by 2 cents but the beat was largely irrelevant given the previous earnings warning.
Gross margins fell to 42.4% from 53% in the fourth quarter of 2012. The quarter was hit by lower selling prices due to a weak holiday season, especially in America. Heavy promotions also weighed.
Disappointing Full Year Guidance
SodaStream also gave its first look at 2014 guidance. It guided sales up just 15% which is under what the analysts had been modeling.
Earnings are expected to be flat to down modestly from 2013. Analysts, who had been much more bullish, despite the earnings warning on the fourth quarter, now had to cut 2014 estimates.
The 2014 Zacks Consensus has plunged to $1.88 from $3.25 in the last 60 days. 7 estimates were cut during that period. Earnings are now expected to decline 3.9% compared to 2013.
Shares Sink
Shares have sold off since last July but sunk again after the January earnings warning.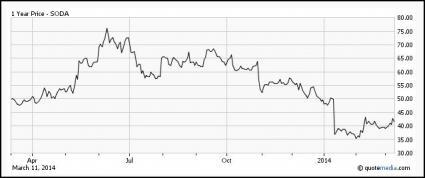 Despite the sell off, the shares aren't cheap. They still trade with a forward P/E of 22.
If you're an investor considering companies that make consumer appliances, you might want to check out Jarden (NYSE:JAH) instead. It's a Zacks Rank #3 (Hold) stock but it has a better earnings growth profile than SodaStream. Its expected to grow earnings by 9.4% in 2014 and another 11.6% in 2015.
[In full disclosure, the author of this article owns shares of JAH.]