Just three months ago, Liberty Media (NASDAQ:LMCA) seemed to be in a "full steam ahead" acquisition mode. That strategy could change to a share buyback mode given the recent developments with the Liberty Media stock price. Compared to its major components, Liberty Media is trading at a nice discount. In addition, Liberty Media has a very strong history of conducting share buybacks to increase shareholder value. With the Charter (NASDAQ:CHTR) and Time Warner (TWC) deal falling off of the radar, Liberty could shift from acquisition mode to share buyback mode with relative ease. This would become even easier if Liberty is able to work a deal with Sirius XM (NASDAQ:SIRI) that brings the satellite radio provider totally under the Liberty umbrella. Let's look at Liberty Media over the past three months compared to its major holdings:
Liberty Media and Sirius XM
Liberty Media holds a 53% stake in the satellite radio provider and is currently trying to work a stock swap deal where current minority Sirius XM shareholders receive about a 39% stake in Liberty Media. Over the past three months, Liberty Media is down about 12.5% vs. Sirius XM being down just 2.5%.
Click to enlarge
Chart Source - Yahoo Finance
Liberty Media and Charter Communications
Liberty Media holds a 27% stake in Charter Communications. Charter is the fourth largest cable operator and recently was trying to work a deal to acquire Time Warner. Comcast (NASDAQ:CMCSA) stepped in with an offer that is currently being vetted out. Charter is now on the sidelines with a possible deal, and could pick up some Time Warner markets if the Comcast deal does go through. Over the past three months, Liberty has gone down 12.5% vs. about 2.5% for Charter.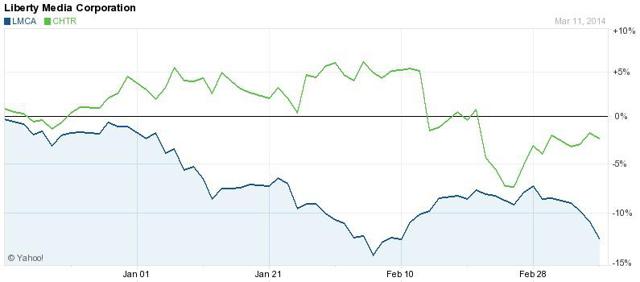 Click to enlarge
Chart Source - Yahoo Finance
Liberty Media and Live Nation
Liberty Media holds a 26% stake in Live Nation (NYSE:LYV). The ticket and entertainment company has seen great growth over the past year and Liberty is already doing quite well with its investment in Live Nation. Over the past three months, Live Nation has seen a 24% increase vs. Liberty Media being down 12.5%.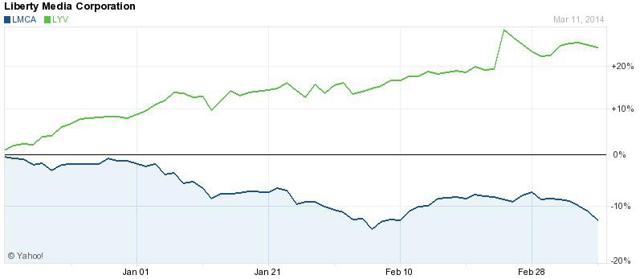 Click to enlarge
Chart Source - Yahoo Finance
Liberty Media and Barnes & Noble
Liberty Media holds a 17% stake in Barnes & Noble (NYSE:BKS). The book company has had its ups and downs, but in the last three months, Barnes & Noble investors have been rewarded with about a 48% gain vs. Liberty Media being down by 12.5%.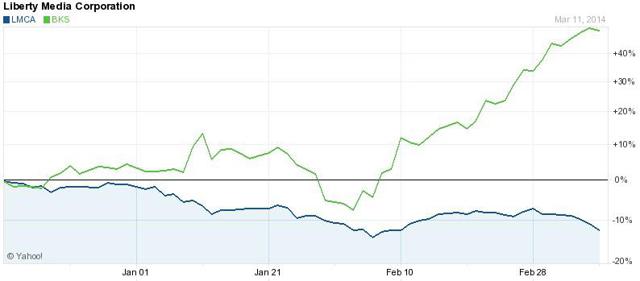 Click to enlarge
Chart Source - Yahoo Finance
These are the public companies where Liberty Media holds a substantial portion of the stock. Liberty also has investments in several other companies that are both public and private.
A quick and simple look at the relative performance of Liberty vs. its components over that last few months shows a pathway to a valuation issue. Liberty is trading at a substantial discount. That presents opportunity for both Liberty as well as individual investors. In addition, Sirius XM investors should also pay close attention.
The proposed Sirius XM deal made sense three months ago for a number of reasons. It may make even more sense today. Sirius XM is a cash flow machine that has been engaged in share buybacks of its own. If Sirius XM were to come fully into the Liberty family, the result could be a share buyback program that allows virtually instant value. For Sirius XM investors, Liberty could be the pathway to access and tap into the value of several companies at healthy discounts. Given Liberty's history of spins and deals, this could be very rewarding. One only needs to look at the spin relating to Starz to see this. When Liberty and Starz (NASDAQ:STRZA) spun, Starz was at about $16. Today the equity trades at $32.
The bottom line here is this. Liberty Media makes moves that increase shareholder value. Those moves include share buybacks, spins, and acquisitions. With the cash flow from a Sirius XM deal, Liberty gains a flexibility that allows it to be choosier about how it creates shareholder value.
In my opinion, part of the recent downward pressure in Liberty was the failed Time Warner deal. Another part is the unknowns relating to the Sirius XM transaction. Sirius XM's independent directors have engaged the services of Evercore to assess the Liberty proposal. There has been a big focus on the assets of Liberty. Right now, those assets are trading at a pretty good discount vs. the respective standalone equities. There could be some impressive value in this play despite the fact that the ratios in the originally proposed Liberty deal do not result in the same valuation of the minority SIRI shares. As an investor, I have always seen Liberty Media as a jewel in my portfolio. In my opinion, the recent downward pressure is overstated. I feel that this equity is poised to move, and the catalyst will be news regarding the Sirius XM deal. Stay Tuned!
Disclosure: I am long LMCA, SIRI. I wrote this article myself, and it expresses my own opinions. I am not receiving compensation for it (other than from Seeking Alpha). I have no business relationship with any company whose stock is mentioned in this article.