The first day of June sent stocks, commodities and high-yield bonds back within a stone's throw of their closing May lows. A few days later, we may have witnessed the return of the "risk trade."
On Thursday, June 3, some of the most widely traded ETFs began distancing themselves from their intra-session troughs of May. Here's how far they've come since May 25, 2010:
7 Popular ETF Benchmarks And Their % Gains Since May 25th Intra-Day
Approx %
SPDR Dow Industrials (NYSEARCA:DIA)
5.3%
SPDR S&P 500 Trust (NYSEARCA:SPY)
6.1%
PowerShares Nasdaq 100 (QQQQ)
8.0%
iShares Russell 2000 (NYSEARCA:IWM)
8.1%
Vanguard Emerging Markets (NYSEARCA:VWO)
9.6%
Claymore China Small Cap (NYSEARCA:HAO)
9.9%
Claymore BRIC Fund (NYSEARCA:EEB)
10.8%
Of course, the very same funds have a long way to go to recover respective April highs. Through 6/4, the correction percentages were as follows:
Correction Percentages From Respective April Highs Through 6/4/10 Close
Approx %
SPDR Dow Industrials (DIA)
-8.0%
SPDR S&P 500 Trust (SPY)
-9.1%
PowerShares Nasdaq 100 (QQQQ)
-7.6%
iShares Russell 2000 (IWM)
-9.7%
Vanguard Emerging Markets (VWO)
-12.0%
Claymore China Small Cap (HAO)
-15.3%
Claymore BRIC Fund (EEB)
-12.7%
For the most part, investors experienced the expected risk-reward relationship. In stock asset upswings, emerging markets outperformed U.S. small caps / Nasdaq / tech which outperformed U.S. large-caps. Conversely, in downswings, U.S. large caps have done better than U.S. small caps which have out-hustled emerging market stocks.
However, there has been one major disconnect. The basic materials segment's struggles have adversely impacted emerging market stocks more than U.S. stocks. (see this article.)
Writers and money managers (myself included) often like to exaggerate, explaining that "the U.S. doesn't make anything anymore." Indeed it's true that the U.S. economy is 2/3 service and 1/3 manufacturing.
Yet, at the moment, the wider range of economic sectors in the U.S. (e.g., technology, financial services, consumer services, medical services, etc.) has benefited U.S. stock investors. Whereas emerging countries require raw materials to develop, the recent pullback in demand for commodities has made for a rougher investment ride.
I have little doubt that… given a decade or more… a buy-n-holder would fare better with a basket of emerging market stocks than with a basket of developed market stocks. It' be wiser to run with the creditor nations, rather than the debtor nations; it'd be wiser to pay for growth where real growth actually occurs.
The problem is, buying and holding is far too dangerous for most people. So if basic industry stocks as well as highly correlated emerging market stocks are faltering, one needs to use stop-loss limit orders to reduce exposure.
Similarly, if you invest in Brazil, South Africa, Chile, or China, be mindful of the trend in Materials (NYSEARCA:XLB) and Global Materials (NYSEARCA:MXI). Chances are, if these funds have fallen below 200-Day MAs, you'll probably need to consider trimming the hedges.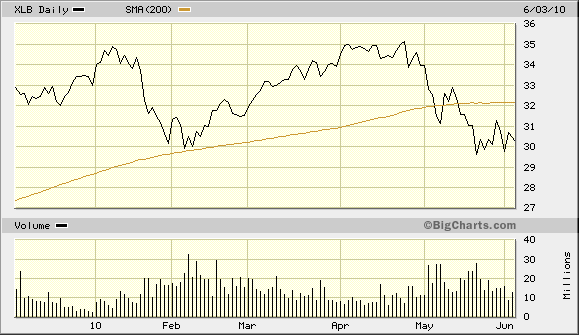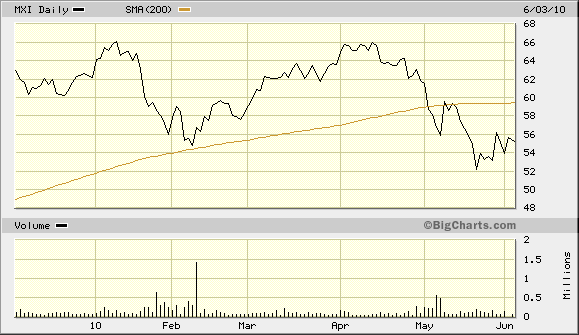 Disclosure Statement: Gary Gordon, MS, CFP is the president of Pacific Park Financial, Inc., a Registered Investment Adviser with the SEC. The company and/or its clients may hold positions in the ETFs, mutual funds and/or index funds mentioned above.The company receives advertising compensation at the ETF Expert web site from Invesco PowerShares Capital Management, LLC and Geary Advisors, LLC. The commentary does not constitute individualized investment advice. The opinions offered herein are not personalized recommendations to buy, sell or hold securities.