In addition to great stock performance and solid earnings and revenue improvements, SanDisk (SNDK) Thursday announced new improvements in flash memory devices while Gartner predicted rising chip sales. The flash devices of SanDisk are now moving into PC applications as replacements for hard drives and allowing netbook makers to design even smaller portable devices. The performance of the new memory products along with reliability and storage capacity make the devices ideal for many application according to reports.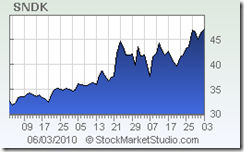 Garner today improved their chip sales forecast for the year from an increase of 19% roughly to better than 27%. The economy was a main reason for the upgrade to predictions but also semiconductor revenue growth over the past 5 quarters has been stronger than they thought it would be.
SanDisk itself has seen its expected earnings for the quarter improve from 55 cents a share to 86 cents a share this week. Revenue is expected to increase 56% compared to the same quarter last year while the earnings corresponds to a 139% improvement. Next quarter also looks promising with revenue growth (year over year) expected to be 31% better and earnings (year over year) thought to grow near 19%.
The PEG ratio is still low at .72 with price to earnings (P/E) at 12.57 when the markets closed today. I feel SanDisk is in a good position to be purchased if you believe the markets have begun their break-out upward. There is no clear hold signal as the indexes are still negative but SanDisk is signaling a buy and is only hovering near it's 52 week high reached prior to the recent market declines.
Disclosure: None