When shares of Ballard Power Systems Inc. (NASDAQ:BLDP) lost more than one-quarter of its market capitalization on March 11, it was reminiscent of 2000. Back then, the stock climbed from the mid $20s to a peak of $114.81. Investors bought the idea that hydrogen fuel cells would be the next big thing for energy. As credit dried up, Ballard's losses mounted. More recently in Q4 (2013), Ballard Power was profitable, igniting interest once again. Should investors jump on the bandwagon?
Shares fall abruptly with Plug Power
Ballard Power shares closed recently at $5.65 after peaking at $7.63 on March 10. Citron Research pegged Plug Power (NASDAQ:PLUG) at a fair value of just $0.50. Plug Power was trading at $10.31 the day before Citron issued the report. Citron said Plug has "a history of broken promises and failure to deliver."
Plug Power's low target price is likely too extreme. In its quarter ended September 30, 2013, the company reduced costs. Its operating loss dropped to $8 million, down from an $11.8 million loss the previous year. Plug Power also improved its balance sheet after it raised $21.5 million this month. It offered 3.9 million shares at $5.74 per share.
Ballard caught in downdraft
Risk aversion and profit taking in Plug Power led investors to sell Ballard Power, too. Its valuation is excessive, since Ballard only made $0.2 million in its last quarter. Ballard's adjusted EBITDA shows substantial improvements over the last three years: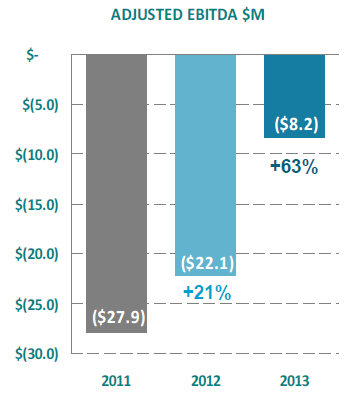 Source: Ballard Power
Ballard still holds value because it holds many patents and is winning big contracts. It won a four year contract with Volkswagen (OTCPK:VLKAY) worth between $60-$100 million. The contract involves the design and manufacture of a next-generation fuel cell for use in Volkswagen HyMotion demonstration cars. Ballard will be the product design lead in the collaborative partnership.
Alternative energy a buzz word
Ballard's excessive valuation could be due partly to alternative energy being in vogue again. Investors are betting that Ballard could scale its revenue over the next few years. When Tesla Motors Inc. (NASDAQ:TSLA) said it would build a nationwide network of supercharger stations, investors realized that hydrogen refueling stations could also be possible. If Hyundai Motor Company (OTC:HYMPY) brings a Tucson hydrogen fuel cell crossover vehicle to North America and Europe, it would finally monetize Ballard Power's fuel cell development work. Ballard spent the past several years in developing fuel cells for automobiles. Fuel cell vehicles offer two distinct advantages over electric cars: greater range and shorter refueling times.
Hyundai is not the only company with fuel cell plans. Honda Motor (NYSE:HMC) plans to launch a fuel cell car in 2015, while Toyota Motors (NYSE:TM) will launch a production version in 2015.
Fuel Cell's (NASDAQ:FCEL) successful offering of 25.3 million shares for $1.25 in January also boosted investors' interest in Ballard Power. China plans to shut down 50,000 small coal-fired furnaces. This news further ignited the share price of both Fuel Cell and Ballard. China is implementing a clean water action plan. The market could reasonably speculate that China's clean energy plan could include solutions provided by companies like Fuel Cell and Ballard Power. As countries replace coal with clean energy, it will bode well for Fuel Cell's profit margin and revenue.
Bottom line
Ballard Power's shares look like a house of cards that is collapsing. Just last year, shares were close to being delisted because its stock was under $1. Now, its shares correlate to the movements of Fuel Cell's and Plug Power's shares. For now, strong interest in Tesla might prop up these companies, but investors need to exercise caution. Ballard Power might still generate higher revenue in the next few years. Buying shares at current levels will not price in any delays or sudden drops in demand along the way. Investors might want to let the dust settle first before considering Ballard Power.
Disclosure: I have no positions in any stocks mentioned, and no plans to initiate any positions within the next 72 hours. I wrote this article myself, and it expresses my own opinions. I am not receiving compensation for it (other than from Seeking Alpha). I have no business relationship with any company whose stock is mentioned in this article.