Northern Tier Energy LP. (NYSE: NTI) released their 2013 annual financial results on February 27, 2014 and displayed solid reporting on 2013. But investors are looking for better results than a dividend of $0.41 per unit, per quarter. Here are several reasons we expect the distribution to continue to grow in 2014.
The St. Paul Park Refinery has a complexity index of 11.5, which refers to the ability of a refinery to produce finished products based on its investment intensity and cost relative to other refineries. The refinery's complexity allows it to process a variety of light, heavy, sweet and sour crudes into higher value refined products.
The Nelson Complexity Index score of 11.5 demonstrates not only a highly capable refinery, and the potential value of utilizing all sources of crude, but the ability to produce a wide range of quality products for the consumer. This leads to the opportunity of buying the best grade of crude to produce the best products in the PADD II region in the Midwest. Translating this to investor speak - you have a refinery very capable of using any quality crude and producing high quality products. This not only supports the buy low, sell high marketing concept, but allows the refinery to adjust quickly in the bidding wars of crude prices. The refinery has the capability of increased production and opportunity to buy the best priced crude we see the horizon growing for profitability. The refinery can process 100% cost-advantaged crude oil, in a near mix of 75% light, 25% heavy. As production of crude continues to increase, it will create a buyer's market and with the refinery's ability to use multiple qualities of crude grade, NTI will be able to drive purchases to the lowest price.
NTI's refinery's strategic location allows it direct access, primarily via the Minnesota Pipeline, to abundant supplies of advantageously priced crude oils. Many of these crude oils have historically priced at a discount to NYMEX WTI. St. Paul Park Refinery has the most capability in the PADD II region, and we expect positive growth and production through 2014. Location is the key as it has access to Canadian crudes, the Bakken oil and production from Cushing, OK, in the Midwest.
NTI completed a planned major plant turnaround with zero loss-time injuries, and took advantage of the planned downtime to make strategic investments resulting in an increase to its capacity by over 10% while enhancing its distillate yield by almost 4 percentage points. The refinery generated over $360 million of adjusted EBITDA and over $240 million of cash available for distribution to unit holders. It is key to note that during this plant upgrade, the systems did not come off-line, and production remained at 88,000 bpd production, and the full operational capability has been increased. The above states a 10% capacity increase, from the 92,500 bpd to now over 100,000 bpd. Assuming all other factors are comparable, the opportunity to increase income just grew, while holding costs in line will translate to a larger bottom line.
The refining segment's operating income was $38.0 million for the fourth quarter of 2013 compared to $147.0 million for the fourth quarter of 2012. Refining gross margins were $15.34 per barrel of throughput for the fourth quarter of 2013 compared to $24.49 per barrel for the fourth quarter of 2012. This decrease was primarily due to less favorable benchmark crack spreads partially offset by favorable crude oil price differentials versus the benchmark WTI crude oil prices in the 2013 fourth quarter compared to the 2012 fourth quarter. Based on today's (March 12, 2014) opening crude prices, Brent Oil opened at $108.55 and WTI opened at $100.03, with only $8.52 difference. The greater the spread, the more lucrative for refineries to sell products at a more profitable margin. Fourth quarter 2013 spread was closer to $10.00 on average, so the closing of the spread will limit the profit margin. With some crudes like NYMEX WTI being discounted further, the profit margin can be extended through NTI's capabilities of refining complexity index.
On NTI's website, the company's additional assets include the following:
The refining business also includes a 17% interest in the Minnesota Pipe Line Company, which owns and operates the Minnesota Pipeline, a 455,000 bpd crude oil pipeline system that transports crude oil (primarily from Western Canada and North Dakota) for approximately 300 miles from the Enbridge (NYSE:ENB) pipeline hub at Clearbrook, Minnesota to the refinery. The Minnesota Pipeline has historically transported the majority of the crude oil used and processed in the refinery. The company owns all of co-ownership of products terminals, storage tanks, rail facilities and the Mississippi River dockage. The retail assets include the SuperAmerica retail chain of 163 company operated convenience stores and 73 franchised convenience stores.
From their annual report linked above, NTI's Chief Operating Officer, Chet Kuchta announced, "The company gained a new, strategic partner in Western Refining. With this partnership and our recent investments, we are confident we can continue to capture strong crude dynamics and improve margins in 2014."
(pictures from NTI Presentation, 02/04/14)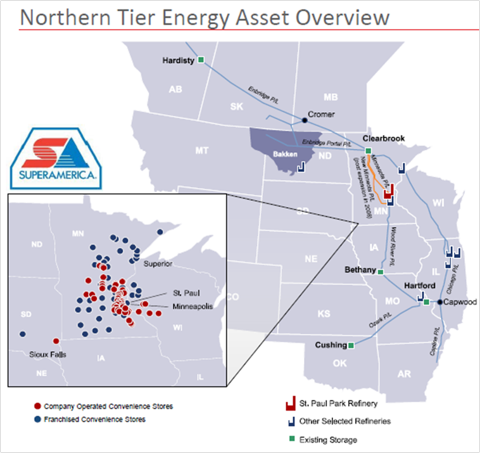 Unitholders should expect a modest increase in production levels throughout 2014, and built on the income from sales, the top line should grow a respectable 6-10% over 2013 totals. An increase in the top line sales should translate to increased EBITDA numbers and an increase in cash available for distribution to unitholders.
NTI is a solid company with growth potential this year to increase income and profits to the bottom line. The refinery is tops in the PADD II region and will dominate the market with near capacity operations and production of quality products. We anticipate four good quarters of distributions above the 4Q 2013 payout. Currently, the $0.41 distribution was a yield of 6.10%, but over 2014, we expect an increase, driving the annual distribution yield near 10%.
Disclosure: I am long NTI. I wrote this article myself, and it expresses my own opinions. I am not receiving compensation for it (other than from Seeking Alpha). I have no business relationship with any company whose stock is mentioned in this article.