Shares of Eastman Chemical Company (EMN) increased 4.03% or $2.35 to close at $60.65 per share after the company increased its earnings guidance for the second quarter and full-year 2010.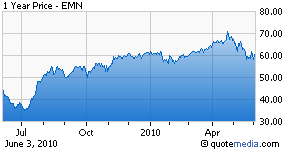 Inspired by the recovering economy and stabilizing raw material and energy costs, Eastman Chemical upped its earnings forecasts to $5.25 to $5.50 per share (excluding one-time charges) for the year from its prior guidance of $5.00 to $5.25 per share. For the second quarter, Eastman is expecting a profit of more than $1.60 per share, higher than the previous guidance of $1.50 to $1.60 per share. The Zacks Consensus Estimate is pegged at $1.57 per share for the current quarter and $5.30 per share for the full year 2010.

Eastman expects the demand to continue to improve and the raw material and energy costs to remain steady in the latter half of the year. Recently, Eastman and aluminum giant Alcoa (AA) have entered into a partnership with the U.S. Department of Energy to reduce energy consumption by 25% per unit of output over a 10-year period.

Other partners in the agreement are CalPortland (a building materials and construction solutions provider), Lufkin Industries (producer of machinery such as oilfield pumping units and electrical equipment) and Raytheon (RTN) (a major American defense contractor and industrial corporation with core manufacturing concentrations in defense systems and defense and commercial).

Zacks Recommendation

Eastman Chemical's diversified chemical portfolio, along with its integrated and varied downstream businesses, is driving earnings. Eastman benefits from business restructuring and cost-cutting measures. Recently, the company has sold unprofitable units and closed businesses that could not be sold. Eastman's fibers business continues to outperform and its strong specialty margins look increasingly credible.

However, Eastman is facing weak demand in its Performance Polymer segment, which has led to lower sales volume and continued under-utilization of capacity, resulting in higher unit costs. Production disruptions on power outages are also pressuring volumes.

We maintain our Neutral recommendation on Eastman Chemical.