Two of the most recognized banana brands, Chiquita (NYSE:CQB) and Fyffes (FFY.DB), have merged to create the largest producer of bananas in the world. Combined, the two companies will form ChiquitaFyffes and supply over 16 billion bananas to global markets annually.
Prior to the announcement, four companies controlled 80 percent of the world banana supply: Chiquita, Fyffes, Dole (NYSE:DOLE) and Fresh Del Monte (NYSE:FDP). The merger tightens that control to only three companies-and gives ChiquitaFyffes a decided edge against its competitors by securing 29 percent of the global banana market. Currently, Dole controls 26 percent, and Fresh Del Monte controls 15 percent of global banana sales.
The deal leaves almost 51 percent of the newly formed ChiquitaFyffes in the hands of Chiquita shareholders. In addition, the new organization will employ more than 32,000 people and have annual revenue of $4.6 billion.
While consolidation frequently means higher profits through cost cutting, ChiquitaFyffes faces two significant challenges: review by antitrust officials in the United States and the European Union, and the threat of a virus that could destroy large portions of the world's banana groves.
Antitrust Review in the U.S. and EU
ChiquitaFyffes said that company officials would discuss potential antitrust roadblocks with governmental authorities in the U.S. and the EU. However, because the two companies have very little overlap in production sources, ChiquitaFyffes expects the deal to pass official scrutiny.
Even so, the merger could present some complex issues to review. While at first glance, the deal appears to be primarily concerned with market share-other issues, such as transportation, infrastructure, and contractual obligations with buyers and suppliers, could prompt the EU and U.S. to be more critical of these details.
The area of production most likely to raise questions of unfair competition centers around ripening facilities. The bananas ripen from green to yellow in these chambers, and the newly formed ChiquitaFyffes may have too much of a concentration in that production segment. In addition, the EU may review unfair market penetration levels from a regional perspective, dividing the markets of Southern and Northern Europe.
The Tropical Race 4 Fungus
Currently, a fungus known as the Tropical Race 4 strain has infected and steadily damaged banana crops in Asia, Jordan, Mozambique and Africa. The disease spreads through contaminated tools, machinery and soils. While 70 percent of the nearly $9.0 billion banana market grows in unaffected South America, plant biologists believe that the fungus will ultimately spread to that continent.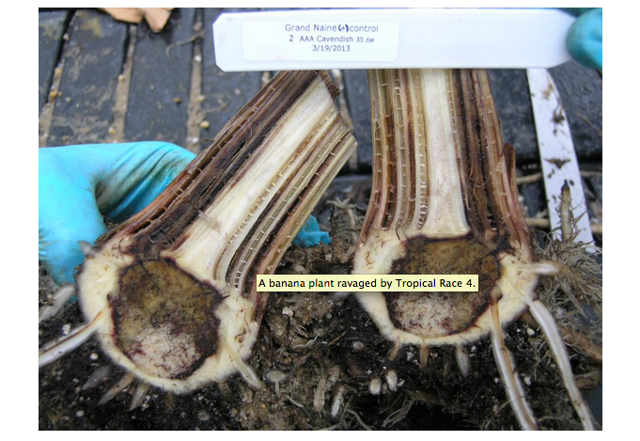 (Photo credit: twitter @bananareseach, via qz.com)
While the company does not publicly consider the fungus to be an urgent threat to its crops, Chiquita has acted otherwise -- implementing an aggressive risk mitigation plan to protect its banana production in South America. Since all of its supply comes from South America, a successful prevention program will increase the value of those plants that escape the fungus now causing destruction for other banana suppliers around the globe.
Implications for Fresh Del Monte
The merger could have a significant negative impact on Fresh Del Monte, which is the closest rival to ChiquitaFyffes. In total, ChiquitaFyffes distributes 180 million cases of bananas annually, whereas Fresh Del Monte ships approximately 117 million cases. This means ChiquitaFyffes will be nearly 50 percent bigger than the next largest competitor. With approximately 24,000 hectares in South America under control by ChiquitaFyffes, this positions the corporation to be able to increase its efficiency, particularly in the area of logistics.
Conclusion For Investors
When the two companies announced the merger, shares of Chiquita rose 10.7 percent on the New York Stock Exchange, and shares of Fyffes rose 46 percent on the Dublin, Ireland Exchange. In the short term, we believe purchasing shares of CQB will be profitable; however, an increase in Tropical Race 4 Fungus is certainly cause for caution if it spreads to the core of ChiquitaFyffe's assets, which is likely in the age of monocultures.
Disclosure: I have no positions in any stocks mentioned, and no plans to initiate any positions within the next 72 hours. I wrote this article myself, and it expresses my own opinions. I am not receiving compensation for it (other than from Seeking Alpha). I have no business relationship with any company whose stock is mentioned in this article.