Dipexium Pharmaceuticals LLC (NASDAQ:DPRX), a pharmaceutical firm in the process of developing and commercializing a topical, broad spectrum antibiotic, plans to raise $30 million in its upcoming IPO this week.
The New York, New York-based firm will offer 2.3 million shares at an expected price range of $12.00-$14.00 per share. If the IPO can find the midpoint of that range at $13 per share, DPRX will command a market value of $101 million.
DPRX filed on February 6, 2014.
Lead Underwriter: Oppenheimer and Co Inc
Underwriters: Feltl & Company Inc
Summary
DPRX is a late-stage pharmaceutical firm, nearing FDA approval for Locilex, its novel, broad spectrum topical antibiotic. Locilex is a synthesized peptide isolated from the skin of the African Clawed Frog that kills microbial targets, by disrupting bacterial cell membrane permeability.
Locilex is currently being targeted towards the treatment of mild infections of diabetic foot ulcers; DPRX hopes to establish the cream as the standard of care for such infections and to eventually expand its use to other skin and skin structure infections. DPRX holds a patent on the formulation of Locilex through July 2032. The firm has plans to enroll in a pair of pivotal Phase 3 superiority studies in the second quarter of 2014, and expects to submit a new drug application for Locilex in the second half of 2015.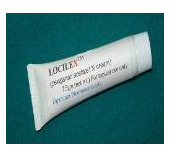 (Image Source: http://dipexiumpharmaceuticals.com/aboutLocilex.html)
Valuation
DPRX offers the following figures in its S-1 balance sheet for the year ending December 31, 2013:
Revenue: $0.00
Net Loss: ($4,013,620.00)
Total Assets: $4,030,065.00
Total Liabilities: $823,834.00
Stockholders' Equity: $3,206,231.00
DPRX's lack of revenue is typical of a pre-commercial pharmaceutical firm, and should not be taken as an indicator of the firm's potential for future success. DPRX will be unable to generate significant revenues or turn a profit until it has commercialized a product.
Business
If approved, Locilex would enter a worldwide market for diabetic foot infection therapeutics that was worth some $1.46 billion in 2011. DPRX is hardly the only firm looking to capture this market, of course, and many of the firms that currently offer (or plan to offer) potentially competing products have access to far greater technical and financial resources than DPRX. These firms include the likes of GlaxoSmithKline plc (NYSE:GSK), Pfizer Inc. (NYSE:PFE), Eli Lilly and Company (NYSE:LLY), and Johnson & Johnson (NYSE:JNJ).
Management
Co-founder and managing partner David P. Luci will serve as DPRX's President, CEO and Secretary upon the consummation of the firm's corporate conversion. He previously served as President of MacroChem and as Executive Vice President, CFO, General Counsel and Corporate Secretary of Bioenvision, Inc. He began his career with Ernst & Whinney LLP as a certified public accountant working in the Healthcare Practice Group. Mr. Luci holds a degree in Business Administration from Bucknell University and graduated from Albany Law School of Union University.
Conclusion
We rate this IPO a buy in the proposed price range of $12 to $14.
DPRX seems to have a very clear path to commercializing Locilex, and does not suffer from the sort of crippling debt that many pre-commercial pharmaceutical firms experience. Though Locilex is by no means guaranteed to receive FDA approval, it looks to be a good bet, having come to an agreement with the FDA for its approval through a special protocol assessment for its Phase 3 program.
The firm's intention to work towards finding more applications for Locilex, including funding for such projects from this IPO, may lead it towards much larger profit potential in the future.
Disclosure: I have no positions in any stocks mentioned, but may initiate a long position in DPRX over the next 72 hours. I wrote this article myself, and it expresses my own opinions. I am not receiving compensation for it (other than from Seeking Alpha). I have no business relationship with any company whose stock is mentioned in this article.