High yield investing can be one of the most profitable and least risky means of outperforming the market while generating a substantial income stream. For example, from 1968-2007, the 100 top yielding companies in the S&P 500 outperformed the general index by 3% CAGR. This may not sound like much but it is the difference between turning $10,000 into $490,000 or $1.4 million. In other words, superior dividends resulted in almost triple the total return.
As part of my effort to research high yielding companies for potential entry into my experimental real world portfolio, I recently began investigating medical REITs. After comparing several companies in the industry, one stood out as the most likely to outperform its peers; both in terms of total returns and income generation over the long-term.
Company Overview:
Omega Healthcare Investors (NYSE:OHI) is a medical REIT that specializes in financing and owning nursing homes. At the end of 2013, the company either owned or held the mortgage on 538 facilities with a capacity of 61,178 beds in 37 states. The facilities are run by 49 different third parties.
Catalysts For Growth:
The aging of the US population is a multi-generational mega trend that is likely to spur the company's growth for decades to come.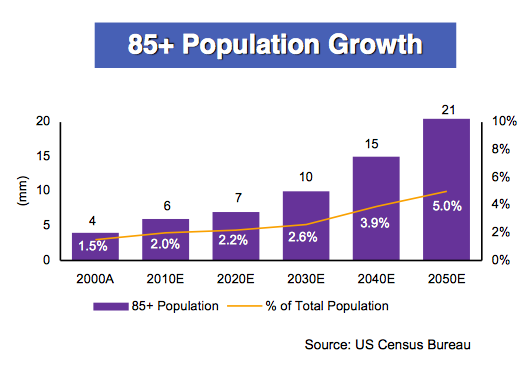 As total healthcare spending (as a % of GDP) doubles over the next 30 years, the government and private sectors will grow increasingly concerned with minimizing costs.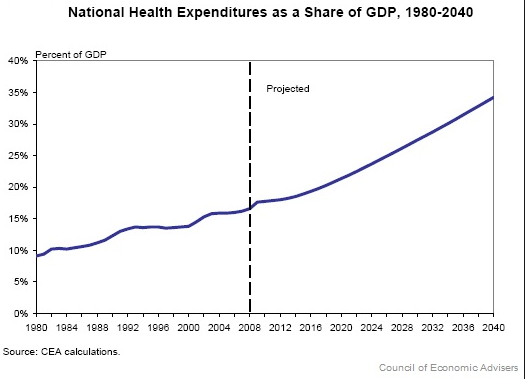 When it comes to providing long-term care after injuries for seniors over the age of 85, senior living facilities are:
3x more cost effective than inpatient rehabilitation facilities
8x more cost effective than staying in a hospital.
This is likely to drive the growth of these facilities and keep them relatively safe from Medicare and Medicaid cuts.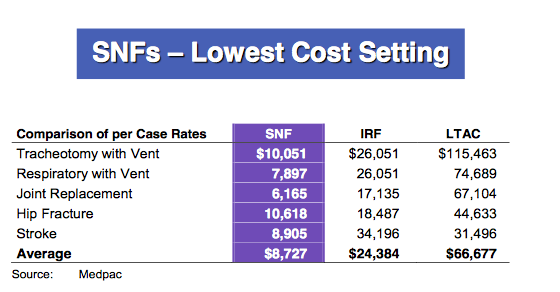 -Third Party Risk: If one of the 49 operating companies Omega partners with, goes bankrupt or runs into financial trouble, then mortgage, lease or rental payments could stop. This would have a negative impact on FFO/Share (which is what pays the dividends).
-Healthcare reform: The recent changes in healthcare legislation has resulted in the largest changes to the medical industry since Medicare's introduction in 1965. According to the company's 2013 10-K:
"We cannot predict the impact of the Healthcare Reform Law on our operators or their ability to meet their obligations to us."
-Medicare and Medicaid reimbursement rate changes: Since a large part of nursing home costs are paid by Medicare or Medicaid, cuts in reimbursement rates from these programs could harm Omega Healthcare's ability to pay.
In October 2013, a 1.3% increase in Medicare reimbursement for nursing homes was approved. Thus far this risk hasn't materialized.
Medicaid reimbursement is expected to increase slightly across the states in which the company operates. In addition, geographic diversification means decreased financial impact from individual states altering their reimbursement rates.
Several states are talking about establishing dual eligibility plans in which both Medicare and Medicaid would pay for a patient's care. This should help diversify the cost and lower the risk of reimbursement cuts.
-Changes in regulations concerning nursing homes and outcome based reimbursement:
Nursing homes are regulated at the Federal, State and Local levels. Changes in these regulations as well as introduction of outcome-based compensation could negatively affect nursing home providers due to increased regulatory cost and lower reimbursement.
Competitive Advantages:
I've illustrated the potential rewards and risks to the company, let us now analyze the reasons that Omega Healthcare is a better investment than its peers.
Strong and Stable Occupancy Rates:
For the last 5 years, Omega Healthcare has beaten the industry average in occupancy rates.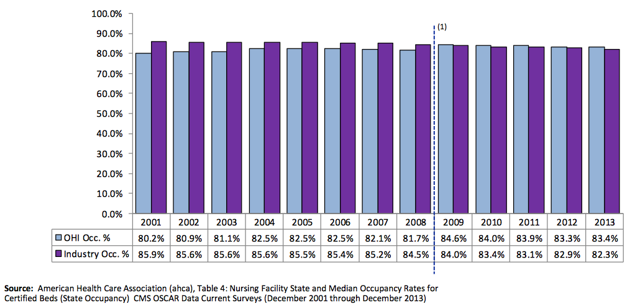 Long-Term Lease Stability: 85% of revenues are contracted through 2020.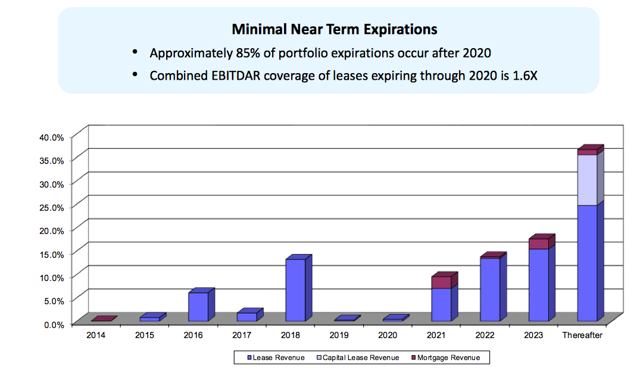 Strong Balance Sheet:
This might be a controversial statement as Omega's debt/equity ratio is 60% higher than the industry average (1.6 vs. 1). However, the current ratio (a measure of a company's ability to repay short-term obligations) is a staggering 5.18. To put this in perspective, 1.3-1.5 indicates little risk of debt default.
The debt leverage ratio has been declining since 2011 from 4.8x Debt/Adjusted EBITDA to 4.4x at the end of 2013. Meanwhile, the company's ability to service its debts has been increasing. This is measured by the Adjusted EBITDA/interest costs ratio aka the interest coverage ratio. Since 2010, it has grown from 3.1x to 4x.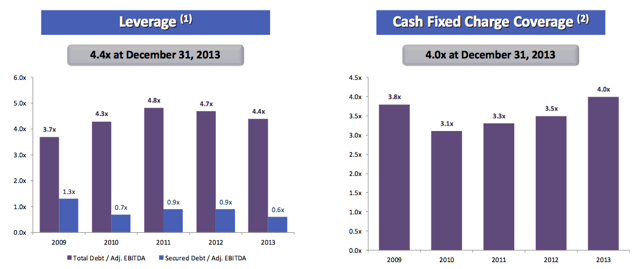 This means that Omega Healthcare Investors has a strong ability to service its debts and should continue having access to the debt markets.
As if to prove this point, the company recently closed on a $400 million debt offering for a term of 10 years at 4.95%.
In 2013, the company was able to pay off $110 million in HUD mortgages and refinance at a much lower rate. The rates dropped from 5-55-6.05% down to 3.06%.
In February of 2013, Moody's raised its credit rating for Omega Healthcare to Ba1. S&P rates company's debt BB- which is investment grade.
The company has no debt coming due in the next 2 years.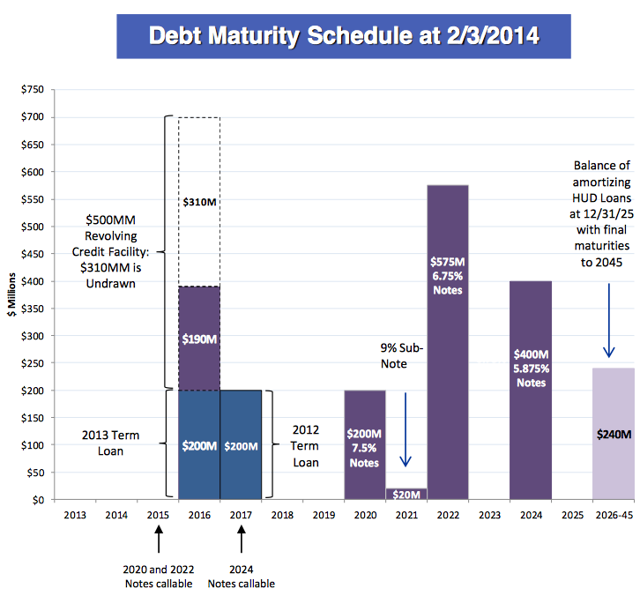 Company Growth:
Omega Healthcare has a proven track record of strong and consistent growth.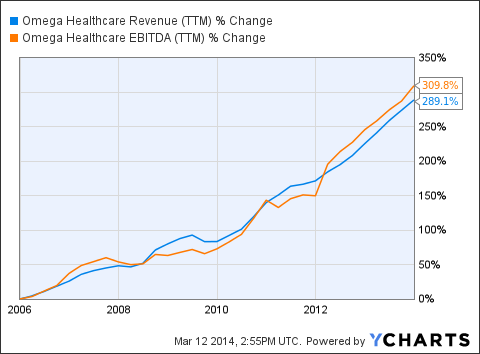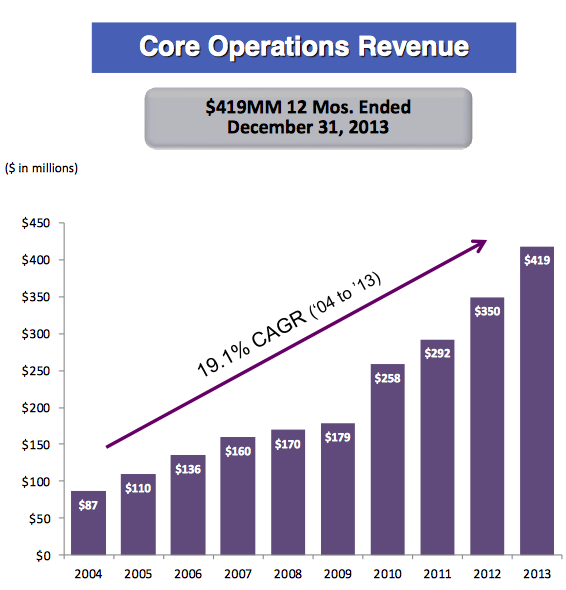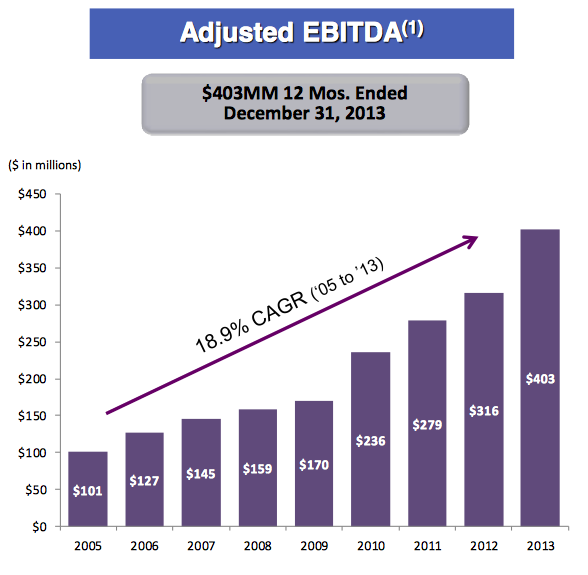 Dividend Growth:
Omega Healthcare has been one of the strongest performers when it comes to dividend growth in the entire REIT sector. It has been the strongest in the medical REIT industry.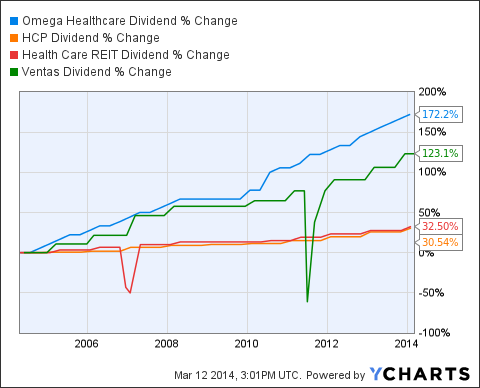 Dividend Security:
In addition to having the fastest dividend growth rate of any medical REIT, OHI has one of the most secure dividends. In 2013, the company paid out $1.9 in dividends out of $2.53 in Adjusted FFO/share. This represents a 75% payout ratio. In the most recent quarter, the dividend was $.49/share paid out of $.65 FFO/share which indicates a 75.4% payout ratio and a 133% dividend coverage ratio.
The key to long-term dividend growth is growth in FFO/share. Omega Healthcare has an exceptional track record of generating such growth.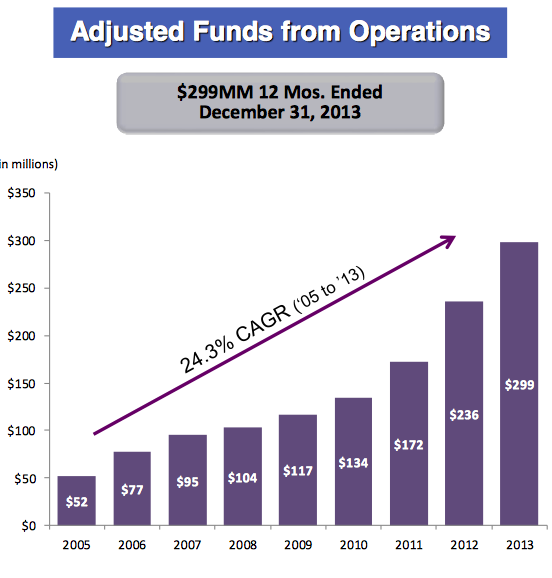 According to the most recent investor presentation for 2014, management is guiding for FFO/share growth of 6.7-7.5% to $2.69-$2.72/share. This would generate a payout ratio for the existing dividend of 72-73%.
Investment Opportunities Leading to AFFO/Share Growth:
Omega Healthcare has been the one of the most aggressive growers of investment through acquisitions.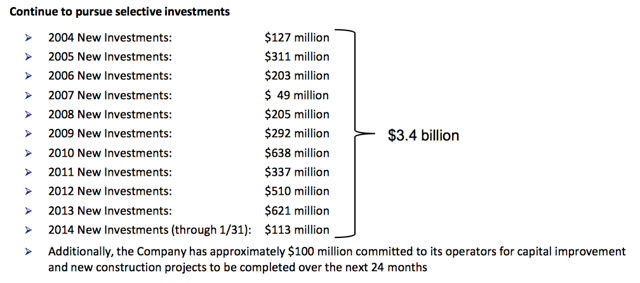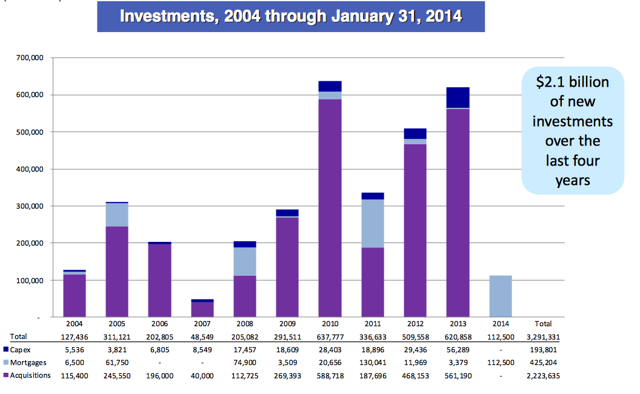 From the images above we see that over the last nine years:
-Capex has been 5.9% of total investments.
-Mortgages have been 12.9% of total investments.
-Acquisitions have been 67.8% of total investments.
Investment is of paramount importance to growing the AFFO/share from which the dividend is paid. Fortunately, Omega Healthcare is very good at converting investment into growth in AFFO/share and dividends. Each $100 million in investments generates $.033/share in annual AFFO.
If we take the previously mentioned guidance of $2.69-$2.72 in AFFO/share for 2014 and using the above fact, we can estimate $480 million-$570 million in 2014 investments. This is what is required to meet the company's internal expectations assuming no organic growth from existing properties.
In January 2014, the company saw $113 million in investments. This indicates that either the company is 20-23% finished with its investments for the year or it is being overly conservative with its guidance.
Given the company's liquidity position, this second option seems more likely. The company has $1.1 billion in available liquidity. Add in the recent bond offering and that total rises to $1.5 billion. Given the rate of investment in 2013, I estimate it will take 1.5-2 years for the company to invest the entire amount.
$1.5 billion would generate an additional $.495/share in AFFO which means that 2015 AFFO should be approximately $3.03/share. Management has stated its target payout ratio is 75-85%. This indicates that the 2015 annual dividend should be $2.27-$2.58. This would represent a dividend growth rate of 7.6%-14.5% CAGR which is in line with historical performance.
It is likely that the company will actually invest more than $1.5 billion over the next 2 years. This is because Omega Healthcare is constantly searching for new sources of liquidity with which to grow. If 2014 is a successful year (all indications say it will be) then the company is likely to acquire additional borrowing power within the next 2 years. This means that my above estimate for 2015 AFFO/share may prove conservative.
Managerial Excellence:
The caliber of management at Omega Healthcare is among the best in its industry. As evidence, witness the amazing ROA, ROE, operating and net margins. (source Morningstar.com)
| | | | | |
| --- | --- | --- | --- | --- |
| Company | ROE | ROA | Operating Margins | Net Margins |
| OHI | 5.4 | 14.9 | 63.5 | 41.2 |
| VTR | 2.3 | 5.1 | 16.8 | 16.5 |
| SNH | 34.7 | 19.9 | 3.2 | 5.6 |
| HCN | 0.4 | 0.8 | 3.7 | 2.7 |
| HCP | 4.9 | 9.1 | 39.7 | 46.2 |
| IND AVG | 2.7 | 5.7 | 34.7 | 19.9 |
As seen in the table, Omega Healthcare is operating at efficiencies 2-3x that of its industry average.
Likely Future Outperformance:
Given that Omega Healthcare's dividend yield and growth rate is higher than its peers, it seems likely that the company will outperform its industry and the market in general. This is because the rule of thumb for modeling future returns for high yielding stocks is:
(Yield+dividend growth CAGR)*average yield
This takes into account current income, capital gains and dividend reinvestment.
| | | | | | | |
| --- | --- | --- | --- | --- | --- | --- |
| Company | Yield | Dividend CAGR (10 year) | Dividend CAGR (5 year) | Dividend Growth 1 year | Avg 5 yr yield | Projected CAGR |
| OHI | 6.07% | 12.57% | 10.31% | 10.10% | 7 | 18.64% |
| VTR | 4.79% | 10.46% | 7.16% | 10.28% | 4.4 | 15.25% |
| SNH | 7.07% | 2.32% | 2.19% | 1.30% | 6.7 | 9.39% |
| HCN | 5.46% | 3.11% | 3.17% | 3.92 | 5.5 | 8.57% |
| HCP | 5.79% | 2.76 | 3.45% | 3.81 | 5.2 | 8.54% |
When looking at Omega Healthcare's anticipated returns we see that not only does it handily beat its peers but also the stock market's 1871-2013 average return of 9% CAGR (11.1% with dividend reinvestment).
Valuation:
I used a discounted dividend analysis to determine the fair value of Omega Healthcare Investors.
As shown previously, the anticipated total return for the company is 18.64%. Over five years this would result in a 135% gain. However, as mentioned, the stock market's long-term total return is 11.1% CAGR. Since purchasing an individual stock is riskier than placing money into a cheap index fund and reinvesting the dividends, I want to be compensated for the added risk.
Thus I discount the projected 2018 price of $78.27 by 69.3% which is what five years of growth at the market's average total return would generate. This results in:
Fair value: $46.24
Discount to fair value: 28%
What this means is that at a price 28% higher, $46.24, an investor could expect to match the market's historical total return over the next five years. At the current price, investors can expect to greatly exceed both the returns of the market and Omega Healthcare's industry peers HCP (NYSE:HCP), Ventas (NYSE:VTR), Healthcare REIT (NYSE:HCN) and Senior Housing Properties Trust (NYSE:SNH).
Technical Analysis:
The technical indicators are bullish across the board. There is level 10 support at $32.39 with very little resistance above the current price. Candle stick patterns are currently neutral. These technical indicators indicate there is no reason for interested investors to wait and not open or add to their positions at the current time.
Conclusion:
Omega Healthcare Investors is one of the best REITs in America. It leads its industry in growth and operational efficiencies. Most importantly to income investors it has a strong, secure and growing dividend. Given the mega trend of an aging population and the growing need for senior assisted living facilities Omega Healthcare is likely to ride a wave of success and growth for decades to come. Long-term investors can go along for this ride and profit handsomely. At the current price, Omega Healthcare is a "Strong Buy Now."
Disclosure: I have no positions in any stocks mentioned, and no plans to initiate any positions within the next 72 hours. I wrote this article myself, and it expresses my own opinions. I am not receiving compensation for it (other than from Seeking Alpha). I have no business relationship with any company whose stock is mentioned in this article.