Opening:

There is a pending event that will be a day of reckoning for IT departments worldwide. Support for Windows XP, trumped as one of the greatest operating systems in the company's history, is coming to an end. Without support, namely patches, for the operating system, businesses and personal users are open to hacks and serious security issues. Microsoft (NASDAQ:MSFT) will be a beneficiary on this day and namely this quarter as businesses upgrade to the latest operating systems, namely Windows 7 and Windows 8.1.
The Concern:
Microsoft does not sugar coat the effects of sticking with XP, I am sure their sales department is happy with their views as well. The company states that the use of Windows XP after April 8, 2014 could result in serious security, compliance and support concerns moving forward.
Security:

Without critical Windows XP security updates, your PC may become vulnerable to harmful viruses, spyware, and other malicious software which can steal or damage your business data and information. Anti-virus software will also not be able to fully protect you once Windows XP itself is unsupported.

Compliance:

Businesses that are governed by regulatory obligations such as HIPAA may find that they are no longer able to satisfy compliance requirements. More information on HHS's view on the security requirements for information systems that contain electronic protected health information (e-PHI) can be found here (HHS HIPAA FAQ - Security Rule).

Lack of Independent Software Vendor (ISV) Support:

Many software vendors will no longer support their products running on Windows XP as they are unable to receive Windows XP updates. For example, the new Office takes advantage of the modern Windows and will not run on Windows XP.

Hardware Manufacturer support:

Most PC hardware manufacturers will stop supporting Windows XP on existing and new hardware. This will also mean that drivers required to run Windows XP on new hardware may not be available. (Source)
XP Is Widely Used:
Microsoft Windows XP is not an outdated OS that is rarely used. Talk to someone in an IT department and chances are they would choose it over Vista or Windows 8 for its ease of use. Projections place XP as the OS on 33.5% of all personal computers by the end of April 2014. Experts state that millions of computers are at risk for security issues. More specifically, over 500 million computers are still running XP - that's a lot of potential revenue for Microsoft if the upgrade rate is high enough.
A key indicator is the potential number of businesses and consumers that will deem the security risk high enough to upgrade their operating system. In a high tech world, no one wants to be the target for malware or even identity theft, so upgrading would be a key concern. Even more so for businesses to protect their data - all of it.
One article from Informationweek, with research conducted by Spiceworks stated that:
Some 76% of IT professionals reported in a recent survey they still support at least some XP machines in their corporate environments. These aren't just laggard consumer desktops collecting dust in living rooms and home offices, either. And while plenty of them are scrambling to upgrade to Windows 7 or higher, 36% reported that they plan to leave at least some of their existing XP systems in place after the April support cutoff. The poll conducted by Spiceworks included 1,300 IT pros, most of them working in the US. (Bolded for emphasis)
Computers running Windows XP are not just the computers left in the houses of parents when their kids go off to college - 76% of IT professionals stated that they still support some XP machines in their corporate environment. There are a large number of PCs running XP, and they are still in use today.
Potential: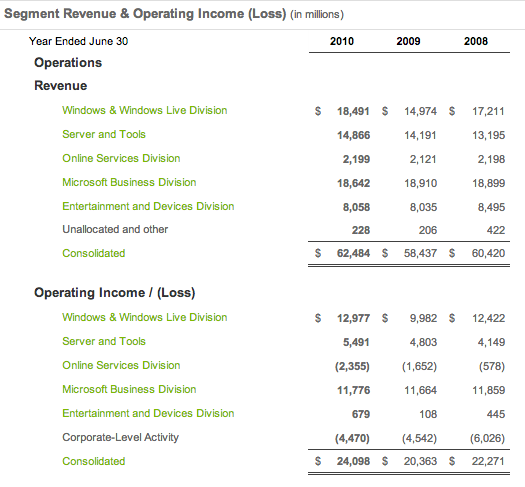 Historically Microsoft has high margins for its Windows and Windows live division. We can see margins for 2010, 2009 and 2008 of 70%, 67% and 72% for this division, respectively.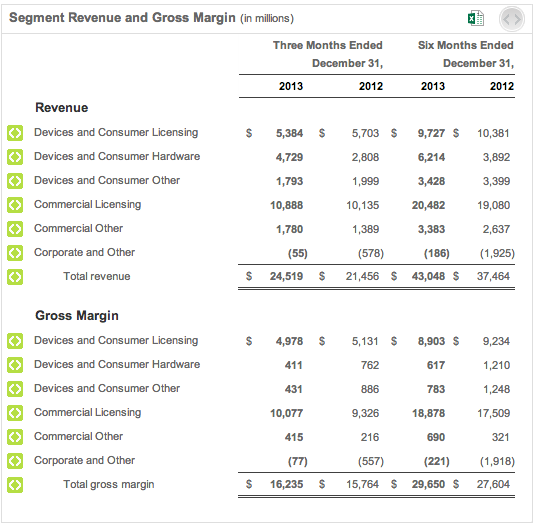 As we can see from the company's latest quarter, margins are very high for the Windows division. Microsoft categorizes devices and consumer licensing as including Windows, all OEM licensing and other licensing of the Windows operating system and related software.
• D&C Licensing, comprising: Windows, including all OEM licensing ("Windows OEM") and other non-volume licensing and academic volume licensing of the Windows operating system and related software (collectively, "Consumer Windows"); non-volume licensing of Microsoft Office, comprising the core Office product set, for consumers ("Consumer Office"); Windows Phone, including related patent licensing; and certain other patent licensing revenue; (Source)
In the company's latest quarter, the GM for D&C licensing was 92.5% and commercial licensing was at 92.6%. Exactly how many consumers and business will switch is a coin toss, although we can assume that a good number will with the various concerns and the added bonus of having the latest OS to use.
If a meager 25% of the outstanding 500 million XP users switch, that would be 125 million users. The prices for Windows 8.1 vary from $69.99 for a student to $119 for regular 8.1 to $199 for Windows 8.1 Pro. I will use 8.1 in my analysis as a general estimate. Using the slightly lower 92.5% margin with 125 million devices at a price of $119 yields an income of $13,759,375,000.
Boosting Estimates:

Estimates place Microsoft's revenue for next quarter, comprising the bulk of the time from mid-March until XP's end and afterwards for two months, at $0.67 per share. If we slice the estimate above to only 10% as Microsoft already makes the bulk of its revenue from the sale of Windows, although this event will drive an increase in OS sales, it results in a net income boost of $1,375,937,500. This could increase EPS for the quarter to the tune of $0.17.
Microsoft already makes the largest part of its revenue from Windows sales, so the above event will push for an increase in OS sales. Although some of that is baked into the company's sales of OS already as normal quarterly revenue from OS sales.
Risks:
The number of users upgrading this quarter as service for XP is an approximation.
When users will upgrade, if it falls in this quarter it could be a meaningful boost to Microsoft's quarterly EPS.
Upgrading to cheaper versions, such as Windows 7 could decrease potential income.
Only one upgrade price was used in this analysis, although there are four for Windows 8.1 alone.
Conclusion:
Exactly how many users and businesses will upgrade is a coin toss, although Microsoft is doing a good job of informing users of the risks of not switching. The only reason I have not tapered upgrades over the coming months is the coming end for service updates for Windows XP. This could serve as a key catalysts adding to Microsoft's EPS in the quarter. Judgment day is upon us, XP's days are dwindling as Microsoft's revenue potential grows with each nearing day.
Disclosure: I have no positions in any stocks mentioned, and no plans to initiate any positions within the next 72 hours. I wrote this article myself, and it expresses my own opinions. I am not receiving compensation for it (other than from Seeking Alpha). I have no business relationship with any company whose stock is mentioned in this article.
Additional disclosure: This article is informational and in my own personal opinion. Always do your own research and contact a financial professional before executing any trades.