By Chris McKhann
As the European markets fall sharply into the close, we see option action in one fund with international exposure.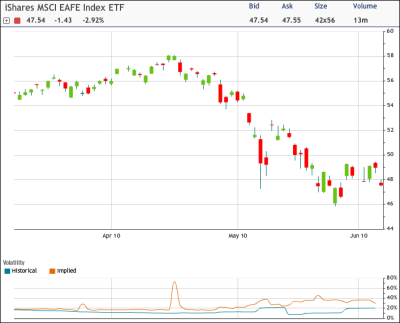 iShares MSCI EAFE Index (Australasia, and Far East) exchange-traded fund (NYSEARCA:EFA) trades at $47.54. The EFA is down 2.92 percent today, breaking down through support at $48 that had been holding up over the last week. The fund was up at a 52-week high of $58.09 in mid-April.
Not surprisingly it is the puts that dominate today's activity, and one trade at that. One block of 25,000 July 43 puts were bought for $1.09 at more than eight times the previous open interest at that strike, so it was a new opening position.
This put buying is clearly showing concern for the downside but may not be a standalone trade. We do see a single trade of 650,000 of the EFA shares bought. This occurred some 20 minutes after the option trade and may be related.
I say this for two reasons: The main one is that shares of the EFA fell from roughly $48 when the puts were bought to below $47.80 when the stock was supposedly traded. But the stock was bought for just above $48. So this does appear to be a roughly delta-neutral trade, meaning that the strategy is positioned to gain if shares move sharply higher or lower.
Disclosure: No positions