Many investors are understandably nervous about the stability of today's stock market. Not only is it entering the sixth year of a virtually uninterrupted bull market following the worst financial crisis in nearly a century, it has also registered robust gains in the last couple of years despite scant fundamental support from the economy or corporate earnings growth. But despite these worries along with the mounting fundamental and geopolitical risks, today's stock market remains remarkably resilient and the uptrend is firmly in tact. How then will investors know when the time has finally come to begin moving to the stock market exits and begin hedging against a decline in earnest. Fortunately, history once again provides us with a road map of how to navigate our stock portfolios through potentially choppy markets waters in the months ahead. And one key event in particular has proven a notably reliable signal worth monitoring to signal that the time has come to take definitive action.
So what is this signal? It is a break below the 200-day moving average on the S&P 500 Index (NYSEARCA:SPY). At first glance, this answer appears absurdly obvious, for if stocks are entering a bear market, of course they will have to break below their 200-day moving average at some point along the way. But it's not as simple as the break of support that tells the story. It is exactly how it breaks the 200-day moving average and the fundamental circumstances surrounding such an event that reveals a far more nuanced outlook for markets.
To begin with, a break of the 200-day moving average is a common occurrence for the stock market at any given point in time. For example, in over 85 years of history, the S&P 500 has had only 12 years where it did not fall below its 200-day average at least some point along the way in a given year. In other words, the stock market has broken below its 200-day moving average at some point during a given year 86% of the time. As a result, we need to see more than just a break of this support level to begin confirming that a new bear market is about to get underway.
So what must accompany the break of this critical support line? The 200-day moving average must also rollover and become downward sloping. In many of the years where this support was breached, the trend in the 200-day moving average line was still either flat or rising. Over the last 85 years, it was only in the years where the 200-day moving average line had also rolled over and turned lower when a full fledged bear market was officially underway.
Once again, this additional point seems absurdly obvious. Moreover, it would serve as a lagging indicator at best. But once again, a closer look at the details along with an examination of the underlying economic and market environment in each instance is still required to discover the full usefulness of this signal.
Stock market history provides 22 past instances over the last 85 years when a decisive break below the 200-day moving average signaled a major correction if not the full-blown outbreak of a new bear market. And they can be separated into three distinct categories that are based on the exact nature of how they specifically break below the 200-day moving average.
The first category defines 3 of the 22 past instances. These can be described simply as the special cases and include the market pullbacks in 1971, 1994 and 1998. The 1971 and 1998 pullbacks were unique in the fact that despite a major market correction occurred, it was so short in duration that the 200-day moving average line remained flat to rising during the entire episode, thus never having the opportunity to confirm the correction that had already taken place. As for the 1994 episode, it is arguably the most unusual. Despite the fact that the S&P 500 Index broke decisively below its 200-day moving average on several occasions and the 200-day moving average line shifted into a downtrend, the duration of the market pullback remained short and the magnitude of the decline was limited to just -9%. The 1994 market is the only true outlier in the group, although it is worth noting that it occurred in an environment of generally improving economic health and monetary policy that while tightening stood at the ready to provide support if needed at a time when the Fed's armory was still filled with ample firepower for the task.
The second category defines 5 of the 22 past instances. The most recent of these took place in 2011, with others occurring in 1953, 1961, 1984, and perhaps most notably following the stock market crash in 1987. During these scenarios, the S&P 500 broke decisively below its 200-day moving average. But after these initial breaks, it never manages to break back above this level even once before moving decisively lower. Instead, stocks remain trapped below this resistance line for the entire duration of the correction before eventually recovering higher. Historically, such declines have been relatively short in duration and shallower in magnitude than their counterparts. Moreover, either a generally more favorable economic backdrop or an environment being driven by extraordinary monetary and fiscal policy support almost always accompanies these instances.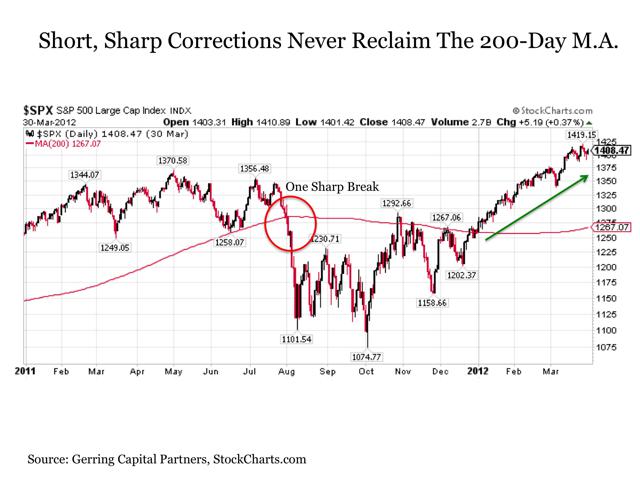 The third grouping defines 14 of the 22 past instances. And it is the outcome that most investors are likely worried about today in the form of a full-blown bear market of extended duration and greater magnitude to the downside. The two most recent instances took place in 2000 and 2007 with a majority of the remainder occuring during the secular bear markets from the late 1920s to late 1940s and late 1960s to early 1980s. During these more dramatic scenarios, the S&P 500 first breaks below its 200-day moving average. But then it recovers and reclaims this support level. Then it breaks back below its 200-day moving average a second time, and perhaps a third time or even more. In short, instead of breaking decisively below its 200-day moving average in one single move, the S&P 500 Index slashes back and forth at least a couple of times, sometimes even reaching new highs along the way, before finally breaking decisively lower. And the slope of the 200-day moving average eventually rolls over and turns negative as this process plays itself out over a series of several months.
These are the bear markets that have historically been the most punishing for investors, as headfake after headfake keep investors fully invested in stocks until it suddenly is too late to get out. And once the downtrend has historically taken hold, it often becomes increasingly ruthless to the downside as more and more excesses are cleansed from the market system and stalwart bulls finally capitulate out of long held positions.
Fortunately, the manner in which these more unforgiving bear markets develop provide investors with a better chance to move to the sidelines before the significant losses begin to set in. Not only do the multiple breaches of the 200-day moving average signal that the end of the bull market is nigh, but an economic and corporate fundamental backdrop that is already fading if not outright deteriorating almost always accompany these breakdowns. As a result of the ability to blend these fundamental and technical factors, no investor or media pundit claim the excuse that "nobody saw it coming" when the market finally breaks down.
These principles translate particularly well to today's environment. The economic backdrop for the market has been lousy for some time and corporate revenue and earnings growth has effectively stalled for the better part of two years now. Moreover, the geopolitical environment remains anything but stable. Yet despite these overhanging risks, stocks have exploded to new highs over the last year largely on the back of valuation expansion. In short, the fundamental backdrop for a market breakdown is more than firmly in place. Now it is just a matter of watching for any technical confirmation that not only the correction is underway but also exactly how it is likely to play out whether it is short, sharp and shallow or long, deep and relentless.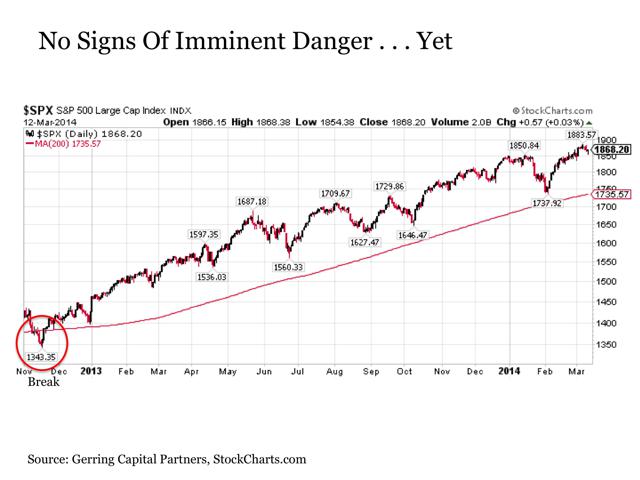 So where do we stand today? The S&P 500 Index remains well above its 200-day moving average. In fact, it has not even come close to breaching this technical level since its last break in late 2012. So at least for now, the uptrend in stocks remains firmly in tact and should be respected from a portfolio management perspective for the fact that it may continue for the foreseeable future. Thus, it remains worthwhile at least for now to stay net long the stock market. With this being said, investors should maintain a razor sharp focus on the 200-day moving average. For if history is any guide, the moment this critical support level is breached, it may mark what turn out to be the final days of the old and graying bull market and the onset of a hungry bear emerging from a long hiberation.
Disclosure: This article is for information purposes only. There are risks involved with investing including loss of principal. Gerring Capital Partners makes no explicit or implicit guarantee with respect to performance or the outcome of any investment or projections made. There is no guarantee that the goals of the strategies discussed by Gerring Capital Partners will be met.
Disclosure: I have no positions in any stocks mentioned, and no plans to initiate any positions within the next 72 hours. I wrote this article myself, and it expresses my own opinions. I am not receiving compensation for it (other than from Seeking Alpha). I have no business relationship with any company whose stock is mentioned in this article.
Additional disclosure: I am long SPLV and XLU as well as selected individual stocks. I also hold a meaningful allocation to cash.