While the market has been trending higher in the short-term, the move higher has been on lower overall volume, indicating that institutional investors are not putting a lot of money to work. If in their lack of buying they decide to start distributing stocks at key resistance levels, it appears that there is still one stock that is quietly being accumulated even when stocks were selling off in the month of May.
DynaVox (DVOX) is a new IPO that develops speech generating devices and special education software for people with physical or cognitive limitations. DVOX came out right at the top of the stock market run that began in March 2009. This normally is the kiss of death for most new issues, as they are pushed out at the height of market euphoria. However, DynaVox has bucked this trend.
While it did pull back a little during the month of May on a price basis, you can see via the RS (Relative Strength versus the S&P 500) line in the chart below, that the stock's overall performance was leaps and bounds better than the overall market, putting in a nice solid cup shaped base.
DVOX broke out of that cup base on Thursday, and while it is currently too extended from its pivot point (15.50 plus 0.10), it could make a potentially great long on a low volume pullback to the pivot point area that is followed by a higher volume rally.
Why is this stock acting so well in a rough and volatile market that has many traders churning their account? Clearly, it is the current fundamentals, the future estimates, and the industry that the stock is in.
During the past four quarters, EPS growth has been 267%, 67%, 999%, and 80% (numbers are retrieved from Daily Graphs Online) YOY. During the past five quarters, sales growth has been 8%, 49%, 26%, 46%, and 29% YOY. These are great numbers and it appears they could just be the beginning, as estimates for 2010 and 2011 EPS are for gains of 64% and 35% respectively.
These current EPS and sales numbers, along with future projections, are very strong and the kind of numbers future great stocks possess. This, along with the Return-on-Equity coming in at a very commanding 43%, is just one more sign that this company is clicking on all cylinders.
Even if this market gets ugly in the coming months and does not start trending higher again, this stock is in the Medical-Products group that is home to Delcath Systems (NASDAQ:DCTH), Heartware International (NASDAQ:HTWR), EV3 Inc. (EVVV), Arthrocare (NASDAQ:ARTC), and Vivus (NASDAQ:VVUS), which are all doing very well the past month despite this rough market. These are all strong stocks doing very well in a rough market, and that puts DVOX in great company.
I will only be looking to get long DVOX on a pullback to the pivot point area. Chasing pullbacks in any market that is not a raging bull market is historically a very low odds way of making money in the stock market. Buying breakouts are fine, but when they are so extended from the pivot point and the market is still not trending clearly, it is best to wait for low volume pullbacks before pulling any trigger.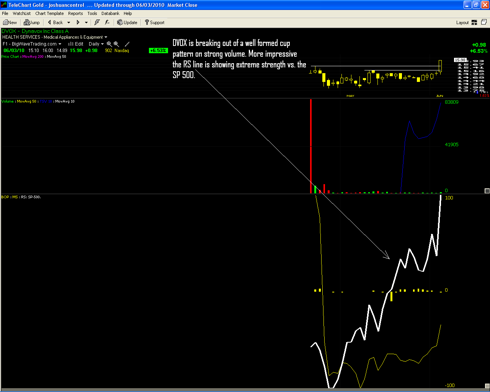 (Click to enlarge)
Disclosure: No positions