Walter Energy (NYSE:WLT) is among the leading met coal companies in the U.S. In the recent past, the company has struggled to moderate its earnings and cash flow decline, as met coal markets remain weak due to excess met coal supply from Australian producers, slower Chinese met coal imports, weak economic conditions in Europe, and a lack of production cuts from U.S. coal producers. The ongoing tough met coal market conditions are taking a toll on coal companies' stock prices.
WLT has been opting for debt refinancing and the sale of assets to navigate through the difficult times. I believe met coal markets will remain uncertain in the near term due to excess coal supply and weak economic conditions in key global economies. Also, the met coal benchmark price for 2Q2014, which is likely to be determined by the end of next week, is expected to fall below the 1Q2014 benchmark price. Moreover, WLT recently disclosed that it was seeking credit amendments to refinance its term loan, to lower its balance sheet risk in the near term.
Credit Amendment
WLT has been opting for several options to strengthen its credit outlook and navigate through the tough ongoing business conditions. Earlier this week, in efforts to improve its financial flexibility, the company announced that it has started working to amend credit facility. The company is aiming to get permission from its lender to refinance its term loan A of $407 million and amending certain debt covenants. The company is looking for the term loan A refinancing, without committing to pro rata repayment of its term loan B of $978 million. The refinancing of term loan A will help the company eliminate and amend certain debt covenants, which will allow the company to survive through the prevalent difficult times. The amendment effort is viewed as a positive by analysts; UBS credit analysts stated, "The amendment will largely be viewed as a positive in the short-term as it would give Walter some much needed runway."
This is not the first time that WLT has opted for credit amendment to lower its balance sheet risk in the near term. In July 2013, the company secured an amendment to its $2.73 billion credit agreement, which suspended certain debt covenants. Also, the company is targeting the sale of its non-core assets by 2H2014, which will help the company generate $250 million. I believe the efforts undertaken by the company to improve its financial flexibility will lower its balance sheet risk in the near term, however, a recovery in the met coal markets remain an important long term stock price catalyst for WLT.
Weak Met Coal Prices
Met coal prices remain weak due to weak met coal market fundamentals. Key factors that I believe keep a lid on a met coal price recovery are Australian supply growth and a lack of production cuts from U.S. met coal producers. The depreciation of the Australian Dollar has encouraged Australian coal producers to increase their production, which has kept markets oversupplied. Also, in the near future, several coal companies, including BHP Billiton (NYSE:BHP) and Anglo American, are planning to increase their met coal production in Australia, which will put further pressure on the prices. Also, U.S. coal companies have not announced any notable met coal production cuts for 2014. As U.S. coal companies have lowered their cost curve due to recent productivity improvements, production remains high to support their bottom line and cash flows. I believe global coal producers need to curtail met coal supply to address the oversupply concerns and a recovery in prices. Another important factor that has kept met coal markets weak is lower met coal import demand from China, which is mainly due to weak Chinese PMI data and higher Chinese domestic coal production; Chinese coal production is expected to increase by 2%-3% over the next five years.
Met coal benchmark price for 2Q2014 is expected to settle below the benchmark price of $143 per MT for 1Q2014, as markets are oversupplied. The weakness in the met coal benchmark price will also adversely affect other coal companies, including Alpha Natural Resources (ANR) and Arch Coal (ACI), which have exposure to met coal operations. According to UBS credit analysts, ''Met coal fundamentals remain weak. We may be heading towards the lowest quarterly benchmark settlement on record." The following chart shows the recent trend for met coal quarterly benchmark price.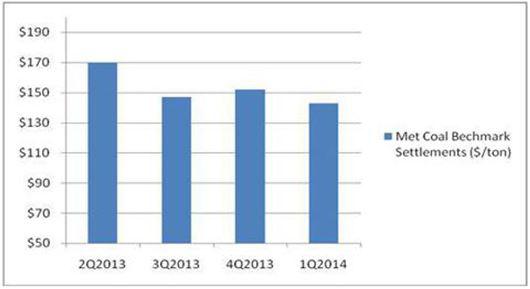 Conclusion
I believe the fundamentals for met coal markets are likely to remain challenging in the near term. Met coal producers around the world need to curtail their production to address the concern of excess coal supply and observe a recovery in the prices. The weakness in met coal markets has taken a toll on the valuations of coal companies. Coal stocks are trading at depressed valuations, which I believe is justified given the ongoing difficult business conditions. The following table shows the depressed valuations for WLT, ANR and ACI.
| | | | |
| --- | --- | --- | --- |
| | WLT | ANR | ACI |
| Price/Sales | 0.30x | 0.20x | |
| Price/Book Value | 0.70x | 0.25x | 0.40x |
Source: Yahoo Finance
Disclosure: I have no positions in any stocks mentioned, and no plans to initiate any positions within the next 72 hours. I wrote this article myself, and it expresses my own opinions. I am not receiving compensation for it (other than from Seeking Alpha). I have no business relationship with any company whose stock is mentioned in this article.