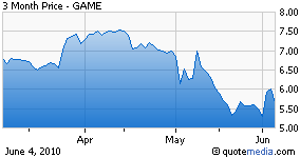 Click to enlargeShanda Games (NASDAQ:GAME), a subsidiary of Shanda Interactive Entertainment (NASDAQ:SNDA), reported Q1 2010 earnings on June 1st. Despite overwhelmingly negative comments by Wall Street analysts, the stock has risen 13% since reporting. There were two bright spots in Shanda's Q1 2010 results: all-time high Active Paying Accounts (APA) for its Massively Multiplayer Online (MMO) games, and record Average Revenue Per Paying User (ARPU) for casual games.
Although ARPU for Shanda's MMO games declined 21% QOQ, the APA grew 2% QOQ to an all-time high of 9.62 million. According to my research, facing declining ARPU in its flagship game Mir 2, Shanda reduced the level of monetization across-the-board for its MMO games in Q1. This move decreased ARPU, improved player experience, helped retain Shanda's existing user base, and contributed to the all-time high APA.
This strategy reminds me of an old Chinese proverb:
As long as the green hills last, there'll always be wood to burn.
I believe Shanda has made the right decision: After all, users are the most fundamental and valuable asset of any online game. Shanda is not alone in this aspect - its competitor Perfect World (NASDAQ:PWRD) has cut monetization to retain users in 2Q10.
Monthly ARPU of Shanda's casual games surged 39% QOQ to an all-time high of RMB 29. The strong growth in ARPU was the primary driver for the 47% QOQ increase in casual games revenue. Some investors view this as a negative sign because high ARPU is difficult to sustain.
In my view, the monthly ARPU of RMB 29 is quite affordable, and Shanda's casual games may have been under-monetized in the past. Although casual games' ARPU is expected to drop QOQ in Q2 due to seasonality, I believe it still has plenty of upside in the future.
Disclosure: No positions