I reiterate my bullish stance on Frontier Communications (NYSE:FTR). The company offers a high and sustainable dividend yield of 8.1%. I foresee stable dividends with strong synergies, as a result of the acquisition of AT&T's (NYSE:T) wireline assets in Connecticut; the deal is expected to close by 2H2014. In addition, FTR has higher margins as compared to its competitors and its expected future synergies are anticipated to further strengthen the company's margins. Moreover, current valuations for the company remain attractive in comparison to its peers, as shown below.
Strong Broadband Subscribers Base and Moderating Revenue Decline
In the recent past, competition in the Telecom Industry has remained intense. FTR faces tough competition from cable operators, wireless carriers, data and VoIP products, satellite broadband and satellite video carriers. The company has been managing to compete with competitors by opting for strategies that involve focusing on increasing and retaining subscribers by sticking to its core business. Sticking to its core business of wireline operations allows FTR to differentiate from its competitors. In 2013, attractive data packages, improved broadband speed, unlimited long distance calls and improved services helped the company strengthen its broadband operations and subscriber base. The company has done well to grow its broadband subscribers, outpacing its competitors. The following chart shows the increase in broadband subscribers for FTR in the four quarters of 2013, as compared to CenturyLink (NYSE:CTL) and Windstream (NASDAQ:WIN).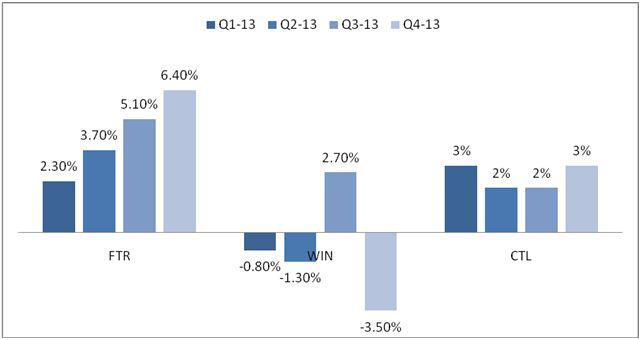 Source: Form 10-K and company's earnings report
As the industry has been going through secular changes and faces intense competition, revenues for the company are on the decline. However, the company has been making efforts to stabilize its revenue. Efforts made by company in this regard seem to be productive, as the drop being seen in revenues in recent quarters is moderating; the company experienced a total revenue drop of 4.23% year-on-year in Q4 2013, better than a 5.36% year-on-year in Q3 2013. Also, in 2013, the company enjoyed 1.8% and 1.5% year-on-year increases in residential average revenue per customer [ARPC] and business ARPC, respectively. I believe that in coming years, with FTR's organic growth programs and the acquisition of T's wireline assets, the company has opportunities to improve revenue and product penetration. The following table shows that the drop in total revenues for the company is moderating in recent quarters.
| | | | | |
| --- | --- | --- | --- | --- |
|   | Q1 2013 | Q2 2013 | Q3 2013 | Q4 2013 |
| Percentage Change In Revenue | -5% | -5.40% | -5.30% | -4.20% |
Source: YCharts
Bottom Line Results
As the company has been struggling to grow its revenues in the ongoing tough business conditions, cost control measures remain an important tool with the company to support its bottom line growth. In efforts to improve its cost structure and address the competition, FTR is acquiring T's wireline assets in Connecticut for $2 billion. The transaction will help the company benefit from expected future synergies of $200 million. Also, the transaction will further strengthen its EBITDA; the company already has higher EBITDA of about 46%, as compared to its competitors as shown in the chart below.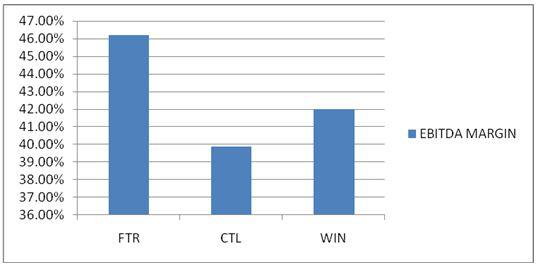 Source: Annual reports and calculations
Analysts are anticipating a robust next five years earnings growth rate of 9.1% for FTR, as the company is expected to benefit from the acquisition of T's assets and growth in broadband services. The following table shows analysts' EPS estimates for FTR from 2014-2017.
| | | | |
| --- | --- | --- | --- |
| Years | Consensus EPS est. ($) | High EPS est. ($) | Low EPS est. ($) |
| 2014 | 0.23 | 0.3 | 0.16 |
| 2015 | 0.28 | 0.37 | 0.21 |
| 2016 | 0.22 | 0.25 | 0.19 |
| 2017 | 0.25 | 0.25 | 0.25 |
Source: Nasdaq.com
Healthy Balance and Solid Dividends
FTR has a relatively stronger balance sheet. The company has a debt to equity ratio of 1.95x, better than WIN's debt to equity of 10.26x. Also, the interest coverage ratio of 1.65x for FTR is better than WIN's interest coverage of 1.5x. In the long term, the company will be able to further strengthen its balance sheet as a result of the acquisition of T's high quality wireline assets, which generate strong cash flows. The following tables show debt to equity and credit ratings comparisons between FTR, CTL and WIN.
| | | |
| --- | --- | --- |
|   | Total Debt To Equity | Interest Coverage |
| FTR | 1.95x | 1.65x |
| WIN | 10.30x | 1.5x |
Source: Morningstar and Reuters
| | | |
| --- | --- | --- |
|   | FTR | WIN |
| S&P | BB- | BB- |
| FITCH | BB | BB |
Source: Form 10-K
Also, the company is expected to repay its long term debt without any difficulties, as there are significant debt maturities from 2014 through 2016. The following chart shows the long term debt maturities schedule for FTR.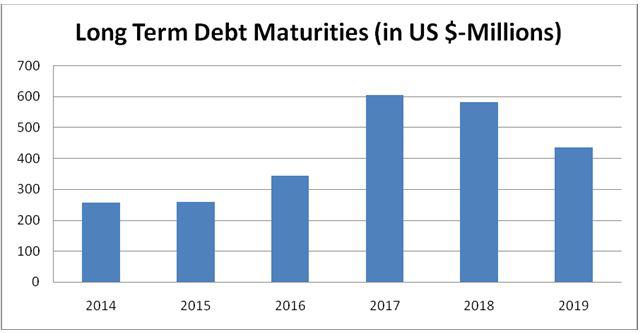 Source: Company's Earning Release
Dividends offered by the company remain an important stock price catalyst for FTR; the company offers an attractive dividend yield of 8.1%. Dividends offered by FTR are safe, as they are backed by its low payout ratio of 49%. Also, the company's dividend payout ratio remains at a low end as compared to its competitors, as shown below in the table. I believe the acquisition of T's wireline assets will further improve FTR's dividend coverage in the long term, as the assets are of high quality and have solid cash flow generation.
*(Dividend Payout Ratio= Annual Dividend/Free Cash Flow)
| | | | |
| --- | --- | --- | --- |
|   | FTR | CTL | WIN |
| Dividend Yield | 8.10% | 6.90% | 12.30% |
| Dividend Payout Ratios | 49% | 52% | 87% |
Source: Yahoo Finance, Companies Reports and Calculations
Key Risks
Potential risks to my bullish thesis on FTR include increased competition, especially from cable operators, which would adversely affect FTR's broadband services. Also, wireless substitution (secular change) and higher than expected CAPEX to invest in growth projects could take a toll on the company's financial performance and stock price. In addition, failure to fully execute T's wireline asset acquisition remains a risk to my thesis.
Conclusion
The company offers an impressive dividend yield of 8.1%, well covered by its free cash flows, which makes it an attractive investment among all high yield RLEC's. The company has been doing well by sticking to its core operations and improving operational performance. Also, the company is likely to benefit from expected synergies and higher broadband penetration in the future. Moreover, the company has attractive valuations, as it has a lower PEG of 2.11, which indicate the company offers cheaper growth in comparison to its peers. Due to the abovementioned factors, I am bullish on FTR.
(PEG= (Forward P/E/Next Five Year Earnings Growth Rate)*
| | | | |
| --- | --- | --- | --- |
| Companies | Forward P/E | Earnings Growth | PEG |
| FTR | | | 2.11 |
| WIN | 18.70x | 0.27% | 69.25 |
| CTL | 12.19x | 0.34% | 35.8 |
Source: Nasdaq, Yahoo Finance and Calculations
Disclosure: I have no positions in any stocks mentioned, and no plans to initiate any positions within the next 72 hours. I wrote this article myself, and it expresses my own opinions. I am not receiving compensation for it (other than from Seeking Alpha). I have no business relationship with any company whose stock is mentioned in this article.