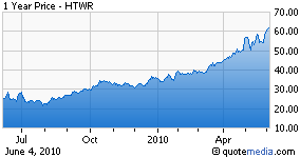 If market capitalization is an indication, Heartware International (NASDAQ:HTWR) is becoming a dominant player in the worldwide market for left ventricle assist devices (LVADs). Heartware's market cap is currently $837 million, which places it comfortably in the large-cap stock category.
Heartware's stock has doubled since December of 2009 despite a one hundred million dollar secondary offering in January. Its LVAD device is already approved for sale in Europe and in Australia. Requisite trials are underway to obtain FDA approval for US sales. Revenues for the quarter ended March 31, 2010, were up over 650% YOY ($10.7 million versus $1.5 million). The company reported a net loss for the quarter of 0.35 per share, compared to a net loss of 0.70 per share in the first quarter of 2009 (see conference call transcript here).
A LVAD is a mechanical device that partially or completely replaces the function of the heart's left ventricle. Without a LVAD, a heart disease patient's left ventricle muscle may thicken trying to compensate for reduced heart functioning. The thickening is ultimately counterproductive and can eventually contribute to congestive heart failure and death.
A LVAD may be installed to enable a patient to buy time while waiting for a heart transplant. In other cases – due to age, disease or the worldwide shortage of hearts available for transplant – a LVAD may be utilized as a destination (permanent) therapy. In some instances, a LVAD may serve as a temporary bridge to recovery of normal heart function.
Heartware's LVAD is known as the HVAD. Once power is applied to the device from its external battery and its impeller begins to rotate, there are no points of mechanical contact within the pump, thus providing a completely "wearless" pumping system. The impeller is suspended within the device through a combination of passive magnets and the hydrodynamic circulation of a "cushion" of blood. The HVAD is the only LVAD on the market designed for installation above the diaphragm in all patients – a simpler surgery than competitor's devices require.
The HVAD's design allows for a further miniaturization that competitor's devices may not be able to match. A miniaturized version, already under development, is called the MVAD. It will pump as much blood as the larger version, but it will be small enough to be surgically inserted without having to sever the breastbone (sternotomy) as is currently required for LVAD installations. Heartware says:
One of the key breakthroughs that led to an expansion of the defibrillator market was the elimination of the sternotomy. We believe many more patients will be willing to undergo a less invasive surgical procedure.
Nowadays, defibrillator installation is defined as minor surgery - and there is a huge market for it. Heartware seeks a similar outcome in the LVAD market. If they succeed, their stock could be a huge winner. Under development is a LVAD battery to be worn internally. Though significant technical problems remain to be resolved, successful development of an internal battery could lead to yet another expansion of the market for Heartware's products.
Heartware says it may be required to issue more stock to finance operations. Growing investor confidence despite previous secondary offerings has allowed Heartware to move successfully through its developmental phase to date without recourse to debt.
Disclosure: Author long HTWR