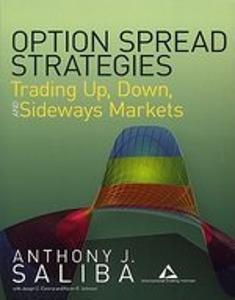 I was attracted to Option Spread Strategies: Trading Up, Down, And Sideways Markets by Anthony J. Saliba (Bloomberg, 2009) for two primary reasons. First, the author has actually achieved trading success in his own career. Second, the narrower focus of this title on spread strategies promised more depth for an experienced reader, as opposed to books that try be all things to all people.
What Is Inside
I wouldn't describe this book as a general backgrounder on options spread strategies, rather, it is a book comprised of eight chapters that are in effect small workbooks providing a deep dive on a particular strategy. The chapters are:
The covered-write
Verticals
Collars and reverse-collars
Straddles and strangles
Butterflies and condors
Calendar spreads
Ratio spreads
Backspreads
My comparison to eight small workbooks is literal. Each chapter is comprised of about twenty-five pages of information followed by exercises and a quiz. There is even a final exam at the end of the book.
What This Book Does Well
This book is written in a straightforward manner, and provides clear illustrations of each of its concepts. In keeping with the workbook feel, the text is very methodical about outlining each strategy, breaking down the components, analyzing the greeks, running through sensitivities, etc. Several examples are provided to apply the concepts to a hypothetical market situation.
I think the best part of this book may be the material about managing both successful and unsuccessful positions over time, as well as rolling positions. I think there is some truly original content here clearly explaining how to buy/sell securities to manage complex spread positions. It's not that he's covering position management topics that are new to the market, but I think this book does an unusually good job of diagramming exactly how such moves are done.
Where This Book Falls Short
Clearly, this book is not for beginners or those who are unfamiliar with how options trade. If you aren't familiar with the concepts covered in the broader topical references (my favorite is Natenberg's Option Volatility and Pricing), you might get lost. For example, Saliba might do a good job explaining the composite vega of a spread position. However, shouldn't a trader have a more basic grasp of the dynamics of the greeks before learning how a complicated spread position might react to changes in volatility, etc.? There is a very brief backgrounder on these concepts, but I don't think it would really suffice for someone with zero knowledge when picking up this book.
My biggest criticism would be that this book lacks material tying the individual sections together into the larger context. While there is a brief introduction and a final exam, there is really no other material that ties together the eight workbooks into something that feels like a "book." They would be really well served to add a serious chapter or two summarizing some basic option theory and maybe a matrix approach to where certain strategies apply. Each chapter explains where it's material is useful, but you'd need to summarize it yourself if you wanted a guide telling you where to turn for the particular situation you identified in the market.
Finally, this criticism may be unfair, but there is zero time spent on how to identify good candidates for any class of trade described. I say this might be unfair, because I think this book is really focused on the mechanics of the strategies - it doesn't claim to teach you how to make money using them. However, I think many readers (especially less experienced readers) could be frustrated by this omission. There is a very broad discussion in each chapter about where a certain strategy can be used, but really just at a high level. Some readers might not really care to learn about the nitty-gritty of position adjustments if they don't know how to identify good trade candidates in the first place.
Who Would Benefit From This Book
If you have a reasonable background in options and want to think harder about applying options strategies to your existing investment work, this book is a good candidate. If you (a) already have an investment framework (be it value, momentum, technical, etc.) and you want to think about ways to structure defined risk/return trades rather than simply going long or short and (b) are generally comfortable with options terminology and greeks, this could be an excellent book for your library. In that case, the format of this book also serves as a handy desk reference.
If you find yourself attracted to books that promise you how to make money trading options, etc., this book is not for you. You won't find enough in here about the real nuts and bolts work required to select good candidates for a particular trade.
Disclosure: No positions