By Jon "DRJ" Najarian
Trading has been bullish in WellPoint (WLP) and Health Net (NYSE:HNT) since early this morning as the rumor mill goes into overdrive.
Both health insurers are up in an ugly tape, though the options activity is much greater in WLP. Our Heat Seeker system picked up 7,300 calls in the first 45 minutes, with the June 45 strike attracting the most attention. More than 4,500 contracts changed hands, although a purchase of 2,628 contracts for $0.48 accounted for most of the activity.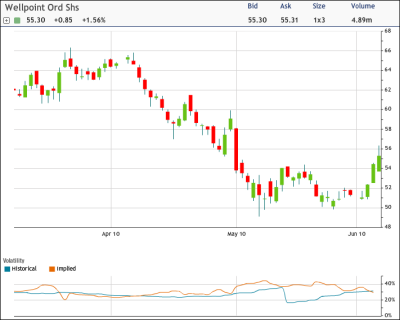 WLP rose 1.56% to $55.30 in afternoon trading, while HNT climbed 2.5% to $26.39. The initial buzz was that HNT was the takeover possibility, though some may believe that WellPoint is the real target.
HNT is a more thinly traded name, but it's also active. Buyers snapped up more than 1,771 June 27.50 calls for $0.30 to $0.35. Overall volume in the name is 7 times greater than average.
Regardless of the rumors, there seems to be a bullish pattern in the sector. Yesterday we saw call action in Aetna (NYSE:AET), which is also higher today. Other names such as Unitedhealth (NYSE:UNH), Cigna (NYSE:CI), and Humana (NYSE:HUM) are up as well.
Overall option volume in the healthcare service group is about 38 percent greater than average so far today. Call buying is dominating the activity, and those puts that do trade have largely been sold -- all of which paints a bullish picture for the group.
Disclosures: Author WLP calls.