The dynamism and profitability of the tobacco industry is outstanding, leading to high and sustainable dividend payments to shareholders. One of the best companies within the industry is Altria (NYSE:MO), the largest American tobacco company. Currently, Altria has one of the highest dividend yields within the S&P 500 index, at more than 5%, which is clearly attractive for long-term income investors. Altria has a market capitalization of about $72 billion, and trades on the New York Stock Exchange.
Company Overview
Altria is an American multinational corporation based in Henrico County, Virginia. It is one of the world's largest tobacco companies, and has around 9,000 employees. Altria is the parent company of: Philip Morris USA, which is engaged in the manufacture and sale of cigarettes and certain smokeless tobacco products in the United States; John Middleton, which is engaged in the manufacture and sale of machine-made large cigars and pipe tobacco; and, Ste. Michelle Wine Estates, which is engaged in the manufacture and sale of smokeless tobacco products and wine.
A few years ago, Altria was a large conglomerate that had several divisions, but the company reorganized itself, focusing on its American tobacco business. Altria sold a large part of its U.K.-based beer unit, SABMiller (OTCPK:SBMRY), spun off the Kraft Foods (KRFT) division as a standalone company, and split the cigarette business in two companies: Philip Morris USA, which retained the name Altria, and Philip Morris International (NYSE:PM). Altria controls the U.S. market, while Philip Morris does 100% of its business abroad.
About 97% of Altria's earnings come from tobacco products, while wine is responsible for 1.4%, and other operations account for 1.9% of its earnings. Altria is facing a challenging market, given that tobacco consumption is decreasing in the U.S., a path that is likely to continue over the next few years. Even though tobacco is addictive, there is a long-term switch to healthier lifestyles that will affect the company's growth. On the other hand, there are sub-sectors that are showing good growth, such as smokeless tobacco and e-cigarettes, which compensate a significant part of Altria's traditional business volume decline.

Altria has a tobacco market share of almost 50% in the U.S., led by its leading brand, Marlboro. This brand has been the largest-selling brand in the U.S. for over 35 years, providing Altria with a very important competitive advantage over its competitors. Marlboro's market share is around 43%, being higher than for the next top 10 tobacco brands combined. The market for tobacco products is highly competitive, characterized by brand recognition and loyalty. Consumers tend to remain loyal to a certain brand, providing a relatively stable demand over the long term. This is what Warren Buffett calls a consumer monopoly, companies that have a unique product that require the consumer to return to their brand in order to obtain the quality product. Even though Buffett is known as a value investor, this also applies for income investors, as this type of company offer great business visibility, also leading to sustainable income streams over the long term.
On the other hand, because tobacco, the main constituent of cigarettes, is the single greatest cause of preventable death globally and is addictive, the industry is highly controversial and is increasingly the subject of litigation and restrictive legislation from governments concerned about the health impacts of its products. This is a weaker point for Altria compared to Philip Morris, as the rest of the world does not share the American "it's not my fault" mentality, exposing Altria to potentially large litigation costs.
Financial Performance & Dividend
Regarding its financial performance, Altria has reported relatively good figures over the past few years. However, its top-line growth has been muted, given its 5-year CAGR of only 1%. On the other hand, Altria's operating income 5-year CAGR was 10%, due to higher efficiency and strong cost control. This led to an improvement in its operating margin, from 23.2% in 2009 to 33% in the past year. In 2013, Altria's revenues amounted to $24,5 billion, down by 0.6% from the previous year. Its EBITDA was close to $8.3 billion, representing an EBITDA margin of 33.8%. Without considering excise taxes, its EBTIDA margin was 47%, which is a very high profitability level. Including SABMiller's earnings, which are accounted under the equity method as Altria only owns 26.8% of its equity, the company's net profit amounted to slightly higher than $4.5 billion. Its earnings per share (EPS) increased by 9.7% to $2.26.
Altria's guidance for its 2014 full-year EPS is to be in the range of $2.51 to $2.58. This represents a growth of 12%, which is above its 5-year average annual growth rate of 10%. This forecast is justified by lower interest expense, a lower effective tax rate, and a reduction in the number of shares due to its share buyback program. Going forward, Altria's top-line is expected to grow in line with its historic average at 1% annually, while its operating profit should report slower growth than in the recent past, as the company's operating margin should stabilize over the next few years.
Regarding its dividend, Altria's history is outstanding taking into account its long history of dividend payments and increases. The company has increased its dividend 47 times in the last 45 years, a remarkable achievement for a blue-chip company like Altria. Over the past five years, its dividend CAGR was 8.7%, which is a very good growth rate. Its current quarterly dividend is $0.48 per share, or $1.92 annually. At its current stock price, Altria offers a high dividend yield of 5.3%. Furthermore, Altria has a $1 billion share repurchase program ongoing, which it expects to complete by the end of the third quarter of 2014, enhancing even further its shareholder remuneration policy.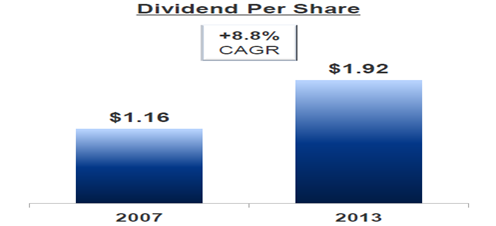 Its dividend payout ratio is high, given that over the past five years its average payout was 85% of earnings. In 2013, the dividend payout ratio declined slightly to 81%, but is still within the company's target of approximately 80% payout of its diluted EPS. Even though its dividend payout ratio is high, it isn't an issue regarding Altria's dividend sustainability, as the company's growth prospects are limited and therefore can distribute a very large part of its profits to shareholders. On the other hand, Philip Morris only distributes about 65% of earnings to shareholders, a more acceptable level over the long term.
Altria's cash flow generation is more than enough to cover its dividend payments, supporting therefore its dividend sustainability. In 2013, its free cash flow was $4.2 billion and Altria paid $3.6 billion in dividends to shareholders, so its dividend is clearly safe and still has some room to continue its growth path. Its share buyback program was mainly financed through cash generated, thus, Altria is rewarding its shareholders in a sustainable way instead of increasing its debt levels. Moreover, its balance sheet is very strong, given that its net debt was only about $10 billion at the end of 2013, representing a net debt-to-EBITDA ratio of 1.2x.
Conclusion
Even though Altria faces some challenges and its top-line growth should be relatively low over the next few years, its consumer monopoly business type and high profitability bodes well for its future. Its high dividend yield seems to be sustainable even taking into account its high payout, as the company's cash flow generation is more than enough to finance its distributions. Altria's share buyback program is more discretionary and it may be suspended during a cyclical downturn, so its high yield is a good opportunity for long-term income investors.
Disclosure: I have no positions in any stocks mentioned, but may initiate a long position in MO over the next 72 hours. I wrote this article myself, and it expresses my own opinions. I am not receiving compensation for it (other than from Seeking Alpha). I have no business relationship with any company whose stock is mentioned in this article.