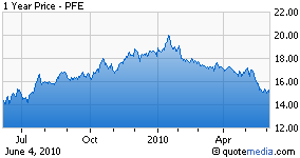 The next several months will be an exciting time for the women's health space, with several important events that may represent an opportunity for investors. Most notably, Pfizer (NYSE:PFE) has completed data collection for it's 2186-patient study of Pristiq for the treatment of vasomotor symptoms, more commonly known as hot flashes. Wyeth, now part of Pfizer, began Pristiq's large trial in July of 2007, when the FDA asked Wyeth to produce a more comprehensive safety profile for Pristiq. At the time, Wyeth's CEO, Robert Essner, said:
Sales for Pristiq may top $2 billion, if Pristiq is approved for the "hot flash" indication.
Wyeth, and now Pfizer, have struggled to achieve those lofty expectations. Currently, Pristiq's annual run-rate is approaching $300 million in annual sales. Pristiq is currently marketed only for depression. Yet, analysts believe that with a 'hot flash' indication, Pristiq can add substantially to Pfizer's bottom line. In fact, expert estimates have pegged the market for novel, hot-flash therapies between $500 million and $8 billion.
The current prescription estrogen market for the treatment of hot-flashes is around $1.6 billion, according to IMS, despite several black box-warnings including, the risk of uterine cancer, thrombo-embolic events, and heart disease. Yet, menopausal women are still using hormones to treat their hot flashes.
Analysts believe this is representative of the demand, and one of the reasons that Pfizer, along with other pharmaceutical companies, are pursuing the women's health sector as a boon for potential growth. A new, FDA approved product, with a favorable adverse effects profile, would give physicians and patients a different option, and provide Pfizer with a unique opportunity to exploit a current market void.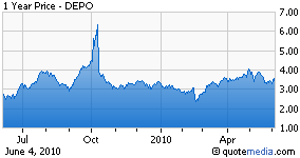 Pfizer is not the only pharmaceutical company, looking to capitalize on the women's health opportunity. DepoMed (NASDAQ:DEPO) is seeking FDA approval for Serada, an extended-release gabapentin formulation, for the treatment of hot flashes. In a recent conference call, DepoMed's CEO Carl Pelzel indicated that they are waiting to receive a Special Protocol Assessment (SPA) agreement from the FDA for Serada, to conduct an additional Phase 3 trial and examine data with different analytical methods.
In October of 2009, DepoMed announced that Serada's two Phase 3 clinical trials narrowly missed their primary endpoints, but upon re-examination of the data with non-parametric analysis, DepoMed was able to demonstrate efficacy. Since then, DepoMed has been working with the FDA to finalize details with the SPA and expects to begin enrolling in late June.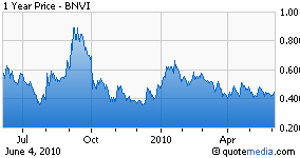 Another investment opportunity in the women's health sector is Bionovo (OTC:BNVI). During Bionovo's first quarter conference call, CEO Isaac Cohen, made it clear to investors that "there's no hold up." For several quarter's Bionovo management team has been negotiating a path forward, with the FDA, for Menerba's first phase 3 clinical trial. Menerba is a plant-based, estrogen receptor beta agonist that has shown promise in early clinical trials for the treatment of menopausal hot flashes, a potentially lucrative therapeutic market.
Investors can look forward to two important near-term events to catalyze the stock price. Firstly, Bionovo's management has indicated that they expect to begin enrollment for Menerba's phase 3 trial, in late June, once they receive feedback from the FDA. Secondly, Bionovo's management has consistently indicated that a partner would most likely be announced following initiation of Menerba's first clinical trial.
An investment in Bionovo, DepoMed or Pfizer will increase your portfolio's exposure to the women's health sector. With risk tolerance in mind, investors can stratify their strategy by market capitalization: Bionovo's current market capitization is near $50 million, DepoMed is near $200 million and Pfizer is near $125 billion. Considering the potential market size between $500 million and $8 billion, a "hot flash" indication will seriously boost the bottom line of any of the aforementioned companies. Regardless of your investment criteria and risk tolerance, there is a "women's health" opportunity for you.
Disclosure: Author long DEPO