I've written many articles about the dangers of investing in companies that are dependent upon government support for their survival/earnings. My main focus has been the "green economy" stocks, many of which are 100% dependent upon government support, tax breaks, incentives, rebates, tariffs, loan guarantees and regulatory policies like the EPA's Renewable Fuels Standards 2 or RFS2. All the government incentives distort the markets so that the companies are removed from free market forces, forces that they will eventually have to face. Both Google (NASDAQ:GOOG) and Facebook (NASDAQ:FB) invest heavily in "green energy" projects, but it is largely to capture tax breaks, not because they are great stand alone investments.
More than half of Google's energy projects are in solar, a market that's cratered. Panel prices have plunged 58 percent since 2010, after Chinese manufacturers glutted the industry, sending U.S. developers Solyndra LLC and Evergreen Solar Inc. into bankruptcy. Yet Google is moving to succeed where others faltered by avoiding panel production and instead capitalizing on controversial tax incentives that can produce investment gains of more than 10 percent a year, according to analysts.

"We look at projects that will give us attractive returns," said Rick Needham, who joined Mountain View, California-based Google in 2008 as director of energy and sustainability.
Ironically, FB is planning a wind farms in the heart of ethanol country. It is worth noting that FB isn't trying to power 100% of its data center with renewable sources, the hope is to get to 25%. Why data dependent companies are even bothering with this sector is beyond me, wind and solar will never be able to provide the reliable, consistent, constant current needed to power modern electronics. FB and GOOG will always need conventional backup electric sources for nighttime and when the wind stops blowing due to the El Nino off the coast, or the stationary high pressure system due to the polar vortex. Wind and solar are simply unreliable, and until "clean" batteries are developed that don't harm the environment and can outlast a week long high pressure system, conventional systems will always be needed.
While clean energy is becoming a focus for many technology companies -- Facebook Inc. (FB) is developing a wind farm in Iowa and aims to generate at least a quarter of its data center power from renewable sources by 2015 -- none are spending like Google. With $60 billion in cash, the company announced energy investments of almost $400 million in 2013.
Personally I think GOOG and FB would be better served investing in natural gas generators like those built by Power Solutions International (NASDAQ:PSIX) or hydrogen fuel cells made by Plug Power (NASDAQ:PLUG). Fuel Cell technology that focuses on Molten-carbonate fuel cell (MCFC) and Solid oxide fuel cell (SOFC) appears to offer a more reliable source of energy than wind and solar, and are more suited for the large scale needs of the energy intensive technology industry.
Solid oxide fuel cell


These fuel cells are best suited for large-scale stationary power generators that could provide electricity for factories or towns. This type of fuel cell operates at very high temperatures (between 700 and 1,000 degrees Celsius). This high temperature makes reliability a problem, because parts of the fuel cell can break down after cycling on and off repeatedly. However, solid oxide fuel cells are very stable when in continuous use. In fact, the SOFC has demonstrated the longest operating life of any fuel cell under certain operating conditions. The high temperature also has an advantage: the steam produced by the fuel cell can be channeled into turbines to generate more electricity. This process is called co-generation of heat and power (CHP) and it improves the overall efficiency of the system.

Molten-carbonate fuel cell


Like the SOFC, these fuel cells are also best suited for large stationary power generators. They operate at 600 degrees Celsius, so they can generate steam that can be used to generate more power. They have a lower operating temperature than solid oxide fuel cells, which means they don't need such exotic materials. This makes the design a little less expensive.
The technology companies however seem to be focused on wind and solar, the two energy sources that I believe have the least chance of every becoming major contributors to the energy supply. There is that nasty problem of nighttime and calm winds that will always plague that industry. To me it makes no sense what so ever to base decisions upon "climate change" and then invest in the power sources most impacted by changes in the climate. If cloud and wind patterns "change," so will the energy output of wind and solar. Here in Ohio we had near record snow fall. I doubt solar panels generate much electricity when they are covered in 2 feet of snow...or more. El Nino and the polar vortexes also change wind patterns, and relocate high pressure systems that would disrupt wind power.
That being said, getting back to the original point of the article, investing in government dependent companies can be very very very risky. Today Fannie Mae (OTCQB:FNMA) and Freddie Mac (OTCQB:FMCC) are collapsing because Congress is proposing cutting off the government's support and dismantling them. As I've written in countless other articles, all it takes is a stroke of a pen to greatly impact the future prospects of these government supported companies.
Fannie, Freddie Shares Plunge on Senate Proposal to Unwind

Fannie Mae and Freddie Mac shares extended a slump after leaders of the U.S. Senate Banking Committee announced plans to dismantle the companies.

Fannie Mae shares plunged 17 percent to $3.33 as of 12:10 p.m. in New York trading, after tumbling 31 percent yesterday. The stock is still up from $3.01 on Dec. 31, and 29 cents a year ago. Freddie Mac fell 18 percent today to $3.19, after dropping 27 percent yesterday. Preferred shares also declined, with one issue down 7 percent after retreating 3.3 percent yesterday.
I recently wrote an article about how Congress is considering doing away with the ethanol mandate, but I argued that it won't likely have a major impact under the current economic environment. But those conditions can change.
The real threat to ethanol and the farmland bubble isn't the repeal of the EPA's RFS2. While there would certainly be short-term market adjustments that may be painful similar to what we are now seeing in the biodiesel industry, the real threat to ethanol and the farmland bubble is a fall in RBOB prices and the repeal of the EPA's RFS2.
Right now biodiesel companies are feeling the wrath of what happens when Congress allows the "blenders' tax credit" expire. Margins have collapsed, and with them 2014 earnings estimates. Political risk is very real to government dependent "green economy" stocks.
The last entry for 2013 had OPEX margins of $0.59. The most recent entry on 1/10/2014 shows an OPEX of $0.04. The loss of the blenders' tax credit has essentially wiped out all of the OPEX margin. Short-term adjustments were expected, but comparing early 2014 to early 2012 shows that the drop in the margin is greater than what has happened in the past.
Geopolitical risks are changing the dynamics for the "green energy" revolution as well. Germany and the UK have started to turn away from their Don Quixotesque efforts, and it appears just in time. Germany, the UK and the rest of the EU have just been rudely awakened to discover that wind and solar are no match for diesel powered Russian tanks, and they have no easy energy solution if Russia decides to play hardball.
Many of my recent articles have been detailing a thesis that the public's and administration's support for climate change legislation will likely weaken in the future. As the support for climate change legislation weakens, clearly defined investment opportunities will develop. In those articles I highlight how support for climate change is already weakening in the UK, Japan and Germany and I speculated that it will soon weaken in the US as well.
While the EU was off literally tilting at windmills, Russia was slowly and methodically getting the EU addicted and dependent upon Russian natural gas. Russia simply sat back and let the EU shut down coal burning power plants, stop developing conventional energy sources and increasingly becoming dependent upon Russian natural gas.
Europe is hooked too.

Russia supplies, but Ukraine is the middleman. This helps to explain why some European states (like Germany) have been cagey about imposing sanctions on Russia. Germany and Ukraine are Gazprom's biggest foreign purchasers.

Russia is Europe's largest natural gas supplier, supplying about one-third of the continent's natural gas, more than half of which travels through Ukraine. Important pipelines pass through Ukraine to Slovakia, and then on to Germany, Italy and Austria.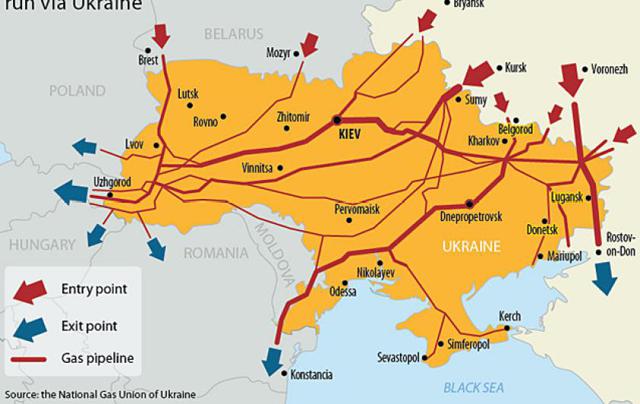 Why this is important is that this is an election year, and President Obama's approval ratings are plummeting. Climate change ranks last on the list of a recent WSJ poll, and yet climate change seems to be the current focus of his administration.
Whitehouse has spoken about the issue every week the Senate has been in session for the past two years, culminating in 60 speeches that have gone largely unnoticed by the public.

He and fellow Democratic members of the climate change caucus hope their all-night session propels the issue back into the spotlight since it has been on the back burner for several years.
A major victory for the Republicans in the upcoming election could be disastrous for President Obama's "green" agenda, and severely threaten the companies that are dependent upon it. If that were to happen I would expect much more focus to be directed towards conventional sources of energy, like those carried by the Keystone XL Pipeline.
Regardless of the election outcome, I would expect the Nation to pay more attention to exporting natural gas to the EU. It simply is in our National interest to ensure that our Allies can't be blackmailed by Russia. Unfortunately that may be years away due to the lack of infrastructure, but companies like Cheniere Energy Inc. (NYSEMKT:LNG), Dominion Resources (NYSE:D) Inc. and Sempra Energy (NYSE:SRE) should all benefit from the likely shift in the US energy policy focus.
U.S. efforts to speed natural gas exports as a way to loosen Russia's grip on European energy supplies may be thwarted by lengthy reviews and developer reluctance to proceed with multibillion-dollar projects.

Russia's military escalation in Ukraine is spurring calls in Congress for quick U.S. approval of plans to export liquefied natural gas from plants owned by companies including Cheniere Energy Inc. (LNG), Dominion Resources (D) Inc. and Sempra Energy. (SRE) Russia provides 30 percent of Europe's gas needs using pipelines that cross Ukraine.
According to the New York Times, the trend looks to already be in place.
WASHINGTON - The crisis in Crimea is heralding the rise of a new era of American energy diplomacy, as the Obama administration tries to deploy the vast new supply of natural gas in the United States as a weapon to undercut the influence of the Russian president, Vladimir V. Putin, over Ukraine and Europe.

The crisis has escalated a State Department initiative to use a new boom in American natural gas supplies as a lever against Russia, which supplies 60 percent of Ukraine's natural gas and has a history of cutting off the supply during conflicts.
Disclaimer: This article is not an investment recommendation or solicitation. Any analysis presented in this article is illustrative in nature, is based on an incomplete set of information and has limitations to its accuracy, and is not meant to be relied upon for investment decisions. Please consult a qualified investment advisor. The information upon which this material is based was obtained from sources believed to be reliable, but has not been independently verified. Therefore, the author cannot guarantee its accuracy. Any opinions or estimates constitute the author's best judgment as of the date of publication, and are subject to change without notice. Past performance is no guarantee of future results. For my full disclaimer and disclosure, click here.
Disclosure: I have no positions in any stocks mentioned, and no plans to initiate any positions within the next 72 hours. I wrote this article myself, and it expresses my own opinions. I am not receiving compensation for it (other than from Seeking Alpha). I have no business relationship with any company whose stock is mentioned in this article.