What a little mess General Motors (NYSE:GM) is working on here.
I've been long since the beginning of this year, calling GM one of my attractive trades for 2014. I cited that the company was continuing to grow after its reorganization, I liked CEO Mary Barra, and that the company was likely to reinstate its dividends. While Barra is still on board and the dividends are back in place, GM has had anything but a ceremonious 2014. The stock has been trading off 14.7% since the beginning of 2014, but is still up 24.2% over the last twelve months.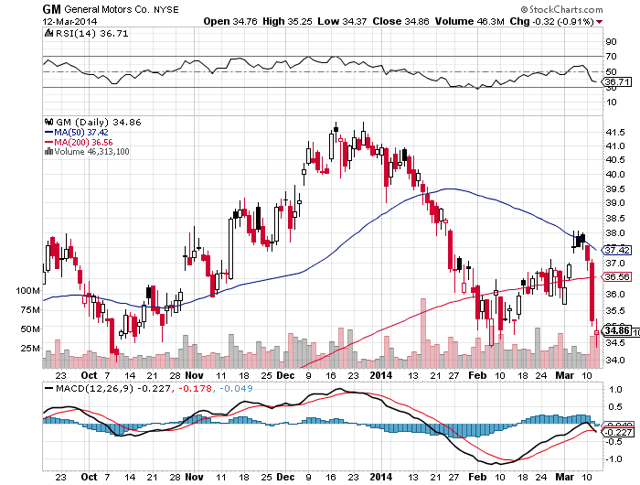 Click to enlarge
GM, like Ford (NYSE:F), has been doing well to expand its business globally. Concerns surrounding the weather and incentive based selling looked like they were going to be easily overcome by the company's continued growth in Europe and China.
Then, the news of GM investigating how it handled an ignition switch recall in the U.S. came to light around March 5th. It was just 7 days or so ago where GM CEO Mary Barra came out and said she didn't think that the recall would affect current sales of vehicles.
Since then, regulators have piled on the company, investigating how the situation was handled and creating tons of bad headlines for GM.
USA Today reported:
Congressional investigators today ramped up a probe into General Motors' recall of 1.6 million vehicles because of what appears to be a longstanding ignition switch issue by demanding years of documentation and incident reports from both the company and federal regulators.

In letters to GM CEO Mary Barra and David Friedman, acting head of the National Highway Traffic Safety Administration, House Energy and Commerce Chairman Fred Upton, R-St. Joseph, and other committee leaders gave them two weeks to provide the information.

Last month, GM expanded an earlier announced recall involving six models -- all from between 2003 and 2007 model years -- to correct a defect that caused ignition switches to move out of position, leading to a loss of power and causing air bags not to deploy. The defect was linked to at least 31 crashes and 13 deaths.

Federal regulators at NHTSA had already opened an investigation of their own into the GM recall, questioning whether the company reported the problem in a timely manner. In announcing a congressional investigation Monday night, Upton also questioned whether either the company could have acted more quickly, with customer complaints over the switches dating back years.
Every other headline I've seen about GM over the last few days has been with regards to this recall. The headlines coming out of Seeking Alpha have looked skittish, at best over the past few days:
The Department of Justice is reportedly investigating General Motors over whether the company is criminally liable for its failure to properly disclose the problems with ignition switches that have been linked to the deaths of 13 people and which prompted the firm to recall 1.6M vehicles.
The federal probe adds to investigations in the House, and by the National Highway Traffic Safety Administration and GM itself.
The stakes are high for General Motors when execs get interviewed in front of the House Energy and Commerce Committee, notes 24/7 Wall St.
The automaker faces the risk that Congress or the courts could find gross negligence on the part of the automaker in a development that could add billions to its legal costs eventually.
A prolonged recall investigation could also dent sales if consumers question GM's safety record.
Put simply, there's a pretty dark cloud over the company that has taken its toll on the stock price.
So, I had to step back and try to identify why I was in GM to begin with. My position in GM B and C warrants were positions that I took on around $40 and averaged down several times as the stock started to dip. I had to take some time to think about what my game plan was going to be moving forward.
I recognized that GM is in the part of my portfolio where money just goes to sit for the long term and that my bullishness on the company was part of a long-term strategy of global expansion for GM. Thus, I decided that my strategy in the face of this news was to hold. While I'm not ready to commit additional capital to GM, as I've already averaged both positions down (both of which are down roughly 10% since purchase), I'm resolute in my commitment to hold for the long term. Warrant B expires in 2019 and Warrant C at the very end of 2015. Warrant C is definitely a speculative investment at this point, and I've added to Warrant B when averaging down due to the nature of it having another 4 years of time value built into it.
Sammy Pollack wrote a great piece yesterday comparing the GM recall to the one that Toyota faced years prior. It's worth a read, you can find the full article here. In the article, Sam concludes:
Long-term investors should use current weakness as a buying opportunity. While it may take a significant amount of time to resolve current issues, the long-term outlook for GM remains bright. That said, it remains likely that negative headlines will continue to flow for the foreseeable future. Long-term investors should consider making measured buys in GM shares and averaging in to a long position over time. No matter how ugly the headlines get and how far sales fall, I believe GM will recover overtime.
I found this to be a good read, because I generally agree. Long-term traders are going to continue to have an opportunity to add here. If domestic sales pick up for GM as the weather warms, this could be a lucrative buy.
Short-term investors would do well to stay out of GM at this point, in my opinion; the recall is a bit of a wild card.
Again, this long is going to hold and weather the storm at this point. If I had tons of liquid cash to deal with, there's a chance I'd be adding here, but it's not playing out like that.
GM will weather this storm, as will long-term investors.
Best of luck to all investors.
Disclosure: I am long GM, F. I wrote this article myself, and it expresses my own opinions. I am not receiving compensation for it (other than from Seeking Alpha). I have no business relationship with any company whose stock is mentioned in this article.