JPMorgan Chase & Co (NYSE:JPM), the largest US bank, earned $5.3 billion, or $1.30 per share in the final three months of 2013 as its revenue fell 1% to $24.1 billion. Excluding certain one-time items, the bank earned $1.40 per share in the quarter. However, the actual earnings per share was $1.30, just below the analyst expectations of $1.30, mainly due to the legal costs. On a yearly basis, the stock has climbed 22%, roughly in line with the S&P 500.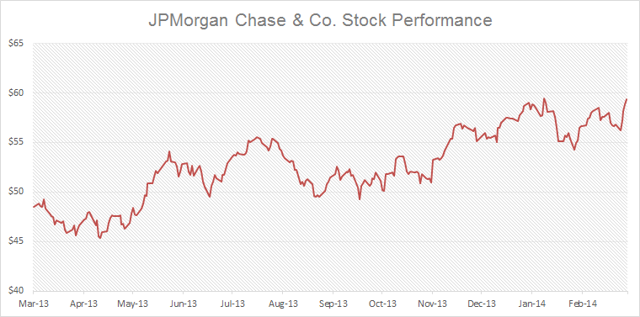 (Source: Yahoo Finance)
Here is the simple analysis of JPMorgan's income by business line.
(Source: Morningstar)
As of the beginning of this year, investors have been very optimistic about the bank for some reason. With the US recovery continuing and interest rates rising, the macroeconomic environment let the big bank stock have plenty of upside this year. JPMorgan, as a stock trading at a solid discount to peers, has offered a nice risk-reward scenario. More specifically, JPMorgan is believed to have closed out big legal items in 2013, despite the fact that regulatory risks still remain.
However, unlike many investors, I am skeptical about the future earnings of the company. First of all, the mortgage business around the US has not gone well year-to-date due to slump in originations. Fed H.8 Data also prompts that there has been no significant improvement in real estate (and related) loans. On the other side, commercial and industrial loans have seen a pick-up, and climbed 3.69% compared to year-end. Frankly speaking, I do not think that JPMorgan is well-prepared to benefit from the rise in the commercial lending business. The share of its commercial banking unit in total revenues has not been much more than 7.7%. As a result, I expect that the pace of the business growth will not substantially contribute to the revenues of JPMorgan.

(Source: Fed)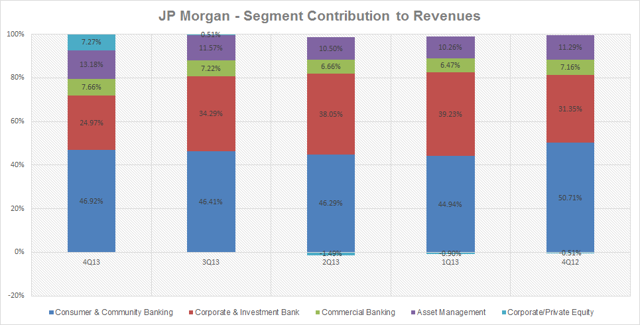 (Source: Morningstar)
Secondly, fixed income divisions in Wall Street banks are set for their worst start to the year since before the financial crisis, with revenue declines of up to 25%. JPMorgan has already warned publicly that fixed income revenues, which are the engine of most investment banks' profit since 2000, will be down by double-digits when it reports first-quarter results next month. JPMorgan made $3 billion in fixed income markets, which equals half of revenues in the corporate and investment banking segment. This is also showing that the profitability of the bank is highly dependent on the developments in the fixed income market. Not surprisingly, at the bank's annual Investor Day in New York, the executives offered a cautious outlook as they lowered their projections of return on tangible common equity to 15% for 2014, down from 16% in 2013, due largely to a slump in trading activity in fixed income markets, where trading revenue had fallen 15% this year.
Further, I definitely do not want to look like a doomsayer against the company. JPMorgan is a bank that every investor will consider a play as the US economy makes progress. Its multiples offer that it is cheap stock to buy. It may have left all the legal woes behind. Insiders are also buyers. However, JPMorgan is not my highest conviction call, even if I believe that key fundamentals build a supportive case for the US banks in 2014. There are some risks to be watched for that could have a negative impact on JPMorgan's earnings.
Disclosure: I have no positions in any stocks mentioned, and no plans to initiate any positions within the next 72 hours. I wrote this article myself, and it expresses my own opinions. I am not receiving compensation for it (other than from Seeking Alpha). I have no business relationship with any company whose stock is mentioned in this article.