This is the beginning of a series of articles to walk investors through the recently reported results from the 25 BDCs that I cover. I am still updating financials and going through the call transcripts for the final three BDCs that reported this week including KCAP Financial (NASDAQ:KCAP), TICC Capital (NASDAQ:TICC) and Horizon Technology Finance (NASDAQ:HRZN).
Stock Appreciation Methodology
I used the last 12 months because as of yesterday all BDCs have reported results and investors have had a chance to react and price accordingly with the exception of KCAP that reported after the close yesterday and missed EPS estimates and a much lower net asset value ("NAV") per share. The stock has continued to fall (and will most likely continue today) as predicted in "KCAP Financial: Will It Continue To Fall?". In future articles I will most likely use different dates that take into account the recent volatility in BDC prices from being excluded from certain indices that had unique impacts to each company based the amount of exposure and average daily volume but does not reflect on the underlying fundamentals of those companies and is merely a technical bump in the road. Investors should be using this opportunity to start or grow positions in companies as they dip. I have recently purchased Hercules Technology Growth Capital (NASDAQ:HTGC) after it dropped 10% in less than two weeks and for the reasons discussed in the recent "HTGC: March 2014 Report".
Dividend Yield Calculation
To calculate dividend yield I have used calendar year 2013 regular and special dividends paid as a percentage of the stock price as of March 13, 2013. Basically this is the yield that an investor would have received based on the initial purchase price.
Results
If an investors would have purchased each BDC on March 13, 2013 and then sold yesterday the following table shows the total return along with which portfolio I have suggested for each. The average return would have only been 6% but investors need to keep in mind that there was a large run-up in BDC stocks during 2012 and through March 15, 2013. The following four weeks were a contraction period for BDCs and then of course there is the news regarding the indices that brought prices down this month. However the following table is on a relative basis over the same time frame with investors' reaction to four quarters of financial results for each (except KCAP).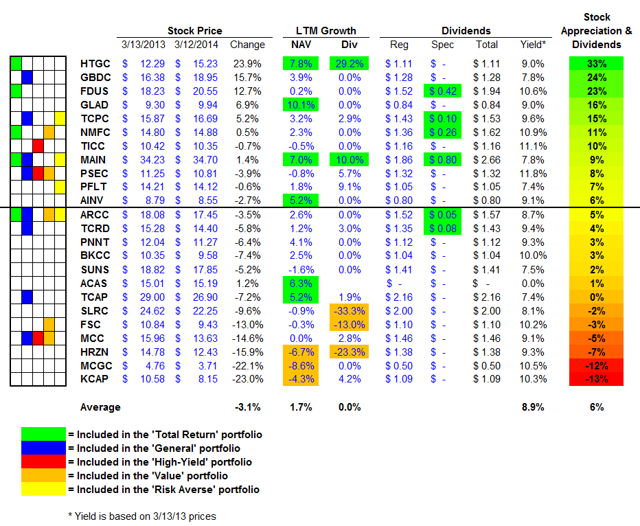 Also highlighted in the table is NAV and dividend growth over the last 12 months. Investors pay higher prices for performance especially for dividend and NAV growth with both HTGC and Main Street Capital (NYSE:MAIN) showing strong performance for both but I was a little disappointed to see MAIN down on the list with much higher than average growth along with special dividends. This could be due to pricing concerns and its higher than average price to NAV multiple. I did not include Full Circle Capital (FULL) because through January 2014 it was down 7% and then after "Full Circle Capital Raises Cash To Buy Pot" it has shot up 30% based on one investment in Advanced Cannabis Solutions (OTCQB:CANN). Any BDC small enough that one investment can swing the value of the stock that much is risky in my opinion and does not imply that management is outperforming. CANN is outperforming and hopefully the price will stay high enough through the lockup period for FULL to realize gains.
Prospect Capital (NASDAQ:PSEC) had higher than average overall returns at 8% but its high-yield was offset by stock deprecation during this timeframe. Ares Capital (NASDAQ:ARCC) is down almost 10% in the last two weeks compared to the average BDC at around 3% to 4% and most likely due to the index changes but ARCC has less exposure than most BDCs to the Russell index funds with only 3% of shares compared to most BDCs at 8%. Both Apollo Investment (NASDAQ:AINV) and Gladstone Capital (NASDAQ:GLAD) have been outperforming lately as discussed in "Apollo Investment: Should It Be Upgraded?" and "Total Return BDCs: Q1 2014 Final". Investors should continue to keep an eye on both of these as they rise in the rankings. Triangle Capital (NYSE:TCAP) is a quality BDC but has been overpriced until recently which is most likely why its stock price has not done as well. I still believe it should be priced closer to $26. Both Fifth Street Finance (NYSE:FSC) and Solar Capital (NASDAQ:SLRC) cut dividends and investors have discounted FSC enough that I consider it to be one of the most undervalued BDCs at this point.
Portfolio Results
The following tables break out the components from three of my older portfolios from the previous table.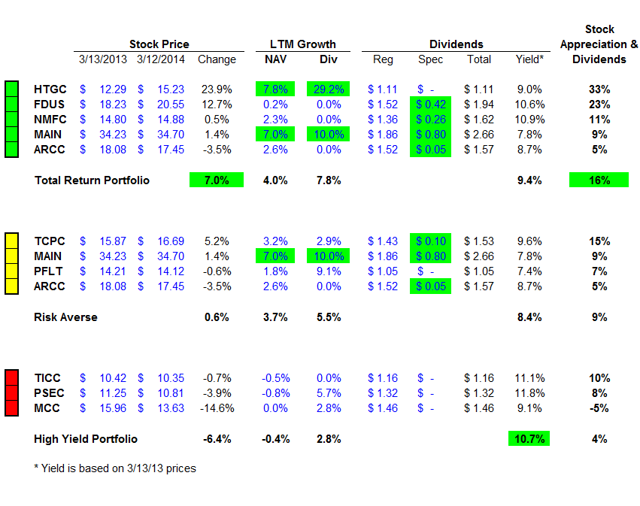 The results are perfectly in-line with my expectations. The total return portfolio outperformed in stock price appreciation, NAV growth, dividend growth, special dividends and overall returns. The risk averse portfolio had stable stock prices, higher NAV and dividend growth but with lower yields giving it average returns. The high-yield portfolio had higher yields but poor stock price performance, no NAV growth, less dividend growth, no special dividends and below average overall returns.
American Capital
I will cover American Capital (NASDAQ:ACAS) more in the rest of this series but the following is a chart that I have been updating each quarter. In the most recent quarter it had asset impairment issues related to ACAM and the private finance portfolio. Still there seems to be a trend and these declines in quarterly NAV per share growth rates should have investors worried especially given the amount stock repurchases the company has done that should be helping this trend (with the exception of the most recent quarter).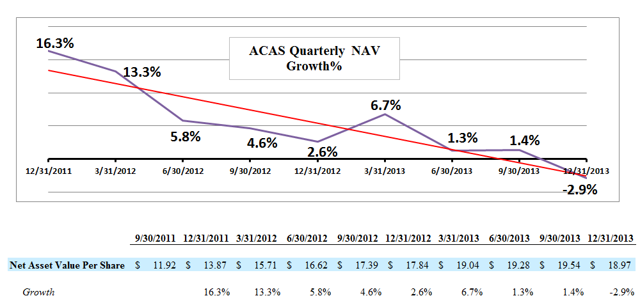 For updates to the recent suggested portfolios please visit "BDC Portfolios". Investors should only use this information as a starting point for due diligence.
Disclosure: I am long MAIN, TCPC, FSC, ARCC, FDUS, TCRD, PSEC, NMFC, HTGC. I wrote this article myself, and it expresses my own opinions. I am not receiving compensation for it (other than from Seeking Alpha). I have no business relationship with any company whose stock is mentioned in this article.
Editor's Note: This article covers one or more stocks trading at less than $1 per share and/or with less than a $100 million market cap. Please be aware of the risks associated with these stocks.