Gazprom's Khosrazchyot or who depends on whom?
In the interests of full disclosure, I will proclaim that I don't know a word of Russian. I do, however, know the meaning of several well-known Russian expressions originating from the Communist era, and from Russian literature as well. One such word is "Khosrazchyot", which was defined by the Soviet Encyclopedic Dictionary, as "the planned running of an economic unit by the confrontation of expenses with that of revenues." In other words, profitability, that ill-famed capitalistic notion. This was evidently an orientation of the New Economic Policy initiated by Lenin, or, in ordinary parlance, "state capitalism". Of course, we know what happened to that policy.
In the current strained political situation in Crimea and the Ukraine, allegations are flying that Vladimir Putin is interested in maintaining a warm water port in the Black Sea, maintaining the integrity of natural gas supplies through Ukraine, or that he has imperialistic designs to generate a greater Russia.
Whatever one may conclude about Mr. Putin's motivations, it is clear that one of the actors in this drama front and center is OAO Gazprom (OTCPK:OGZPY), the Russian natural gas company with a market capitalization of $100 billion by the end of 2013.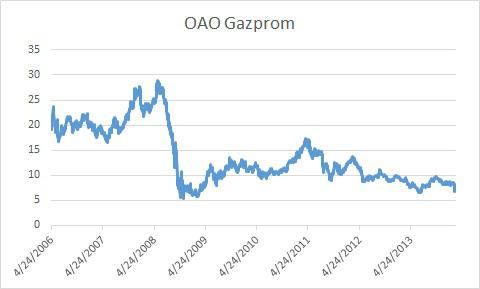 Source: finance.yahoo.com
Much has been said about Europe's dependence on Russian natural gas, and to a lesser extent, oil. The question is to what extent is the dependence mutual, or, to put it another way, is Gazprom engaging in a modern "Khosrazchyot" such that it, too, is inextricably linked with the West? Only its balance sheet will tell. Here are four facts that paint an interesting picture. The trends with respect to long-term borrowing are especially interesting (see below).
Gazprom is still heavily dependent on its sales of natural gas to Europe, counterbalanced with a strong presence in the Russian Federation.
Gazprom's presence in the former Soviet Union is declining over time. It is still heavily dependent on its natural gas sales to "Europe and other countries" (primarily Europe), although this is counterbalanced to some extent by its sales of natural gas to the Russian Federation, and, a pronounced uptick in its growth of refined products between 2012 and 2013.
| | | | | |
| --- | --- | --- | --- | --- |
| | Net sales to Europe and other countries as a % of total sales | Net sales to FSU (Former Soviet Union) as a % of total sales | Net sales to Russian federation as a % of total sales | Net sales of refined products as a % of total sales |
| Nine months ended 2013 | 32% | 8% | 14% | 27% |
| | | | | |
| --- | --- | --- | --- | --- |
| | % Growth in sales to Europe and other countries between 2012 and 2013 | % Growth in sales to FSU between 2012 and 2013 | % Growth in sales to the Russian Federation between 2012 and 2013 | % Growth in net sales of refined products |
| Nine months ended 2013 | 14.5% | -25% | 6% | 14% |
Source: here
Clearly sales of natural gas to Europe remains the major source of revenue to Gazprom, followed by sales of refined products; on all counts a poor diversification strategy in the eventuality of an escalation of the Russian conflict with Europe and the West.
II. In a slightly better position than GDF-Suez.
How does Gazprom stack up to competitor GDF-Suez (GDFZY) (market cap $44 billion). It seems that the French company had to account for disappointing performance in some sectors (Europe and global gas and liquefied natural gas, with a decline of 14.8% and 8.2% in EBITDA overall last year). If one were to examine Gazprom's cash situation in isolation, it seems pretty dismal. Yet, compared to GDF-Suez, Gazprom's cash situation seems relatively healthy.
| | | | | |
| --- | --- | --- | --- | --- |
| | % of GDF cash as a % of current assets | % change of GDF cash position between 2012 and 2013 | % of Gazprom cash as a % of current assets | % change of Gazprom cash between 2012 and 2013 |
| Between 2013 and 2012 | 18% | -15% | 22.5% | 20% |
III. Stuck with sizable accounts receivable and payable (or how mutual interdependence cannot be excised so easily).
Gazprom's umbilical cord with the West can also be gauged by the extent of its accounts receivable and payables (which would be presumably also be associated with Europe). Admittedly some of these amounts are related to Gazprom's activities in the Russian Federation and the former Soviet Union. However, given the importance of Gazprom's trade with Europe (see above), it is likely that a large proportion of these accounts receivables originate from the European Union. Gazprom also indicated that as of September 2013, long-term accounts receivables amounted to $4.7 billion.
| | | | | |
| --- | --- | --- | --- | --- |
| | Accounts receivable as % of current assets (2013) | Accounts receivable as % of current assets (2012) | Accounts payable as % of current liabilities (2013) | Accounts payable as % or current liabilities (2012) |
| 2013 and 2012 | 35% | 38% | 57% | 69% |
IV. Long-term borrowing mostly denominated in U.S. dollars (or where the umbilical cord runs in the reverse direction).
Gazprom paid $6.2 billion dollars in 2013 to service its long-term borrowings. Of the total value of $45 billion in long-term borrowings (maturities respectively between 2013 and 2037-the former bonds issued anywhere between 2004 and 2010), approximately 51% are denominated in U.S. dollars. Then approximately 28% are financed in euros, with the remaining financed in roubles. The banks involved range from the Bank of Tokyo to the Royal Bank of Scotland to Deutsche Bank AG, Citibank, and Credit Agricole as well as some Russian banks such as Gazprombank and OAO Sberbank. Nevertheless, there is a substantial symbiosis between Gazprom and Western banks, as evidenced by the structure of long-term borrowings of the Russian gas company. Most of this money has gone to important stakes in Sakhalin (50% stake), Nord Stream (AG) (Russia and Germany, 51% stake) and OAO Slavneft (power plants in Russia, 50% stake). There are also investments in Poland, Latvia, Finland, Lithuania and Kazakhstan. Gazprom's world-wide spider web undermines any idea of a unilateral retreat of this company into its Russian operations.
Gazprom too risky at this stage?
Gazprom is probably one of the main strategic interest that the current Russian administration wishes to protect in the brewing Russian conflict. Of course, the situation there is too complicated to reduce to the safeguarding of the interests of one company, important though it may be. However, it bears noting that the aforementioned GDF-Suez has just operationalized two wells in the North Sea, to come on-stream in the first quarter of 2014, with an expected production of 800 million cubic meters of gas per year.
This is a drop in the natural gas bucket compared to transmission last year of Gazprom's 13.7 billion cubic meters of gas per year through the Blue Stream pipeline transiting through Ukraine, Moldovia, Rumania and Turkey. However, GDF-Suez claims on its company website that it currently operates natural gas wells worldwide with proven and provable reserves of 121 billion cubic meters per year.
For potential Gazprom investors, it is well worth bearing in mind, as I believe, that, despite its dominant presence in natural gas worldwide, companies like GDF-Suez might be a formidable competitor. Especially since the French company has operations in Africa, the North Sea, Malaysia, Qatar and Greenland. And without the political problems associated with Gazprom.
Disclosure: I have no positions in any stocks mentioned, and no plans to initiate any positions within the next 72 hours. I wrote this article myself, and it expresses my own opinions. I am not receiving compensation for it (other than from Seeking Alpha). I have no business relationship with any company whose stock is mentioned in this article.