Earlier this week, I began accumulating a position in China Mobile Limited (NYSE:CHL). It is very possible, even likely, that China Mobile's stock will go lower in the coming weeks and months along with Chinese stocks in general. I divided my intended purchase up into three parts, with the intention of averaging into the stock as the price falls. This is just one of several techniques I use to work around my strengths and weaknesses, which I documented in my recent article. I also wrote an article for Seeking Alpha about how I am looking to increase my exposure to emerging markets. This purchase was a departure for me, because I typically invest in index funds to gain exposure to emerging markets.
Most US investors have only heard of China Mobile because of its deal with Apple (NASDAQ:AAPL). I believe there is much more to the China Mobile story. The Hong Kong-based cell phone provider offers call, text, and data service to mobile users in Hong Kong and mainland China. As of last summer, China Mobile was the world's largest mobile phone provider with more than 750 million customers. It's remarkable to think that China Mobile has more than twice as many customers as the United States has citizens. All that being said, let's take a deeper look at China Mobile.
The Metrics
Many foreign investors will be quick to tell you that they don't trust the numbers provided by Chinese companies. I believe American companies lie too, but there is definitely less transparency in developing and emerging markets. This is a big reason why most of my investing in developing and emerging markets is done through low cost index ETFs, but China Mobile's numbers just looked too compelling to pass up. I have made several profitable swing trades in China Mobile in the past, but I am ready to buy and hold it. Below is a valuation table by Morningstar.com, as of 3/10/2014.

As you can see from the table, all of China Mobile's metrics sell at a discount to the 5 year average. Furthermore, many of China Mobile's metrics are preferable to the S&P 500's average. I know part of the reason for this is because it is a Chinese company, but these metrics look amazing. Yahoo Finance reports that China Mobile has more than $72 billion in cash and only $4.58 billion in debt. I really wish management would use some of that money to retire their stock, but instead China Mobile has actually been a net issuer of stock for the last several years. Still, this stock currently trades at less than half of its 2008 high, which was around $100.
As you can see from the chart below, China Mobile's trends seem to be going in the correct direction. Revenue per share and book value per share have increased steadily and consistently over the past 10 years. At the same time, the free cash flow per share has increased, giving management more money to invest in the business or return to shareholders. The dividend has increased more than 6 fold in the past 10 years, from $0.31 in 2003 to $2.01 last year. As much as the dividend rate has increased in the past 10 years the dividend payout ratio is only 39%. I look for many years of more increases ahead.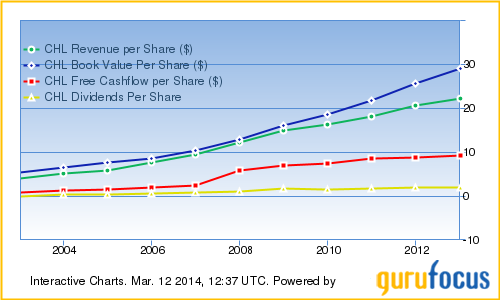 Chart courtesy of GuruFocus.com
Conclusions
I see a profitable future for China Mobile, even though the Chinese stock market is currently trending lower. I intend to add additional shares to my position in the coming months, hopefully at lower prices. I believe that as China's population becomes wealthier, and more citizens join the consumer class, affordable luxuries like cell phones will become even more common. There are high barriers to entry in the telecom industry, which has protected American legacy carriers like AT&T (NYSE:T) and Verizon (NYSE:VZ). The trouble for AT&T and Verizon is that nearly all of the Americans that will own cell phones already have them. With the American cell phone utilization nearing saturation (in my opinion), cell phone providers are forced to compete for market share by undercutting each others' prices. In China, there are still people without cell phones who will get them in the coming years, leading to growth in cell phone utilization. I believe China Mobile is poised to profit from that growth in the coming years.
Disclosure: Long CHL. This article is for informational purposes only and should not be considered a recommendation for anyone to buy, sell, or hold any equities. I am not a financial professional. The information above is provided by Yahoo Finance, Morningstar.com and GuruFocus.com
Disclaimer: I wrote this article myself, and it expresses my own opinions. I am not receiving compensation for it (other than from Seeking Alpha). I have no business relationship with any company whose stock is mentioned in this article.