I want to start by saying that in no way am I saying that a Global Satellite base Air Traffic System would have prevented the recent Malaysian Airliner tragedy. What I am saying is that this tragedy, like the June 2009 Air France Flight 447 disappearance highlights the need for better tracking of planes that are flying over oceans or mountain ranges. It is unclear exactly why the Malaysian Flight's identifying transponder codes stopped, as the flight was still well within the range of primary Land Based Air Traffic Systems, which is around 200 miles. I am not saying that with a Satellite based Air Traffic system in place we would have known more about the flight path of flight 370 as any technical malfunction of any system could cause a loss of information. But, it seems to me the system is place did not do a substantial job at relaying to the ground of the flights exact position, flight speed, and flight path even when it was recieving transporter signals. This is highlighted by the multiple conflicting reports and questions raised as to exactly where the last know location of the flight was, did it change directions, and was it later picked up on a milary radar. I think that a Satellite based system using ADS-B (automatic dependent surveillance-broadcast) globally is a better system then what we currently used in most parts of the world, and would help provide more concrete answers to some of these questions. I would also like to note that I am not a technical specialist on any of these systems and I would welcome further explantions or clarifications in the comments section of this article.
I believe that the best option for such a system to bring a global Satellite base Air Traffic System is being developed by Aireon, which is partially owned by Iridium Communications (NASDAQ:IRDM).
Malaysian Airline Disappearance Recap:
"The Boeing 777-200ER took off from Kuala Lumpur, the Malaysian capital, at 12:41 a.m. Saturday (12:41 p.m. Friday ET). It was scheduled to arrive in Beijing at 6:30 a.m. the same day, after a roughly 2,700-mile journey. But around 1:30 a.m., air traffic controllers in Subang, outside Kuala Lumpur, lost contact with the plane over the sea between Malaysia and Vietnam."
"A senior Malaysian air force official said Tuesday that the plane traveled hundreds of miles off course, moving in the opposite direction from its original destination, and had stopped sending identifying transponder codes before it disappeared."
"Dozens of ships and planes from various countries have been scouring the South China Sea near where the plane was last detected."
"[We Don't Know] whether the search is concentrating on the right place. Authorities initially focused their efforts around the mouth of the Gulf of Thailand, near the plane's last known position. But they have expanded efforts westward, off the other coast of the Malay Peninsula, and northward into the Andaman Sea, part of the Indian Ocean."
Source: CNN
Advantages of Aireon:
-Total Global Surveillance Coverage: Goes from 10% currently to 100% with Aireon
-Better Flight Planning: ADS-B (automatic dependent surveillance-broadcast) systems (the recognized next-generation standard for monitoring air traffic) are expanded from now used in only high traffic areas around major airports to global use with Aireon
-Flight Routing and Capacity: Potentially Cost Saving through better utilization of Wind Tracks
-Air to Ground Position Updates: Updates every 15 seconds of position and other technical data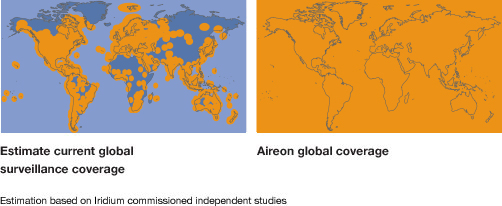 Source: Aireon Website
Aireon and Iridium Communications Summary:
Iridium Communication's is a provider of mobile and data services around the globe through its network of global satellites. Iridium is a 75.2% owner of Aireon, a company that they stared and later sold portions to participating Air Navigation Service Providers (ANSPs) in a effort to raise capital to fund IridiumNext. Aireon will be the provider of the world's first satellite-based global air traffic surveillance system. Aireon will be deployed starting in 2017 in the payload launches of Iridium's next generation communications satellites (IridiumNext). Aireon is currently owned by Iridium, Canada NAV, ENAV of Italy, Irish Aviation Authority, and Naviair of Denmark based on a recently signed agreement. Post the redemption of Iridium Satellite's interest for a payment to Iridium Satellite of $120 million, following the completion of all tranches of the investments by the ANSPs investors, Iridium Satellites will retain 24.5% ownership. I believe that the need for this Satellite based Air Traffic system will eventually cause many other ANSPs to adopt Aireon and it will eventually become the global standard.
Iridium has an existing business providing global satellite phone and data services to international companies, the US Military, and consumers. A large driver of growth in the business is the Machine to Machine (M2M) services which are currently used largely in container tracking for international transport companies. This M2M business will likely see new applications across different industries as the need for data around movable objects including Planes, Trucks, and Seafaring Ships increases. At the current market price an investment in Iridium makes sense without taking into account the potential upside from its stake in Aireon. IRDM trades at a forward PE of 8.0 and a Price to Book of 0.6 and will hit a glide path in 2017 where free cash flow will outpace capital investment (this is post the deployment of IrdiumNext). Any success that Aireon may see due to the adoption around the world of its Satellite based Air Traffic Control System will only be upside for Iridium and is not priced in the stock at all.
Disclosure: I am long IRDM. I wrote this article myself, and it expresses my own opinions. I am not receiving compensation for it (other than from Seeking Alpha). I have no business relationship with any company whose stock is mentioned in this article.