With the consolidation in the US telecom industry coming to an end the largest carriers are looking to international markets for acquisition opportunities while leaving their smaller US competitors to fight for the scraps here at home. US regulators are appearing unwilling to allow further consolidation at the top, but there are still a number of regional and smaller national brands which could be purchased to add scale. Although we do like the opportunities many companies have overseas, we do find the potential targets here in the US as interesting speculation plays.
Chart of the Day:
The US Dollar Index continues to show weakness and is trading near its 52-week lows. One has to wonder whether we are set to break through the 79 level on the index or whether we are close to bottoming out.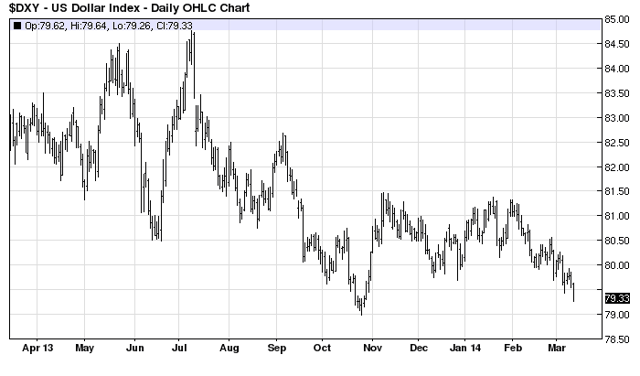 Source: BarChart
We have economic news today and it is as follows:
Initial Claims (8:30 a.m. EST): Est: 329k Act: 315k
Continuing Claims (8:30 a.m. EST): Est: 2925k Act: 2855k
Retail Sales (8:30 a.m. EST): Est: 0.2% Act: 0.3%
Retail Sales - Ex Auto (8:30 a.m. EST): Est: 0.2% Act: 0.3%
Export Prices - Ex Ag (8:30 a.m. EST): Est: N/A Act: 0.6%
Import Prices - Ex Oil (8:30 a.m. EST): Est: N/A Act: -0.2%
Business Inventories (10:00 a.m. EST): Est: 0.3%
Natural Gas Inventories (10:30 a.m. EST): Est: N/A
Treasury Budget (2:00 p.m. EST): Est: -$195 Billion
Asian markets finished higher today:
All Ordinaries -- up 0.53%
Shanghai Composite -- up 1.07%
Nikkei 225 -- down 0.10%
NZSE 50 -- up 0.30%
Seoul Composite -- up 0.10%
In Europe, markets are trading lower this morning:
CAC 40 -- down 0.13%
DAX -- up 0.12%
FTSE 100 -- down 0.26%
OSE -- down 0.05%
Phoning In Acquisitions?
Yesterday the talk in telecom started with AT&T (NYSE:T) saying they saw the window for mobile deals in Europe closing, and closing fast. It has long been thought that AT&T would make a run at Vodafone (NASDAQ:VOD) now that the UK-based company has divested itself of its 45% stake in Verizon Wireless, a major obstacle to any deal combining the two companies previously. So it was no surprise yesterday as shares in Vodafone rose in response to AT&T's comments.
What we did find surprising were the comments from Liberty Global (NASDAQ:LBTYA) where they discussed how the company was looking at rolling out wireless services for their customers in Europe to compete directly with companies such as Vodafone. Lately the two companies have found themselves fighting each other for assets in Europe, specifically cable assets and this move would make the companies even bigger competitors.
The good news for Liberty Global shareholders is that the company is not focused on building a network from scratch, but rather using other carriers' networks to offer services through. The idea is to leverage Liberty Global's current customer relationships to form new revenue streams through a mobile virtual network operator system, or MVNO. This would be far cheaper upfront than the cost to set up a system from scratch and cuts down on the capital required to start the new business. The only drawback is that margins will be lower, but over time that could change as the company could develop its own assets in heavy usage areas.
If Liberty can pull off their planned mobile offering in Europe it should provide further upside for its share price.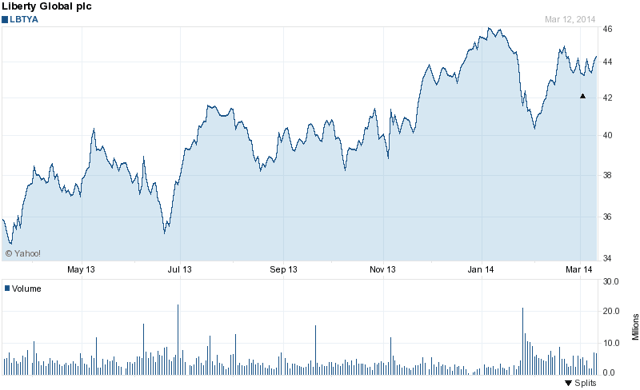 Source: Yahoo Finance
Interesting US Telco Plays
There are two names which are not the usual suspects when it comes to rumored buyouts that we think are worth noting this morning. The first is Towerstream (NASDAQ:TWER) which has been building WIFI networks in the largest US cities to help with network overloads being experienced by the largest carriers. The company is a multi-year play on the cellular market and should only be considered for a long-term position as it appears that 2015 will be the key for Towerstream's business. The company reports earnings on March 17th but we doubt any big news is released at that time. This name tends to be a buy in the $2.20-2.40/share price range.
Another name which we find interesting for a possible takeover is US Cellular (NYSE:USM), which is admittedly a long shot due to their parent company's stake of 84% of the equity. Recently analysts have become more positive on the name with JP Morgan thinking that the company could be worth up to $76/share now that the company is poised to report its first quarterly growth in subs in nearly four years. It appears that the billing issues and iPhone costs are fading and that US Cellular's performance will begin to pick up, which were reasons why JP Morgan raised their rating on the shares to Overweight from Neutral back on March 3rd. This company has an outside chance of being purchased, however if other deals get shot down because regulators want four national carriers, then the regionals such as US Cellular all of a sudden become that much more attractive takeover targets.
Disclosure: I have no positions in any stocks mentioned, and no plans to initiate any positions within the next 72 hours. I wrote this article myself, and it expresses my own opinions. I am not receiving compensation for it (other than from Seeking Alpha). I have no business relationship with any company whose stock is mentioned in this article.
Additional disclosure: T has been previously recommended.