Geron (NASDAQ:GERN) is still a speculative investment even after today's price drop from $4.4 to less than $2 because it has 1) no products on the market, 2) annual revenues that are <$2M and not rising, 3) balance sheet PP&E worth <$15M and declining, 4) R&D budget also declining, 5) share count is up to 151M from 130M less than a year ago, 5) even after the precipitous decline, the market cap of $260M on TTM revenue of $1.75M = 149 P/S ratio that is still very rich.
The drop in stock price comes on verbal word from the FDA that all Imetelstat clinical trials will be put on hold due to possible liver side effects. Affected trials include:
phase 2 trials of Imetelstat (GRN163L) for myelofibrosis (NCT01731951), for myeloma (NCT01242930), and for thrombocythemia or PRV (NCT01243073) - though not recruiting were still active until today.
GERN has been planning a multi-center trial of Imetelstat for myelofibrosis which was expected to start first half 2014 - may be delayed.
This could also affect the investigator-initiated, phase 2 trial (NCT01836549 at www.clinicaltrials.gov) of Imetestat for childhood brain cancer in collaboration with NCI.
Telomerase inhibitor Imetelstat did not prove effective in other cancers in which it was tried. Completed, registered trials can be seen at the clinicaltrials.gov website.
In December I posted the following figure in an SA article to illustrate the risk in some biotech stocks, prices of which had fallen by more than 50% from their 52-week highs: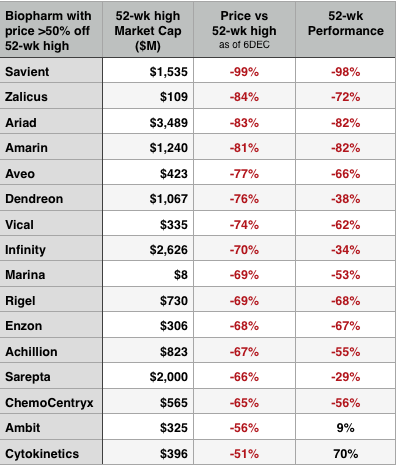 Here is how prices of stocks in these biotechs have fared following precipitous declines from their prior 52-week highs:
Savient (OTCPK:SVNTQ) is still down more than -99%
Zalicus (ZLCS) still down -81%
ARIAD (NASDAQ:ARIA) has gradually appreciated to -67% from -83%
Amarin (NASDAQ:AMRN) still down -80%
AVEO (NASDAQ:AVEO) still down -78%
Dendreon (NASDAQ:DNDN) still down -76%
Vical (NASDAQ:VICL) increased to -67%
Infinity (NASDAQ:INFI) still down -72%
Marina (OTCQB:MRNA) is still skyrocketing past its prior high of $0.58 to $1.50
Rigel (NASDAQ:RIGL) has increased to -49% from -69%
Enzon (OTCQX:ENZN) is sliding further to -79%
Achillion (NASDAQ:ACHN) still down -68%
Sarepta (NASDAQ:SRPT) increasing nicely to -48% from -66%
ChemoCentryx (NASDAQ:CCXI) has increased to -51% from -65%
Ambit (NASDAQ:AMBI) has increased to -42% from -56%
Cytokinetics (NASDAQ:CYTK) has had a big comeback to -24% from -51%
Each one of these setbacks is obviously a story and not just numbers of dollars. The Ariad story struck me in particular - it was in the news that marketing of Iclusig, the TKI for cancer, had been suspended on 10/31/13 because of a reported increase in clot-forming events. This kind of side effect should be preventable with drugs that inhibit the clotting system as is done routinely in people at risk of heart attack and stroke. Fortunately, marketing was resumed on 12/20/13, and the stock has partially recovered. Investors either informed, clever, or opportunistic bought shares at a huge discount, and are now enjoying a protracted but probably very healthy recovery in this stock.
GERN is not in the same situation as ARIA largely because it has not even brought a drug to market. However, elevation in liver enzymes is a common side effect of some commonly used drugs such as the statins which are used to treat high cholesterol. On the other hand, Imetelstat is not a common drug - it is a truly new molecular entity that will surely have truly new side effects, and the FDA is surely monitoring these very closely.
Geron's history as posted on its website interesting. GERN has a track record of 20 years of bench research on telomerase published in a dozen papers in prestigious journals by scientists that include Nobel laureates. This impressed me. As an investor in life sciences companies, I also found a statement in the Geron 2012 annual report interesting: "We have entered into license and option agreements with companies involved with oncology, diagnostics, research tools, agriculture and biologics production. In each of these agreements, we have granted certain rights to our technologies."
Today's setback for Geron could be transient like it was for ARIA - even though ARIA stock has not recovered to its prior lofty heights. Alternatively, it could be permanent. For those that have evidence-based confidence in the concept of telomerase inhibition, the near 50:50 odds of a nice price recovery based on the past year's track record for the above stocks may provide enough incentive to take an investment risk with a small allocation. This morning I allocated 0.25% of my portfolio to this company largely because of its research, partly due to a streak of opportunism, and partly so that I am motivated to follow Geron more closely.
Disclosure: I am long GERN. I wrote this article myself, and it expresses my own opinions. I am not receiving compensation for it (other than from Seeking Alpha). I have no business relationship with any company whose stock is mentioned in this article.