Everyone was upset by what was happening in Ukraine last week. It is essentially another country in need of a bailout. It is having the same kind of riots, etc. that we saw in Greece with its own twist. It is a former part of the USSR with a significant ethnic Russian population (17.3%). As such it is vulnerable to overtures by Russia to take it over in these troubled times. The whole situation is a mess of the grandest proportion. There will be no easy solution to its problems. Further EU and US involvement in the solution process has the possibility of leading to a trade war between energy rich Russia and relatively energy poor Europe (and even between Russia and the US). The EU has already agreed on a framework for its first sanctions on Russia. If an trade war eventually occurs, Europe will almost certainly see huge economic strife. It is economically weak already. On top of this there are many more economically challenged emerging market countries around the world that are experiencing similar, but not identical problems.
If the above problems were not enough, China has lately been showing worrisome signs of significant economic weakness. On March 11, 2014 in its latest misstep, China reported Industrial Output for January and February of 2014 of +8.6% year over year and Retail Sales of +11.8% year over year. Both of these numbers sound great; but they were in fact both huge misses for China. Industrial Output was expected to be +9.5%; and Retail Sales were expected to be +13.5%. This latest bad Chinese economic news was after a spate of other bad news. Exports for February 2014 were down -18.1% versus an expected +7.5% gain.. This led to a trade deficit of -$23B for the month. The recent Markit/HSBC Chinese manufacturing PMI for February 2014 was 48.5 (contraction); and that followed a January reading of 49.5 (contraction). The Chinese PPI for February 2014 was -2.0% year over year. This kind of reading is often symptomatic of a slowdown or recession.
On top of all this Shanghai Chaori Solar Energy Science & Technology Co. failed to pay full interest on its bonds on March 7, 2014 (an effective default). This is important because many already feel there are huge amounts of Chinese loans that will have to be written off in the near future. Debt-to-equity ratios exceeding 200% for Chinese companies have jumped 57% since 2007. Moody's reported that a June 2013 survey found that only 53% of 388 Chinese construction firms had enough cash to cover debt and interest payments in 2013. Since we did not hear of major defaults, many (or most) of those companies likely rolled over (or refinanced) their debt using the Shadow Banking system. Unfortunately this means they now owe more, and that debt is likely owed at a higher interest rate. China is kicking the can down the road; and that strategy cannot work without a significant pick up in the Chinese economy.
Instead of a pick up, we seem to be seeing a slowdown. This will make the Chinese bad loan situation that much more untenable. That is why the Chaori default was so upsetting to so many. Many thought it may be the signal that many more defaults are coming. Many thought it may be a signal that the national government intends to allow these defaults.
In support of this last, Chinese local governments are said to have $2.95T in debts as of June 2013. This is up 67% from the end of 2010 (in 2.5 years). Some economists estimate that local Chinese governments may have borrowed as much as $5T in recent years. Many think a large portion of those local governments will not be able to pay those debts back. They simply do not have the income streams necessary. Since nearly 40% of their debt is expected to mature before the end of 2014, this is a big problem. The national government is apparently "fixing" this problem temporarily by allowing local governments to issue shorter term notes (at lower interest rates) in order to "rollover" debt. However, this just seems to be kicking the can down the road. The worst off local governments do not even qualify to do this. The money is still owed; and the amount of debt seems to be increasing rapidly each year. Some economists estimate that somewhere between 50% and 75% of this debt will have to be written off. That's about $1.5T in the best case scenario; and its $3.75T in the currently envisioned worst case scenario.
The above is just one section of the Chinese debt problems. Both industrial companies and individuals are troubled too. The national government also has substantial debt; but it probably does not face a default problem in the near future. Many estimates now put Chinese government debt (about $5T - $8.2T), corporate debt, and household debt at around 200%-250% of GDP. This is up from 140%-150% of GDP in 2008. The approximately $4.8T in the Shadow Banking system must be considered very much at risk.
Credit gap is the difference between increases in private-sector credit growth and economic output. Researchers have found that 33 countries with credit gaps experienced a subsequent slowdown in growth, typically by at least 50%. In China, the credit gap since 2008 is above 70% of GDP. Since China now needs $3-$5 (some say $6-$8) of debt to generate $1 of additional economic growth, it is likely in dire trouble. I could go on, but readers should be getting the idea. China is an economic bomb waiting to explode. The real question seems to be when? The most recent data indicate that the "when" may be soon.
The above was a long introduction; but it was necessary to show that things may be changing for primarily agency mortgage REITs. Last year (2013) these companies got taken to the woodshed due to the rapid rise in interest rates. For instance, the 10 year US Treasury note yield rose from 1.63% on May 2, 2013 to 3.03% (+140 bps) on December 31, 2013. Even though the Fed has started its tapering of QE3, the 10 year US Treasury note yield has gone down since the beginning of 2014. As of this writing on March 3, 2014, the yield is 2.72% (down 31 bps from December 31, 2013). Many attribute this decrease in the yield to a flight to quality due in large part to the events mentioned earlier in this article (and other worrisome events). For the short term this is very positive for primarily agency mortgage REITs. It should mean their book values will rise for Q1 2014. It may mean they will have a good 1H 2014 and even a good FY2014. It is very hard to predict too far into the future. Most people do think that "long term" interest rates will rise.
The Chinese problems could send most world economies into a tailspin at almost any time. Investors will want to watch events in China as they unfold. If the US housing market crashes again due to China, even agency REITs will have trouble. The higher CPRs (constant prepayment rates) will kill their profits. Still their assets are guaranteed to a large extent, so it should take more time for them to be hurt badly. Investors should have plenty of warning time in which to sell out. For now, investors will want to earn money while they wait for world economic events to unfold. Agency mortgage REITs may be a good vehicle in which to do that.
Oddly the safest mortgage REITs for 2014 may be the ones that lost money in 2013. 2014 may be a year in which the blue chip mortgage REITs and the blue chip emulating mortgage REITs do well. The two companies most often referred to as blue chip mortgage REITs are American Capital Agency Corp. (NASDAQ:AGNC) and Annaly Capital Management Inc. (NYSE:NLY).
AGNC in Q4 2014 reported a comprehensive loss of -$0.99 per common share. This consisted of a net loss of -$0.28 per common share and an OCI (other comprehensive income) loss of -$0.71 per common share. On the plus side AGNC had +$0.75 per share of net spread income and dollar roll income. It has an estimated $0.65 per share in net taxable income per share. This last matched up well with the $0.65 per common share in dividend that AGNC declared for Q4 2013. AGNC also has $0.59 per share in estimated undistributed taxable income as of December 31, 2013. As a result AGNC's book value fell from $25.27 per share as of September 30, 2013 to $23.93 per share as of December 31, 2013 (-$1.34 per common share). A lot of the loss was due to the -$667 million of net realized losses on sales of agency securities. Leverage as of December 31, 2013 was 7.3x. The average net interest spread was 1.39% as of December 31, 2013.
With the 10 year US Treasury note yield down about 31 bps in Q1 2014, AGNC probably has not seen the need to turn over its portfolio a large amount in Q1 2014. This should mean that the huge loss due to sale of securities in Q4 2013 will not be present in Q1 2014. If you further add in the fact that AGNC's agency RMBS should have appreciated in Q1 2014 due to the drop in interest rates, AGNC should have a gain in book value (at least based on values at this time -- March 13, 2014). The following chart of the 30 year fixed rate FNMA 4.0% RMBS shows that it has gained roughly 1% during Q1 2014. The 15 year fixed rate FNMA 4.0% RMBS gained a bit less than the 30 year fixed rate FNMA; but the gains were still substantial. Plus the 15 year fixed rate FNMA 4% RMBS will have been hedged less, so the gains will be more evident in Q1 earnings and likely book value increases. Remember the leverage of 7.3x as of December 31, 2013.
NLY should benefit from the same agency RMBS gains in Q1 2014. If the flight to quality continues due to the problems in Ukraine, China, or elsewhere, NLY should benefit even more in book value terms than it has so far. NLY had Core Earnings of $350.1 million (or $0.35 per common share) for Q4 2013. This was an improvement on the $282.3 million in Core Earnings for Q3 2013. The net interest spread was a healthy 1.43% for Q4 2013. On September 30, 2013 NLY's book value was $12.70 per common share. On December 31, 2013 it was $12.13 after a Q4 2013 loss. Of course in Q4 2013, the 10 year US Treasury Note yield went up +42 bps. With the same yield down 31 bps in Q1 2014, NLY should see book value gains in Q1. The chart above shows an approximate 1% gain on the 30 year fixed rate FNMA 4% RMBS. With NLY's leverage of approximately 5.0x at the end of Q4 2013, NLY should profit handsomely from the gain in book value. Of course, the hedges will work against this, but the gains should still be appreciable.
The CPR (constant prepayment rate) has also been in a very positive downtrend. It was 20% at the end of Q4 2012 for NLY. At the end of Q4 2013, it was just 7%. This should help NLY make more money on its agency RMBS. Agency RMBS usually trade at a premium to par. Therefore it is costly to mortgage REITs when the prepayments are high. The mortgage REITs lose the premium even though the par value of the agency RMBS is guaranteed by the federal government. The same is true for AGNC. It saw its average CPR move from 10% in Q3 2013 down to 8% for Q4 2013. Both companies seem to be well positioned for Q1 2013. Both should do well if interest rates either stay flat or fall due to a further flight to quality. They should do adequately well even if interest rates rise slightly. Only in the case of an interest rate spike will either lose appreciable book value.
In sum AGNC, which pays an 11.59% annual dividend, and NLY, which pays a 10.70% dividend, both seem like good buys in this very uncertain market environment. Yes interest rates could spike higher at any time, but investors should get some warning if that scenario plays out.
These two primarily agency RMBS mortgage REITs both are trading at discounts to their December 31, 2013 book values. AGNC is trading at $22.44 versus a December 31, 2013 book value of $23.93 per share; and NLY is trading at $11.22 versus a $12.13 book value on December 31, 2013. When both of these companies currently have 31 bps of interest rate decreases in Q1 2014, both of their book values stand to go up for Q1 2014. This means they are trading at even greater discounts to their book values. They are very likable stocks under those conditions. Both are buys.
The two year chart of AGNC provides some technical direction for this trade.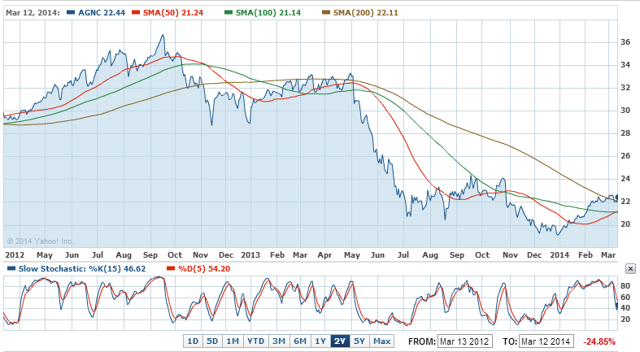 The slow stochastic sub chart shows that AGNC is neither overbought nor oversold. The main chart shows that AGNC seems to have bottomed from its recent downtrend. It appears to be headed upward. It appears to be establishing a new uptrend. With the fundamentals currently going in its favor, it is a buy.
The two year chart of NLY provides some technical direction for this trade.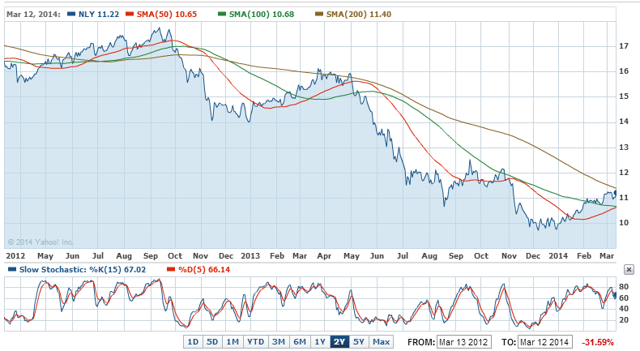 The slow stochastic sub chart shows that NLY is neither overbought nor oversold. The main chart shows that NLY has probably bottomed from its recent downtrend. It is now heading upward; and it may be establishing a new uptrend. Technically and fundamentally it is a buy.
AGNC has a CAPS rating of four stars (a buy). NLY has a CAPS rating of three stars (a hold). However, those ratings were probably arrived at without much thought given toward the many economic and political events that have caused the recent flights to quality. With a likely sporadic but continual flight to quality seemingly in place, both of these stocks are buys. The government guarantees on these companies' assets are attractive. The ever more likely continued low interest rates are a big positive. Investors have to pay attention to interest rates and world events if they buy these stocks, but the stocks should pay off well in the current situation. They may lose little in price (or even gain significantly as they appear to be undervalued); but they are huge dividend payers. Plus they feel much safer in the current environment than most other stocks.
NOTE: Some of the above fundamental financial information is from Yahoo Finance.
Good Luck Trading.
Disclosure: I have no positions in any stocks mentioned, but may initiate a long position in NLY, AGNC over the next 72 hours. I wrote this article myself, and it expresses my own opinions. I am not receiving compensation for it (other than from Seeking Alpha). I have no business relationship with any company whose stock is mentioned in this article.